2014 Winter Paralympic Games in Sochi
The 2014 Paralympic Winter Games will be held in Sochi, Russia, from March 7–16 in 2014. It will follow the 2014 Winter Olympic Games.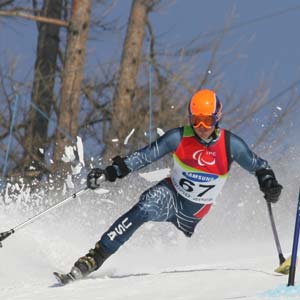 The Paralympics is a sporting event where competitors with similar physical disabilities compete in a variety of winter sports.
About the Paralympic Winter Games
The Winter Paralympic Games are held every 4 years and follow the Winter Olympic Games. The Paralympics last over 10 days with athletes from more than 40 countries participating in 5 categories of sporting events.
Winter Paralympic sporting events include:
Alpine skiing.
Biathlon (combines cross-country skiing and rifle shooting).
Cross-country skiing.
Ice sledge hockey.
Wheelchair curling.
In 2014, two medal events in para-snowboarding will be added to the schedule.
In both biathlon and cross-country skiing, athletes are categorized as standing, sitting or visually impaired and compete against athletes with similar disabilities. Visually impaired skiers use the same equipment as able-bodied skiers but ski with a guide. Standing skiers are skiers with a locomotive disability and who are able to use the same equipment as able-bodied skiers. Sit-skiers usually have no use of their legs (paraplegic) and use a special made sit-ski (a specially built chair attached to a pair of skis).
What do people do?
The 2014 Paralympic Winter Games' opening ceremony will take place at the Olympic Stadium in Sochi, Russia.
A Paralympic torch relay takes place prior to the Paralympic Winter Games, which gives many people a chance to participate and learn about the unique stories of the Paralympians. There are also public celebrations, school programs and other activities that engage people in sharing inspiring stories of Paralympic achievements.
The Winter Paralympics are televised to billions of viewers worldwide. Media publicity generated from the games is widespread across newspapers, magazines, websites, television stations, and radio stations across the globe. There are many people who plan their vacation to visit the place where the Paralympics are held and join in the games as spectators or volunteers.
Public life
The days in which the Paralympic Winter Games occur are not public holidays specifically for this event. However, the government of the host city may issue public notices on temporary traffic control measures, including road restrictions. Some workers living in host cities take their annual vacation during this time of the year to volunteer for or watch the Paralympic Winter Games. Hotel reservation rates also rise during the games and tourist attraction sites may be particularly busy.
Background
In 1948 German-born neurologist Sir Ludwig Guttmann organized a sporting competition involving World War II veterans with spinal cord injuries in England. An international movement was born as a result of Guttmann's efforts. In 1960 athletes with a disability travelled to Rome to compete in Olympic-style games, which are now known as the Paralympics. In Toronto in 1976, more disability groups were added and the idea of merging together different disability groups for international sports competitions was born. The first Paralympic Winter Games took place in Örnsköldsvik, Sweden, in 1976.
The Paralympic movement has grown dramatically since its first days. The Paralympic Winter Games are held in the same year as the Olympic Winter Games. The Paralympic Games have taken place at the same venues as the Olympic Games since the Seoul 1988 Paralympic Summer Games in South Korea and the Albertville 1992 Paralympic Winter Games in France. On June 19, 2001, an agreement was signed between the International Olympic Committee (IOC) and the International Paralympic Committee (IPC) securing this practice for the future.
Symbols
The mascots associated with each of the Paralympic Winter Games have also become icons of modern Paralympics. The 2010 Winter Paralympic Games mascots are the same ones used for the 2010 Winter Olympic Games. These animated mascots include a mythical sea bear called Miga, a sasquatch called Quatchi, an animal guardian spirit called Sumi, and a marmot known as Mukmuk.
In this Article
Olympic Events
2014 Winter Paralympic Games in Sochi
---