Ash Wednesday in Canada
Quick Facts
Ash Wednesday marks the first day of Lent in for many Christians in Canada.
Local names
| Name | Language |
| --- | --- |
| Ash Wednesday | English |
| Mercredi des Cendres | French |
| Aschermittwoch | German |
Ash Wednesday 2014
Wednesday, March 5, 2014
Ash Wednesday 2015
Wednesday, February 18, 2015
List of dates for other years
Many Christians in Canada mark Ash Wednesday as the first day of Lent. It is the beginning of the Lenten fast and is the day after Shrove Tuesday.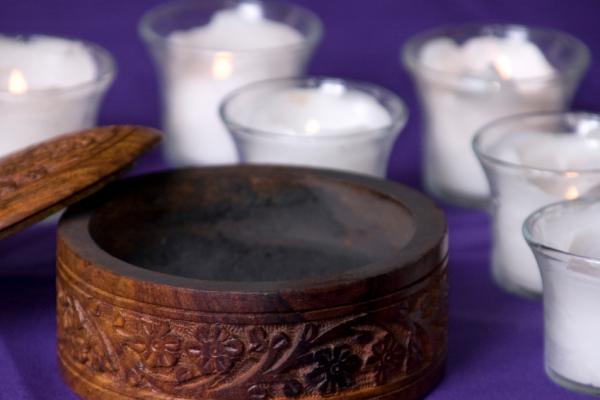 ©iStockphoto.com/Ben Beltman
What do people do?
Many churches in Canada hold special Ash Wednesday services for their congregations. It is a time when people who seek penitence for their wrongdoings are marked with the sign of the cross, from blessed ashes, on their forehead. This symbolic occasion reminds people of their mortality and sorrow for sins, as well as the will for change and the hope of forgiveness.
Ash Wednesday marks the beginning of Lenten discipline for many Christian churches. It is traditionally a time of fasting and prayer as part or preparations for Easter when they are ready to receive or reaffirm their baptism. For some Christians, Lent is a time to think about life and death, as well as reflect on life's choices and possible life directions.
Ash Wednesday serves as a wakeup call for some Christians. It is also a time of goodwill for many people. There are also those who chose this time of the year to donate to charities or take part in charity events as a way to get close to God.
Public life
Ash Wednesday is not a national public holiday in Canada.
Background and Symbols
The practice of marking foreheads with ashes was common among Roman Catholics, Anglicans, and some other churches in Canada but it is now practiced in various other Christian denominations. A general article about Ash Wednesday worldwide covers more information about its background and symbols.
About Ash Wednesday in other countries
Read more about
Ash Wednesday
.
Ash Wednesday Observances
| Weekday | Date | Year | Name | Holiday type | Where it is observed |
| --- | --- | --- | --- | --- | --- |
| Wed | Feb 28 | 1990 | Ash Wednesday | Christian | |
| Wed | Feb 13 | 1991 | Ash Wednesday | Christian | |
| Wed | Mar 4 | 1992 | Ash Wednesday | Christian | |
| Wed | Feb 24 | 1993 | Ash Wednesday | Christian | |
| Wed | Feb 16 | 1994 | Ash Wednesday | Christian | |
| Wed | Mar 1 | 1995 | Ash Wednesday | Christian | |
| Wed | Feb 21 | 1996 | Ash Wednesday | Christian | |
| Wed | Feb 12 | 1997 | Ash Wednesday | Christian | |
| Wed | Feb 25 | 1998 | Ash Wednesday | Christian | |
| Wed | Feb 17 | 1999 | Ash Wednesday | Christian | |
| Wed | Mar 8 | 2000 | Ash Wednesday | Christian | |
| Wed | Feb 28 | 2001 | Ash Wednesday | Christian | |
| Wed | Feb 13 | 2002 | Ash Wednesday | Christian | |
| Wed | Mar 5 | 2003 | Ash Wednesday | Christian | |
| Wed | Feb 25 | 2004 | Ash Wednesday | Christian | |
| Wed | Feb 9 | 2005 | Ash Wednesday | Christian | |
| Wed | Mar 1 | 2006 | Ash Wednesday | Christian | |
| Wed | Feb 21 | 2007 | Ash Wednesday | Christian | |
| Wed | Feb 6 | 2008 | Ash Wednesday | Christian | |
| Wed | Feb 25 | 2009 | Ash Wednesday | Christian | |
| Wed | Feb 17 | 2010 | Ash Wednesday | Christian | |
| Wed | Mar 9 | 2011 | Ash Wednesday | Christian | |
| Wed | Feb 22 | 2012 | Ash Wednesday | Christian | |
| Wed | Feb 13 | 2013 | Ash Wednesday | Christian | |
| Wed | Mar 5 | 2014 | Ash Wednesday | Christian | |
| Wed | Feb 18 | 2015 | Ash Wednesday | Christian | |
| Wed | Feb 10 | 2016 | Ash Wednesday | Christian | |
| Wed | Mar 1 | 2017 | Ash Wednesday | Christian | |
| Wed | Feb 14 | 2018 | Ash Wednesday | Christian | |
| Wed | Mar 6 | 2019 | Ash Wednesday | Christian | |
| Wed | Feb 26 | 2020 | Ash Wednesday | Christian | |
Related holiday
Other holidays in March 2014 in Canada
Other calendars
Related links