Christmas Day in Italy
Quick Facts
Christmas Day is a public holiday in Italy on December 25 to celebrate the birth of Jesus Christ.
Local names
| Name | Language |
| --- | --- |
| Natale | Italian |
| Christmas Day | English |
| Weihnachten | German |
Christmas Day 2014
Thursday, December 25, 2014
Christmas Day 2015
Friday, December 25, 2015
List of dates for other years
Many Italians celebrate the birth of Jesus Christ on Christmas Day (Natale) on December 25 each year. It is a public holiday in Italy.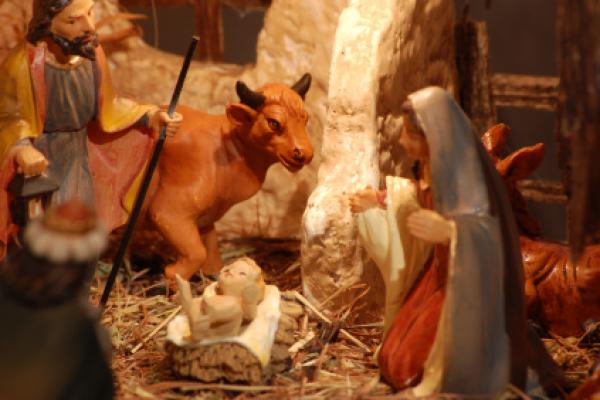 ©iStockphoto.com/Dieter Hawlan
What do people do?
In Italy the Christmas season lasts for a few weeks up until Epiphany. It is common practice for Italian children write letters to Babbo Natale (Father Christmas) asking for Christmas presents. Christmas meals include:
Lo zampone (skin of a lower pig leg filled with minced meat)
Il cotechino (sausage, similar to salami)
Turkey
Lamb
Tortellini (ring-shaped pasta)
Il panettone (fruitcake)
Bombardino (a popular drink similar to eggnog)
Another popular Christmas activity is the "urn of fate", in which presents are put into a lucky dip and there is one gift per person. However, gift-exchanging also occurs on Epiphany.
Public life
Christmas Day is a national public holiday in Italy. Organizations and businesses that are closed include:
Government offices.
Post offices.
Banks.
Schools and other educational institutions.
Transport options, such as taxis, rail services between major cities and major long-route bus lines, are available but travelers are advised to check routes and timetables with the local transport authorities.
Background
Italian Christmas traditions are based on Christianity but are also traced further back to the Pagan celebrations of Pagan celebrations of Saturnalia and Natalis Invicti, pre-dating Christianity. Christmas today is a worldwide celebration among Christians.
Symbols
The presepe (Nativity scene) is often seen outdoors, particularly outside churches. The Nativity scene is popular custom that has spread across to many countries. The Ceppo (a Yule log) is also burnt during Christmas and must stay lighted until New Year's Day.
About Christmas Day in other countries
Read more about
Christmas Day
.
Christmas Day Observances
| Weekday | Date | Year | Name | Holiday type |
| --- | --- | --- | --- | --- |
| Tue | Dec 25 | 1990 | Christmas Day | National holiday |
| Wed | Dec 25 | 1991 | Christmas Day | National holiday |
| Fri | Dec 25 | 1992 | Christmas Day | National holiday |
| Sat | Dec 25 | 1993 | Christmas Day | National holiday |
| Sun | Dec 25 | 1994 | Christmas Day | National holiday |
| Mon | Dec 25 | 1995 | Christmas Day | National holiday |
| Wed | Dec 25 | 1996 | Christmas Day | National holiday |
| Thu | Dec 25 | 1997 | Christmas Day | National holiday |
| Fri | Dec 25 | 1998 | Christmas Day | National holiday |
| Sat | Dec 25 | 1999 | Christmas Day | National holiday |
| Mon | Dec 25 | 2000 | Christmas Day | National holiday |
| Tue | Dec 25 | 2001 | Christmas Day | National holiday |
| Wed | Dec 25 | 2002 | Christmas Day | National holiday |
| Thu | Dec 25 | 2003 | Christmas Day | National holiday |
| Sat | Dec 25 | 2004 | Christmas Day | National holiday |
| Sun | Dec 25 | 2005 | Christmas Day | National holiday |
| Mon | Dec 25 | 2006 | Christmas Day | National holiday |
| Tue | Dec 25 | 2007 | Christmas Day | National holiday |
| Thu | Dec 25 | 2008 | Christmas Day | National holiday |
| Fri | Dec 25 | 2009 | Christmas Day | National holiday |
| Sat | Dec 25 | 2010 | Christmas Day | National holiday |
| Sun | Dec 25 | 2011 | Christmas Day | National holiday |
| Tue | Dec 25 | 2012 | Christmas Day | National holiday |
| Wed | Dec 25 | 2013 | Christmas Day | National holiday |
| Thu | Dec 25 | 2014 | Christmas Day | National holiday |
| Fri | Dec 25 | 2015 | Christmas Day | National holiday |
| Sun | Dec 25 | 2016 | Christmas Day | National holiday |
| Mon | Dec 25 | 2017 | Christmas Day | National holiday |
| Tue | Dec 25 | 2018 | Christmas Day | National holiday |
| Wed | Dec 25 | 2019 | Christmas Day | National holiday |
| Fri | Dec 25 | 2020 | Christmas Day | National holiday |
Related holidays
Other holidays in December 2014 in Italy
Other calendars
Related links