Epiphany in Italy
Quick Facts
Epiphany is a national holiday in Italy celebrated annually on January 6.
Local names
| Name | Language |
| --- | --- |
| Epifania | Italian |
| Epiphany | English |
| Heilige Drei Könige | German |
Epiphany 2014
Monday, January 6, 2014
Epiphany 2015
Tuesday, January 6, 2015
List of dates for other years
Epiphany is celebrated in Italy on January 6 every year. This holiday is based on the story of the three wise men (or kings) offering Jesus gifts of gold, frankincense and myrrh.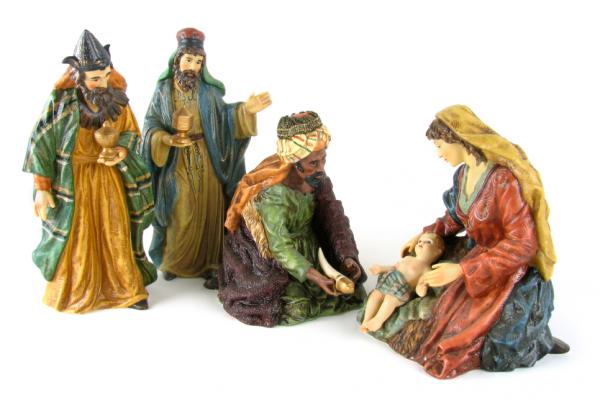 ©iStockphoto.com/duckycards
What do people do?
The Epiphany feast, known as La Befana, is an important part of the Christmas festivities in Italy. La Befana originates from a fairytale about a woman who flies on a broomstick bringing presents to children in Italy. La Befana is believed to be searching for baby Jesus, hence why she bears gifts for children. Many cities and towns in Italy organize festivities and parades to celebrate Epiphany on January 6.
Public life
Epiphany is a public holiday in Italy. Organizations and businesses that are closed on January 6 include:
Government offices.
Post offices.
Banks.
Schools and other educational institutions.
Transport options, such as taxis, rail services between major cities and major long-route bus lines, are available on Epiphany but travelers are advised to check first with local transport authorities.
Background
Epiphany commemorates the first two occasions on which Jesus' divinity, according to Christian belief, was manifested: when the three kings (also known as wise men or Magi) visited infant Jesus in Bethlehem, and when John the Baptist baptized him in the River Jordan.
Symbols
In Italy, La Befana is loved as much as Santa Claus. She is usually portrayed as an old woman who wears a black shawl and rides a broomstick. Figures of this character are sold in shops in Italy around January 6.
About Epiphany in other countries
Read more about
Epiphany
.
Epiphany Observances
| Weekday | Date | Year | Name | Holiday type |
| --- | --- | --- | --- | --- |
| Sat | Jan 6 | 1990 | Epiphany | National holiday |
| Sun | Jan 6 | 1991 | Epiphany | National holiday |
| Mon | Jan 6 | 1992 | Epiphany | National holiday |
| Wed | Jan 6 | 1993 | Epiphany | National holiday |
| Thu | Jan 6 | 1994 | Epiphany | National holiday |
| Fri | Jan 6 | 1995 | Epiphany | National holiday |
| Sat | Jan 6 | 1996 | Epiphany | National holiday |
| Mon | Jan 6 | 1997 | Epiphany | National holiday |
| Tue | Jan 6 | 1998 | Epiphany | National holiday |
| Wed | Jan 6 | 1999 | Epiphany | National holiday |
| Thu | Jan 6 | 2000 | Epiphany | National holiday |
| Sat | Jan 6 | 2001 | Epiphany | National holiday |
| Sun | Jan 6 | 2002 | Epiphany | National holiday |
| Mon | Jan 6 | 2003 | Epiphany | National holiday |
| Tue | Jan 6 | 2004 | Epiphany | National holiday |
| Thu | Jan 6 | 2005 | Epiphany | National holiday |
| Fri | Jan 6 | 2006 | Epiphany | National holiday |
| Sat | Jan 6 | 2007 | Epiphany | National holiday |
| Sun | Jan 6 | 2008 | Epiphany | National holiday |
| Tue | Jan 6 | 2009 | Epiphany | National holiday |
| Wed | Jan 6 | 2010 | Epiphany | National holiday |
| Thu | Jan 6 | 2011 | Epiphany | National holiday |
| Fri | Jan 6 | 2012 | Epiphany | National holiday |
| Sun | Jan 6 | 2013 | Epiphany | National holiday |
| Mon | Jan 6 | 2014 | Epiphany | National holiday |
| Tue | Jan 6 | 2015 | Epiphany | National holiday |
| Wed | Jan 6 | 2016 | Epiphany | National holiday |
| Fri | Jan 6 | 2017 | Epiphany | National holiday |
| Sat | Jan 6 | 2018 | Epiphany | National holiday |
| Sun | Jan 6 | 2019 | Epiphany | National holiday |
| Mon | Jan 6 | 2020 | Epiphany | National holiday |
Related holidays
Other holidays in January 2014 in Italy
Other calendars
Related links