Assumption of Mary in Mexico
Quick Facts
Catholic churches in Mexico celebrate the Assumption of Mary to honor the belief of the Virgin Mary's departure from earth to heaven.
Local names
| Name | Language |
| --- | --- |
| Assumption of Mary | English |
| La Asunción de la Virgen | Spanish |
| Mariä Himmelfahrt | German |
Assumption of Mary 2014
Friday, August 15, 2014
Assumption of Mary 2015
Saturday, August 15, 2015
List of dates for other years
The Day of the Assumption of Mary (Día de la Asunción de María) is a Catholic feast held in churches in Mexico and worldwide on August 15 to celebrate Jesus' mother Mary's arrival in heaven.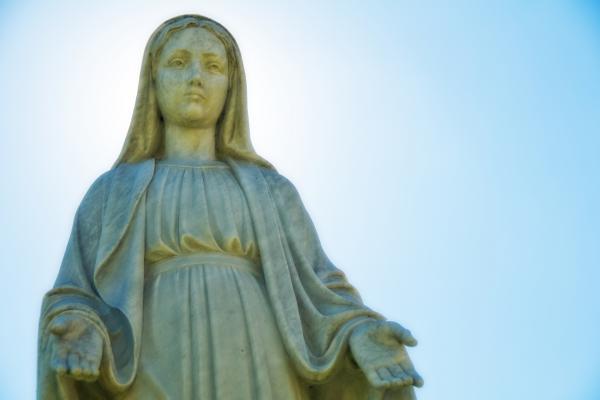 ©iStockphoto.com/Todd Arbini
Celebrate the Assumption of Mary
Flowers for Mary are seen in many churches on Assumption Day. Some towns and villages hold processions dedicated to Mary, in which a statue of her image is carried with flowers and banners.
Jesus' mother, also known as the Virgin Mary or Our Lady of Guadalupe, is one of Mexico's patron saints. Mexico City's Metropolitan Cathedral of the Assumption of Mary (Catedral Metropolitana de la Asunción de María), which is one of the oldest Roman Catholic cathedrals in the Americas, is dedicated to Mary. Statues and artwork depicting Mary's assumption are also found in a number of Mexican churches.
Public life
The feast of the Assumption of Mary is a religious observance and not a federal public holiday in Mexico.
About the Assumption of Mary
Assumption Day commemorates the belief that when Mary, the mother of Jesus Christ, died, her body was not subjected to the usual process of physical decay but was "assumed" into heaven and reunited there with her soul. This holiday, which has been celebrated since the fourth century CE, is a Christianization of an earlier harvest festival.
About Assumption of Mary in other countries
Read more about
Assumption of Mary
.
Assumption of Mary Observances
| Weekday | Date | Year | Name | Holiday type |
| --- | --- | --- | --- | --- |
| Wed | Aug 15 | 1990 | Assumption of Mary | Observance |
| Thu | Aug 15 | 1991 | Assumption of Mary | Observance |
| Sat | Aug 15 | 1992 | Assumption of Mary | Observance |
| Sun | Aug 15 | 1993 | Assumption of Mary | Observance |
| Mon | Aug 15 | 1994 | Assumption of Mary | Observance |
| Tue | Aug 15 | 1995 | Assumption of Mary | Observance |
| Thu | Aug 15 | 1996 | Assumption of Mary | Observance |
| Fri | Aug 15 | 1997 | Assumption of Mary | Observance |
| Sat | Aug 15 | 1998 | Assumption of Mary | Observance |
| Sun | Aug 15 | 1999 | Assumption of Mary | Observance |
| Tue | Aug 15 | 2000 | Assumption of Mary | Observance |
| Wed | Aug 15 | 2001 | Assumption of Mary | Observance |
| Thu | Aug 15 | 2002 | Assumption of Mary | Observance |
| Fri | Aug 15 | 2003 | Assumption of Mary | Observance |
| Sun | Aug 15 | 2004 | Assumption of Mary | Observance |
| Mon | Aug 15 | 2005 | Assumption of Mary | Observance |
| Tue | Aug 15 | 2006 | Assumption of Mary | Observance |
| Wed | Aug 15 | 2007 | Assumption of Mary | Observance |
| Fri | Aug 15 | 2008 | Assumption of Mary | Observance |
| Sat | Aug 15 | 2009 | Assumption of Mary | Observance |
| Sun | Aug 15 | 2010 | Assumption of Mary | Observance |
| Mon | Aug 15 | 2011 | Assumption of Mary | Observance |
| Wed | Aug 15 | 2012 | Assumption of Mary | Observance |
| Thu | Aug 15 | 2013 | Assumption of Mary | Observance |
| Fri | Aug 15 | 2014 | Assumption of Mary | Observance |
| Sat | Aug 15 | 2015 | Assumption of Mary | Observance |
| Mon | Aug 15 | 2016 | Assumption of Mary | Observance |
| Tue | Aug 15 | 2017 | Assumption of Mary | Observance |
| Wed | Aug 15 | 2018 | Assumption of Mary | Observance |
| Thu | Aug 15 | 2019 | Assumption of Mary | Observance |
| Sat | Aug 15 | 2020 | Assumption of Mary | Observance |
Other holidays in August 2014 in Mexico
Other calendars
Related links