Halloween in Mexico
Quick Facts
Halloween is celebrated in Mexico on the last day of October, the day before All Saints' Day.
Local names
| Name | Language |
| --- | --- |
| Halloween | English |
| Día de las Brujas | Spanish |
| Halloween | German |
Alternative names
| Name | Language |
| --- | --- |
| Hallowe'en | English |
| Halloween | Spanish |
Halloween 2014
Friday, October 31, 2014
Halloween 2015
Saturday, October 31, 2015
List of dates for other years
Halloween (Día de las Brujas) is hailed mainly as a children's festivity in Mexico on October 31. It is often overshadowed by the Day of the Dead (Día de los Muertos) celebrations on All Saints' Day and All Soul's Day.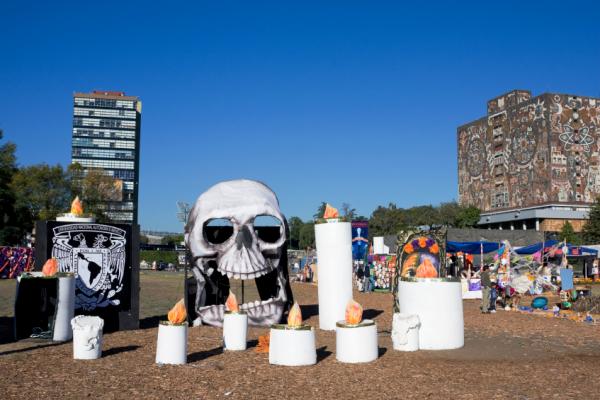 ©iStockphoto.com/abalcazar
Celebrate Halloween
Halloween is celebrated among Mexican children who wear costumes when they go trick-or-treating to people's homes, asking for candy. When they trick-or-treat at each door, they shout, "we want Halloween" (queremos Halloween).
Toys and candy that are made to resemble skeletons, coffins, and the personification of death (La Muerta) are found in many stores at this time of the year. Candles, paper wreaths and seasonal flowers are also sold for the Day of the Dead celebrations, which start as early as the evening of Halloween.
Public life
Halloween is an observance and not a federal public holiday in Mexico.
About Halloween
Halloween combines some rituals from the Pagan holiday Samhain. It is also known as All Hallows' Eve because it falls before All Saints' Day. It has become a commercially popular event in many countries.
Did you know?
Mexico's Day of the Dead, which falls closely to Halloween, is celebrated on a larger scale – Mexicans embrace it as a festive occasion with parties, dancing, singing, and even fireworks!
About Halloween in other countries
Read more about
Halloween
.
Halloween Observances
| Weekday | Date | Year | Name | Holiday type |
| --- | --- | --- | --- | --- |
| Wed | Oct 31 | 1990 | Halloween | Observance |
| Thu | Oct 31 | 1991 | Halloween | Observance |
| Sat | Oct 31 | 1992 | Halloween | Observance |
| Sun | Oct 31 | 1993 | Halloween | Observance |
| Mon | Oct 31 | 1994 | Halloween | Observance |
| Tue | Oct 31 | 1995 | Halloween | Observance |
| Thu | Oct 31 | 1996 | Halloween | Observance |
| Fri | Oct 31 | 1997 | Halloween | Observance |
| Sat | Oct 31 | 1998 | Halloween | Observance |
| Sun | Oct 31 | 1999 | Halloween | Observance |
| Tue | Oct 31 | 2000 | Halloween | Observance |
| Wed | Oct 31 | 2001 | Halloween | Observance |
| Thu | Oct 31 | 2002 | Halloween | Observance |
| Fri | Oct 31 | 2003 | Halloween | Observance |
| Sun | Oct 31 | 2004 | Halloween | Observance |
| Mon | Oct 31 | 2005 | Halloween | Observance |
| Tue | Oct 31 | 2006 | Halloween | Observance |
| Wed | Oct 31 | 2007 | Halloween | Observance |
| Fri | Oct 31 | 2008 | Halloween | Observance |
| Sat | Oct 31 | 2009 | Halloween | Observance |
| Sun | Oct 31 | 2010 | Halloween | Observance |
| Mon | Oct 31 | 2011 | Halloween | Observance |
| Wed | Oct 31 | 2012 | Halloween | Observance |
| Thu | Oct 31 | 2013 | Halloween | Observance |
| Fri | Oct 31 | 2014 | Halloween | Observance |
| Sat | Oct 31 | 2015 | Halloween | Observance |
| Mon | Oct 31 | 2016 | Halloween | Observance |
| Tue | Oct 31 | 2017 | Halloween | Observance |
| Wed | Oct 31 | 2018 | Halloween | Observance |
| Thu | Oct 31 | 2019 | Halloween | Observance |
| Sat | Oct 31 | 2020 | Halloween | Observance |
Other holidays in October 2014 in Mexico
Other calendars
Related links