Christmas Eve in Romania
Quick Facts
Christmas Eve, or the day before Christmas Day, falls on December 24 every year in Romania.
Local names
| Name | Language |
| --- | --- |
| Ajunul Crăciunului | Romanian |
| Christmas Eve | English |
| Heiligabend | German |
Christmas Eve 2014
Wednesday, December 24, 2014
Christmas Eve 2015
Thursday, December 24, 2015
List of dates for other years
Many Romanians spend Christmas Eve (Ajunul Crăciunului) celebrating a variety of festive activities that continue through to Christmas Day, a Christian holiday that marks Jesus' birth.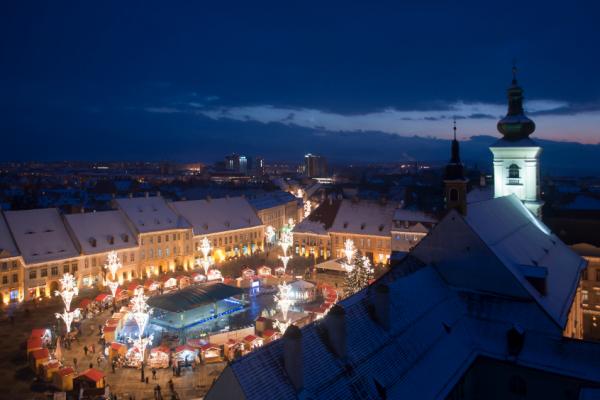 ©iStockphoto.com/boerescul
What do people do?
The Christmas season is a particularly cheerful time for many Romanians. Fun Christmas activities include:
Decorating Christmas trees and homes with Christmas decorations.
Watching or participating in drumming bands (dubasi).
Singing Christmas carols while walking from home to home.
Exchanging presents with friends and family.
Many people visit Christmas markets, including the Sibiu Christmas market and the Bucharest Christmas market. These markets are beautifully decorated with Christmas lights and are often held outdoors. They feature a variety of stalls selling candy, toys, crafts, and food.
Public life
Christmas Eve is an observance and not a public holiday in Romania. It is a busy time of the year as many people go on vacation or travel home to visit family, so roads and airports may be busy. People intending to travel via public transport during public holidays must check with the public transit authorities on any changes to time schedules.
Background
Christmas Eve is the day before Christmas Day, which celebrates the birth of Jesus Christ, who Christians believe is the son of God. His birth date is unknown because there is little information about his early life. Christmas Eve is celebrated in many other countries.
Symbols
Many shops and homes have visual displays of Santa Claus, known as Moş Crăciun (Old Man Christmas), Moş Nicolae (Old Man Nicholas) and Moş Gerilă (Old Man Frost).
About Christmas Eve in other countries
Read more about
Christmas Eve
.
Christmas Eve Observances
| Weekday | Date | Year | Name | Holiday type |
| --- | --- | --- | --- | --- |
| Mon | Dec 24 | 1990 | Christmas Eve | Observance |
| Tue | Dec 24 | 1991 | Christmas Eve | Observance |
| Thu | Dec 24 | 1992 | Christmas Eve | Observance |
| Fri | Dec 24 | 1993 | Christmas Eve | Observance |
| Sat | Dec 24 | 1994 | Christmas Eve | Observance |
| Sun | Dec 24 | 1995 | Christmas Eve | Observance |
| Tue | Dec 24 | 1996 | Christmas Eve | Observance |
| Wed | Dec 24 | 1997 | Christmas Eve | Observance |
| Thu | Dec 24 | 1998 | Christmas Eve | Observance |
| Fri | Dec 24 | 1999 | Christmas Eve | Observance |
| Sun | Dec 24 | 2000 | Christmas Eve | Observance |
| Mon | Dec 24 | 2001 | Christmas Eve | Observance |
| Tue | Dec 24 | 2002 | Christmas Eve | Observance |
| Wed | Dec 24 | 2003 | Christmas Eve | Observance |
| Fri | Dec 24 | 2004 | Christmas Eve | Observance |
| Sat | Dec 24 | 2005 | Christmas Eve | Observance |
| Sun | Dec 24 | 2006 | Christmas Eve | Observance |
| Mon | Dec 24 | 2007 | Christmas Eve | Observance |
| Wed | Dec 24 | 2008 | Christmas Eve | Observance |
| Thu | Dec 24 | 2009 | Christmas Eve | Observance |
| Fri | Dec 24 | 2010 | Christmas Eve | Observance |
| Sat | Dec 24 | 2011 | Christmas Eve | Observance |
| Mon | Dec 24 | 2012 | Christmas Eve | Observance |
| Tue | Dec 24 | 2013 | Christmas Eve | Observance |
| Wed | Dec 24 | 2014 | Christmas Eve | Observance |
| Thu | Dec 24 | 2015 | Christmas Eve | Observance |
| Sat | Dec 24 | 2016 | Christmas Eve | Observance |
| Sun | Dec 24 | 2017 | Christmas Eve | Observance |
| Mon | Dec 24 | 2018 | Christmas Eve | Observance |
| Tue | Dec 24 | 2019 | Christmas Eve | Observance |
| Thu | Dec 24 | 2020 | Christmas Eve | Observance |
Related holidays
Other holidays in December 2014 in Romania
Other calendars
Related links