Flag Day in Romania
Quick Facts
Romania's Flag Day (Ziua Tricolorului) is an annual observance on June 26.
Local names
| Name | Language |
| --- | --- |
| Ziua Tricolorului | Romanian |
| Flag Day | English |
| Tag der Nationalflagge | German |
Flag Day 2014
Thursday, June 26, 2014
Flag Day 2015
Friday, June 26, 2015
List of dates for other years
The Romanian flag (Drapelul României) is flown across Romania on Flag Day (Ziua Tricolorului) on June 26 every year.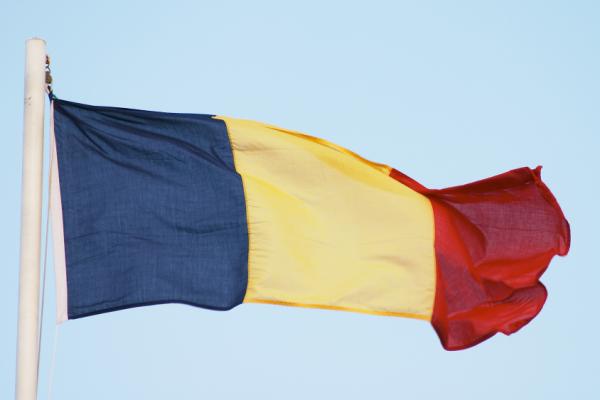 ©iStockphoto.com/PaulCowan
What do people do?
Romania's flag is hoisted up near public buildings in many towns and cities throughout the country on Flag Day. Romania's public authorities and other state institutions organize cultural and educational programs and events devoted to Romanian history. A military ceremony is also usually held in Romania's capital Bucharest to celebrate National Flag Day. People attending the event include representatives from civilian, military, and religious organizations, as well as war veterans.
Public life
Flag Day is an observance and not a public holiday in Romania.
Background
The Romanian flag's tricolors of blue, yellow and red were first used together in 1834, where they appeared not as a national flag, but as a merchant flags and in flags of native militia units. In 1848 Romanian revolutionaries flew the blue, gold, and red tricolor flag. Initially, some tricolors were displayed horizontally, but the revolutionary provisional government in Bucharest decreed the vertical arrangement, with blue at the hoist, as it was more popular.
The tricolor became the national flag in 1859. However, the flag was horizontally arranged with blue on top until 1862. In 1867, the national flag, as well as the military ensigns, were changed to the vertical arrangement, with blue at the hoist.
In 1948, the national tricolor included a coat of arms, which was changed at least 4 times, up until the Communist regime in Romania ended in 1989, when the plain tricolor flag was reestablished. The Romanian constitution, which was adopted in 1991, states that "the flag of Romania is tricolor; the colors are arranged vertically in the following order from the mast: blue, yellow, (and) red". In 1998 Romanian lawmakers proclaimed Flag Day to be annually observed on June 26.
Symbols
Flag Day symbolizes Romania's independence. Romania's national flag is a tricolor blue, yellow, red, with colors arranged in vertical bands of equal size. It has a width-length ratio of 2:3. The 3 colors symbolize 3 Romanian provinces – Wallachia (yellow), Moldavia (red), and Transylvania (blue).
Flag Day Observances
| Weekday | Date | Year | Name | Holiday type |
| --- | --- | --- | --- | --- |
| Tue | Jun 26 | 1990 | Flag Day | Observance |
| Wed | Jun 26 | 1991 | Flag Day | Observance |
| Fri | Jun 26 | 1992 | Flag Day | Observance |
| Sat | Jun 26 | 1993 | Flag Day | Observance |
| Sun | Jun 26 | 1994 | Flag Day | Observance |
| Mon | Jun 26 | 1995 | Flag Day | Observance |
| Wed | Jun 26 | 1996 | Flag Day | Observance |
| Thu | Jun 26 | 1997 | Flag Day | Observance |
| Fri | Jun 26 | 1998 | Flag Day | Observance |
| Sat | Jun 26 | 1999 | Flag Day | Observance |
| Mon | Jun 26 | 2000 | Flag Day | Observance |
| Tue | Jun 26 | 2001 | Flag Day | Observance |
| Wed | Jun 26 | 2002 | Flag Day | Observance |
| Thu | Jun 26 | 2003 | Flag Day | Observance |
| Sat | Jun 26 | 2004 | Flag Day | Observance |
| Sun | Jun 26 | 2005 | Flag Day | Observance |
| Mon | Jun 26 | 2006 | Flag Day | Observance |
| Tue | Jun 26 | 2007 | Flag Day | Observance |
| Thu | Jun 26 | 2008 | Flag Day | Observance |
| Fri | Jun 26 | 2009 | Flag Day | Observance |
| Sat | Jun 26 | 2010 | Flag Day | Observance |
| Sun | Jun 26 | 2011 | Flag Day | Observance |
| Tue | Jun 26 | 2012 | Flag Day | Observance |
| Wed | Jun 26 | 2013 | Flag Day | Observance |
| Thu | Jun 26 | 2014 | Flag Day | Observance |
| Fri | Jun 26 | 2015 | Flag Day | Observance |
| Sun | Jun 26 | 2016 | Flag Day | Observance |
| Mon | Jun 26 | 2017 | Flag Day | Observance |
| Tue | Jun 26 | 2018 | Flag Day | Observance |
| Wed | Jun 26 | 2019 | Flag Day | Observance |
| Fri | Jun 26 | 2020 | Flag Day | Observance |
Related holidays
Other holidays in June 2014 in Romania
Other calendars
Related links