St Mary's Day in Romania
Quick Facts
The feast day of the Assumption of Mary is a national holiday in Romania on August 15 every year.
Local names
| Name | Language |
| --- | --- |
| Adormirea Maicii Domnului | Romanian |
| St Mary's Day | English |
| Mariä Himmelfahrt | German |
St Mary's Day 2014
Friday, August 15, 2014
St Mary's Day 2015
Saturday, August 15, 2015
List of dates for other years
The Feast of the Dormition of the Mother of God (Adormirea Maicii Domnului) is an annual national holiday in Romania on August 15. It celebrates the Christian belief that God assumed the Virgin Mary into Heaven following her death.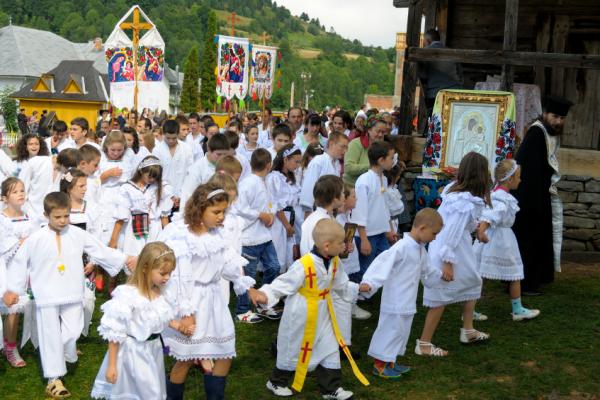 ©iStockphoto.com/smartview27
What do people do?
The feast day of the Assumption of Mary, or simply Assumption Day or St Mary's Day, is one of the most important feasts in the Orthodox Christian calendar. Large crowds gather in processions and pilgrimages involving thousands of Romanians occur at Moisei in Maramureș, Nicula in Transylvania and Putna in Moldavia. St Mary is the patron saint of the Navy, so the holiday corresponds with the Day of the Romanian Naval Forces, also known as Navy Day. Events, such as demonstrative shows featuring navy ships, are held in port cities and often attract thousands of visitors on August 15.
Public life
Assumption Day is a national public holiday in Romania so banks, public offices, and many private businesses are closed. People intending to travel via public transport during public holidays must check with the public transit authorities on any changes to time schedules.
Background
Assumption Day commemorates the belief that when Mary, the mother of Jesus Christ, died, her body was not subjected to the usual process of physical decay but was "assumed" into heaven and reunited there with her soul. This holiday, which has been celebrated since the 4th century CE, is a Christianization of an earlier harvest festival and, in many parts of Europe, is known as the Feast of Our Lady of the Harvest. Assumption Day is celebrated in many countries worldwide.
Symbols
Many churches in Romania feature paintings of the Virgin Mary, including symbolic images of her assumption into heaven.
About St Mary's Day in other countries
Read more about
St Mary's Day
.
St Mary's Day Observances
| Weekday | Date | Year | Name | Holiday type |
| --- | --- | --- | --- | --- |
| Wed | Aug 15 | 1990 | St Mary's Day | National holiday |
| Thu | Aug 15 | 1991 | St Mary's Day | National holiday |
| Sat | Aug 15 | 1992 | St Mary's Day | National holiday |
| Sun | Aug 15 | 1993 | St Mary's Day | National holiday |
| Mon | Aug 15 | 1994 | St Mary's Day | National holiday |
| Tue | Aug 15 | 1995 | St Mary's Day | National holiday |
| Thu | Aug 15 | 1996 | St Mary's Day | National holiday |
| Fri | Aug 15 | 1997 | St Mary's Day | National holiday |
| Sat | Aug 15 | 1998 | St Mary's Day | National holiday |
| Sun | Aug 15 | 1999 | St Mary's Day | National holiday |
| Tue | Aug 15 | 2000 | St Mary's Day | National holiday |
| Wed | Aug 15 | 2001 | St Mary's Day | National holiday |
| Thu | Aug 15 | 2002 | St Mary's Day | National holiday |
| Fri | Aug 15 | 2003 | St Mary's Day | National holiday |
| Sun | Aug 15 | 2004 | St Mary's Day | National holiday |
| Mon | Aug 15 | 2005 | St Mary's Day | National holiday |
| Tue | Aug 15 | 2006 | St Mary's Day | National holiday |
| Wed | Aug 15 | 2007 | St Mary's Day | National holiday |
| Fri | Aug 15 | 2008 | St Mary's Day | National holiday |
| Sat | Aug 15 | 2009 | St Mary's Day | National holiday |
| Sun | Aug 15 | 2010 | St Mary's Day | National holiday |
| Mon | Aug 15 | 2011 | St Mary's Day | National holiday |
| Wed | Aug 15 | 2012 | St Mary's Day | National holiday |
| Thu | Aug 15 | 2013 | St Mary's Day | National holiday |
| Fri | Aug 15 | 2014 | St Mary's Day | National holiday |
| Sat | Aug 15 | 2015 | St Mary's Day | National holiday |
| Mon | Aug 15 | 2016 | St Mary's Day | National holiday |
| Tue | Aug 15 | 2017 | St Mary's Day | National holiday |
| Wed | Aug 15 | 2018 | St Mary's Day | National holiday |
| Thu | Aug 15 | 2019 | St Mary's Day | National holiday |
| Sat | Aug 15 | 2020 | St Mary's Day | National holiday |
Other holidays in August 2014 in Romania
Advertising

Other calendars
Related links