The Time Traveler's Life - Part Two
A Conversation with Joe Haldeman
By Allan Eastman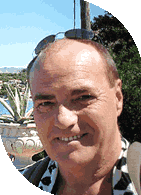 Allan Eastman was born in Winnipeg, Canada. He holds a BA in Political Science and English Literature and is a graduate of the Film School at the University of Bristol in the United Kingdom (UK). Eastman worked as a film and television director in Hollywood, Canada and internation­ally, directing shows such as STAR TREK and THE OUTER LIMITS, mini-series like FORD and CHAMPAGNE CHARLIE and the movies CRAZY MOON and DANGER ZONE.
Later, he executive produced the series ANDROMEDA and BEASTMASTER. Eastman left his show business career behind to travel, doing 4 around the world trips in the last 5 years. He has visited over 100 countries. His interests include literature, history, philosophy, music, science, cooking and boating. He collects first editions of his favourite authors and these days, commits most of his time to writing.
Traveling Back In Time
In the previous installment of All The Time In The World, we explored the many aspects of Time Travel from a scientific, philosophical and literary perspective. Like many other elements of Time that we have looked at, Time Travel is a subject full of uncertainty - of definition, of possibility and of sharply divided opinion. Time Travel issues also seem to be especially rife with paradox. Trying to sort it all out tends to generate as many questions as answers.
At this point, I suppose I should confess that I am an unabashed Science Fiction fan and have been reading it all my life, ever since my Mom stuck Robert A. Heinlein's Citizen ofthe Galaxy in my hand when I was about 10 years old. As a director and an executive producer, I worked a great deal in the Sci-Fi genre, directing shows like Star TrekVoyager, DS9 and The Outer Limits and co-showrunning the Gene Roddenberry'sAndromeda series. I did a lot of Time Travel stories over the years and was always fascinated by the complicated web of cause and effect that one had to work out in order to maintain a logical and honest continuity to these dramas.
In all the work I did, I was always guided by the master practitioners of Sci-Fi who had written about Time Travel. These men and women had given great thought to the subject and their ideas often ran in parallel with, or even a little ahead, of the foremost scientific and philosophical discussion of the topic. When I was researching this article, I went back and reread some of my favorite Sci-Fi authors' Time Travel stories to refresh my memory about some of their ideas. Then, I started thinking, "Well, maybe I should actually talk to one of these people about Time Travel and see what they think."
For me, there was one obvious choice on who that person should be.
Joe Haldeman is considered the modern Dean of Science Fiction by pretty much everybody who knows the field. He burst onto the scene with his novel, The Forever War, in the mid 1970's. That outstanding book won both the Hugo and Nebula Awards, Science Fiction's highest Honors, and remains an essential classic to this day. It grew out of Joe's experiences as a combat engineer during the Vietnam War but also illuminated a tremendous imagination at work in the areas of science, sociology and psychology. No one has ever written better about the time dilation effects of interstellar travel.
Joe has gone on to write another 25 or so thought provoking and exciting novels and he has won numerous other Awards including the Grand Master Life Achievement Award at the Nebulas in 2010.
Joe's fiction is deeply rooted in a realistic and studied understanding of science at the cutting edge but to me, its strongest qualities are his humanity, his compassion for the human condition, the quality of his ideas and his apparently effortless and entertaining style, which I can tell you requires very hard work indeed.
Joe lives in Florida with his wife of 45 years, the effervescent and delightful Gay Haldeman. We talked together on Skype videophone in mid-August 2010.
Page 1 | Page 2 | Page 3 | Page 4 & Comments