How to Add Your Events to the Printable PDF Calendar
To add events to our Printable PDF Calendars, follow these steps:

In order to use this service, you have to log in to a free user account.
Go to "My Calendar Events".
Desktop/computers: Click the blue button "Add Event List" in the right-side menu, or choose a list you have already created using the link(s) which appear above the blue button.
Mobile Devices: click the table view icon to the left of the Print PDF button.

Name your event list in the box that pops up.
If you are adding a list of birthdays, anniversaries, or anything else that repeats every year, tick the little box called "Anniversary/Birthday". You will also have the possibility to edit and repeat single events weekly, monthly, etc. in a later step.
Click the green "Save" button.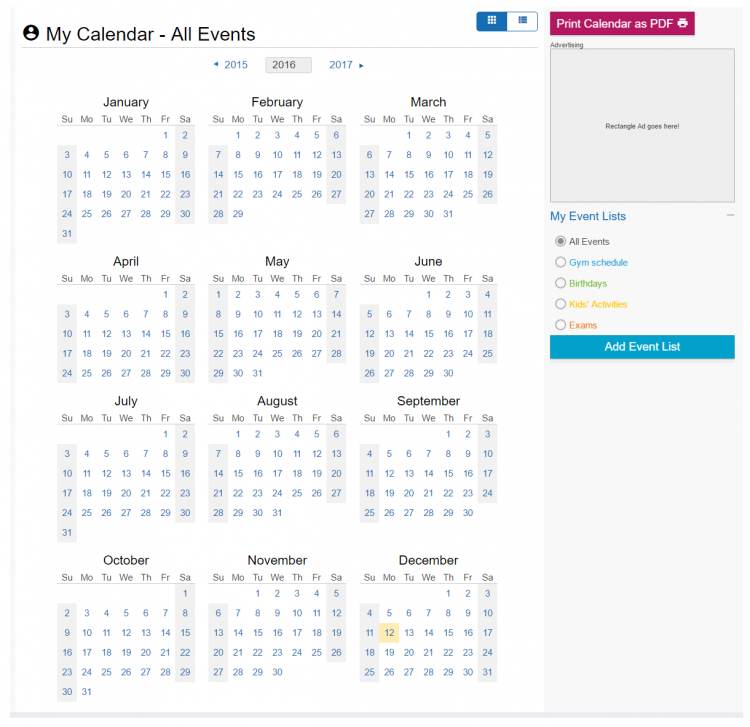 Switches to Calendar View
Once you have saved an Event List, your view/interface changes to a calendar.
Alternate between the calendar interface or a table view using the icons to the left of the "Print Calendar as PDF" button in the top right corner.
Adding Events
You can start adding events either directly in the Calendar or from the table view.
Adding Events from Calendar View
First, click on the date you wish to add an event to, and a pop-up window will appear.
In the "Add Event" pop-up, fill in the pink "Title" box with the name of your choice.
In the "Event List" drop-down menu, choose which of your lists you want to add this event to.

The "Add Event" pop-up box.

The same "Add Event" pop-up box appears from both entry points.

The standard font color is black. Choose a different color for this event by clicking the box below "No custom color", and then click the color of your choice.
You can repeat your event daily, weekly, monthly, or yearly in the "Repeat" drop-down menu.
Click the green "Add" button.
Add as many events as you like, and then press the "Print Calendar PDF button" in the top right corner, which takes you back to the PDF Calendar Service.
Include your event(s) in the PDF by ticking off the list(s) below the header "My Custom Events:"
Press the green "Create PDF" button and you are done!
Adding Events in Table View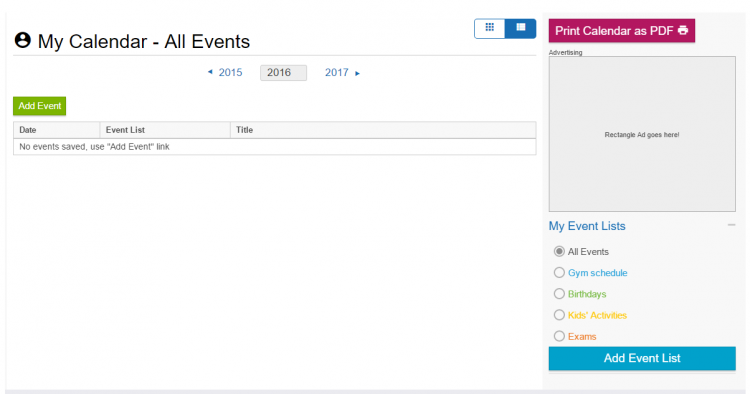 First, click the green Add Event button
Next, the process is identical to the steps described above.
Where Is My Calendar PDF?
The PDF file will save in your "Downloads" folder and it will be named something along the lines of "United States January 2017 - December 2017". You can open and view the file, print it, share it via email, or upload at your convenience.

Create Calendar With Holidays
---
---

Calendar Types