Discontinued: Special Birthdays App for Facebook
This app has been discontinued and is no longer supported.
Facebook users can learn how to use the timeanddate.com Special Birthdays on Facebook to share their special birthday and their friend's special birthday with Facebook friends.
This application can be used to share your birthday, your friends' birthday, or any other special day. Find out and share with your Facebook friends your special birthday such as when you are 1 million seconds old or 500,000 hours old.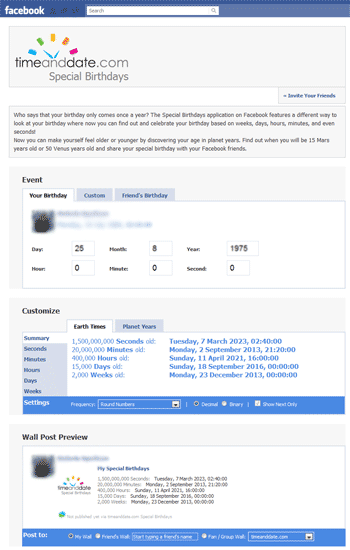 Birthday Features
Who says that your birthday only comes once a year? The Special Birthdays application on Facebook features a different way to look at your birthday where now you can find out and celebrate your birthday based on weeks, days, hours, minutes, and even seconds!
Now you can make yourself feel older or younger by discovering your age in planet years. Find out when you will be 15 Mars years old or 50 Venus years old and share your special birthday with your Facebook friends.
How to Use the Special Birthdays App
Follow these simple steps to get started with the timeanddate.com Special Birthdays on Facebook.
First log into your Facebook account.
Once you are logged in, you can go directly to the timeanddate.com Special Birthdays on Facebook.
Your Birthday will automatically appear in the "Your Birthday" tab.
Choose the tab that is most appropriate to your customization choice based on the three tabs located at the top of the page under "Event" - Your Birthday, Custom, and Friend's Birthday.
Select the "Custom" tab, to enter in a custom date (day, month, year) and the time (hour, minutes, seconds) of the special date.
Select the "Friends Birthday" tab, to type in and select a Facebook friend whose birthday will appear if they have a birthday saved on their account.
You can also enter in the time (hours, minutes, seconds) of the birthday to get more special birthday results.
Choose which Customize options you would like to have displayed on your wall post.
You can select to show your Birthday in Earth Times, Planet Years, or Custom.
Select the Frequency of the results.
Choose between Decimal and Binary numbers.
The Wall Post Preview will update to your settings and be displayed at the bottom of the page.
You can choose where you would like to post your Special Birthday - My Wall, a friend's wall, of a Fan/Group Wall.
Click on "Preview & Share".
A pop-up message will appear in which you can type in a personal message to include with your Special Birthday. You can either click on the "Publish" button (if you want to go ahead and share your Special Birthday on your Facebook Wall and friends' news feed) or the "Skip" button (if you want to cancel).
Don't forget to bookmark the application. Simply click on the "Bookmark" button on the top right of the page. The Special Birthdays application will then be bookmarked under Applications on the left of your home page.
To learn more about interesting dates related to your birthday, check out the timeanddate.com Birthday Calculator.
Other Information
The timeanddate.com Special Birthdays is designed to be used directly on your Facebook Wall ("What's on your mind?") or on your friends' wall.
Once you have added the timeanddate.com Special Birthdays, the application's icon will be available on the left side bar on your Facebook Home page. You can also find information about the timeanddate.com Special Birthdays in your Application settings under your Account settings.
Please note that the timeanddate.com Special Birthdays application needs your authentication before you use it on Facebook. We will not store your information and we do not take responsibility for the content you add with our application. Any information that you provide to timeanddate.com is subject to our Privacy Policy, which states our firm commitment to privacy.
If you have any comments, feedback or questions about the timeanddate.com Special Birthdays on Facebook, email us at: webmaster@timeanddate.com.
Related Links
Related Time Zone Tools
External Link