Last change: 2014
Sep 26, 2014, 12:00 midnight
No further time changes in 2012 in Port el Ghalib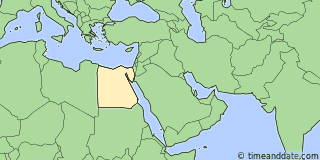 Daylight Saving Time (DST) Not Observed in Year 2012
Egypt observed Eastern European Time (EET) all year.
DST was not in use in 2012.
The previous DST change in Port el Ghalib, Egypt was on September 30, 2010.
Try selecting a different year below.
Daylight Saving Time in Other Years
DST changes do not necessarily occur on the same date every year.
Data for the years before 1970 is not available for Port el Ghalib, however, we have earlier time zone history for Cairo available.