Help Available for World Clock Browser Search

Published 30-Nov-2009
timeanddate.com has a new article to help you to add the World Clock search option to your browser. Find out more about how to add the World Clock browser search option.
World Clock Search For Firefox and Internet Explorer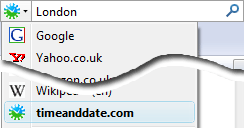 The World Clock Search option is available for both Mozilla Firefox and Microsoft Internet Explorer. A "how-to" instructional document is written to help users learn how to add the World Clock Search to their browser. It is important for those wishing to add the World Clock search to their browser to follow the instructions step-by step in this document.
The instructions include links to both the "timeanddate.com World Clock Search" installer pages, found at https://addons.mozilla.org/en-US/firefox/addon/12142 for Mozilla Firefox, and at http://www.ieaddons.com/en/details/mapping/timeanddatecomWorld_Clock_Search/ for Internet Explorer.

The instructions also outline how to use the search engine for both Firefox and Internet Explorer. Don't forget to rate and comment if you find the Search Add-on useful, whether you are a Firefox user or an Internet Explorer user.
These added benefits are all part of our aim to give you more options for accurate and timely information on timeanddate.com.
Comments and Feedback
For comments, complete the feedback form by clicking on the Feedback link at the bottom of the page. Alternatively, you can send an email to webmaster@timeanddate.com.