We are freshening up the look of our City Information Pages
Our designers have been working hard to make our City Information Pages easier to navigate and nicer to look at.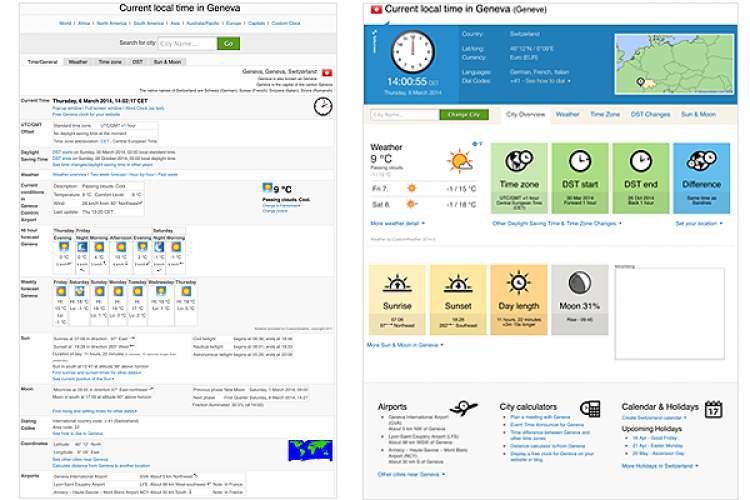 Easier on the eyes
Our intention is to make it easier for you to find the information you are looking for. We felt our old City Information Pages were too text-heavy and cluttered. So we have now cut most of the text and replaced it with clean, color-coded boxes you can click to get more detailed information.
We hope that mobile and tablet users will be particularly happy about the new design because it is much more adaptable to small screens.
Update: We have now also given both the Weather Pages and the Sun & Moon Pages a facelift and added a number of cool new features.
Added features
Looks like we cut out essential information? Well, we didn't. In fact, we added more:
A larger map showing the location
A larger clock
Currency
Official language(s)
A real-time graphic representation of the Moon's illuminated fraction
Where is...?
We know that it always takes some time and effort to get used to a new layout and find your way around. If you have difficulties locating a specific feature or piece of information, it is likely that it has been moved and not deleted. The following list will help you find stuff we have moved:
Pop-up clock/Fullscreen clock:
Click on the analog clock near the top of the page, then select "Popup Window" or "Fullscreen" in the top-right corner. (Do you prefer the old-style fullscreen clock? Please see the frequently asked questions below.)
Twilight times and Moon phases:
Click on the link "Show More Twilight and Moon Phase Information" underneath the yellow "Sunrise" and "Sunset" boxes.
Time difference from UTC / GMT:
Displayed in the green "Time zone" box.
List of time differences between this and other locations worldwide:
Click on the blue "Difference" box.
Link "If is e.g. 4 pm in [location], what time is it elsewhere?":
Has been renamed to "Event Time Announcer for [location]; listed in the "Tools & Converters" section at the bottom of the page.
Link to add the location to your Personal World Clock:
Temporarily missing; we will put it back into place soon. In the meantime, please go to the Personal World Clock set-up page to add the location.
Frequently asked questions (FAQ)
I like the old format better, is it still available?
No. Unfortunately, we cannot maintain two different formats in the long-run.
Can I still use the old version of the full-screen clock?
Yes. Simply right-click on the "Enlarge" link left of the analog clock and select "Open Link in New Tab" (or similar). It is also possible to open a pop-up clock (click on the analog clock near the top of the page, then select "Popup Window" in the top-right corner) and maximize it.
Give us a piece of your mind
Love or hate the new design? Please answer this short survey and help us make the City Information Pages better.
Have more to say? Please drop us a line!