Live Countdown Timer With Animations
What are you looking forward to? See the seconds tick down to your vacation, wedding, or retirement. Share your countdown by copying the web address (URL). The countdown automatically adjusts for DST changes in the selected location.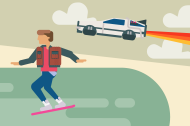 Remember Marty and Doc's trip to the far, far future?

October 21, 2015
Other Countdown Counters
Related Links