National day in Austria
Quick Facts
National Day on October 26 is a public holiday in Austria.
Local names
| Name | Language |
| --- | --- |
| Nationalfeiertag | German |
| National day | English |
National day 2014
Sunday, October 26, 2014
National day 2015
Monday, October 26, 2015
List of dates for other years
Every year on October 26 Austrians celebrate their country's declaration of permanent neutrality after World War II and its regained status as an independent and sovereign nation on October 26, 1955.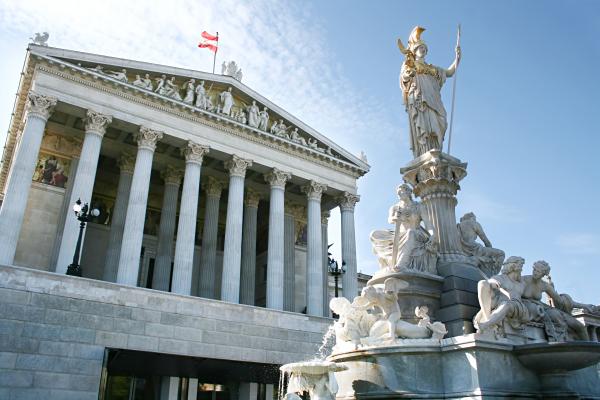 ©iStockphoto.com/Ivan Tykhyi
What do people do?
On October 26, the Austrian national flag is omnipresent throughout the country. Memorial ceremonies are held in many locations, federal museums offer free entry and some state institutions open for visitors.
A very different tradition on National Day are the "fitness marches" (Fit-Märsche). These are hikes that are organized throughout the country and attract around 100,000 people each year. The aim is to promote fitness and raise awareness of a healthy life-style.
Public life
The National Day on October 26 is a public holiday in Austria. Offices, banks, schools and businesses are closed. Public transport runs on a reduced schedule.
Background
October 26 has been the date of Austria's National Day since 1965. Ten years earlier, the country had declared its permanent neutrality, which has since become one of the fundamental values of Austrian foreign policy. One day before the declaration, on October 25, 1955, the last foreign troops left the country, which had been occupied by the four allied powers (Soviet Union, United States, Great Britain and France) since the end of World War II.
National day Observances
| Weekday | Date | Year | Name | Holiday type |
| --- | --- | --- | --- | --- |
| Fri | Oct 26 | 1990 | National day | National holiday |
| Sat | Oct 26 | 1991 | National day | National holiday |
| Mon | Oct 26 | 1992 | National day | National holiday |
| Tue | Oct 26 | 1993 | National day | National holiday |
| Wed | Oct 26 | 1994 | National day | National holiday |
| Thu | Oct 26 | 1995 | National day | National holiday |
| Sat | Oct 26 | 1996 | National day | National holiday |
| Sun | Oct 26 | 1997 | National day | National holiday |
| Mon | Oct 26 | 1998 | National day | National holiday |
| Tue | Oct 26 | 1999 | National day | National holiday |
| Thu | Oct 26 | 2000 | National day | National holiday |
| Fri | Oct 26 | 2001 | National day | National holiday |
| Sat | Oct 26 | 2002 | National day | National holiday |
| Sun | Oct 26 | 2003 | National day | National holiday |
| Tue | Oct 26 | 2004 | National day | National holiday |
| Wed | Oct 26 | 2005 | National day | National holiday |
| Thu | Oct 26 | 2006 | National day | National holiday |
| Fri | Oct 26 | 2007 | National day | National holiday |
| Sun | Oct 26 | 2008 | National day | National holiday |
| Mon | Oct 26 | 2009 | National day | National holiday |
| Tue | Oct 26 | 2010 | National day | National holiday |
| Wed | Oct 26 | 2011 | National day | National holiday |
| Fri | Oct 26 | 2012 | National day | National holiday |
| Sat | Oct 26 | 2013 | National day | National holiday |
| Sun | Oct 26 | 2014 | National day | National holiday |
| Mon | Oct 26 | 2015 | National day | National holiday |
| Wed | Oct 26 | 2016 | National day | National holiday |
| Thu | Oct 26 | 2017 | National day | National holiday |
| Fri | Oct 26 | 2018 | National day | National holiday |
| Sat | Oct 26 | 2019 | National day | National holiday |
| Mon | Oct 26 | 2020 | National day | National holiday |
Other holidays in October 2014 in Austria
Other calendars
Related links