Christmas Day in France
Quick Facts
Christmas Day is an occasion for Christians to celebrate Jesus Christ's birth. It is public holiday in France.
Local names
| Name | Language |
| --- | --- |
| Noël | French |
| Christmas Day | English |
| Weihnachten | German |
Christmas Day 2014
Thursday, December 25, 2014
Christmas Day 2015
Friday, December 25, 2015
List of dates for other years
Many Christians in France celebrate the birth of Jesus on Christmas Day (Noël). Many people spend the day quietly with family members or close friends.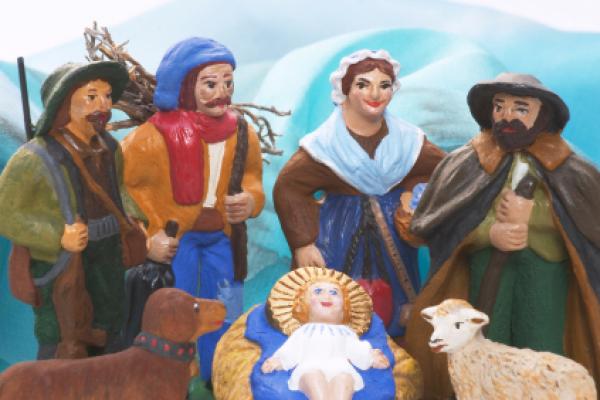 ©iStockphoto.com/ Munic
What do people do?
Many people in France put up a Christmas tree, visit a special church service, eat an elaborate meal and open Christmas presents on Christmas Eve. However, special Christmas meals are also popular. Dishes may include:
Rabbit terrine.
Brouillade de truffes (omelet with truffles).
Roasted capon (a small bird).
Salad, peas, green beans, carrots and potatoes.
Aigo-boulido (garlic soup).
Papillottes (small chocolate candies wrapped in shiny paper).
Many people spend Christmas Day quietly and some attend a special church service. Popular activities also include walking in a park or the countryside and sharing a meal with family and close friends.
Public life
Public life on Christmas Day is generally very quiet. Post offices, banks, stores, restaurants, cafes and other businesses are closed. However, some stores at airports, railway stations and major highways, may be open.
Public transport service schedules vary depending on where one is and hopes to travel. Churches may be closed for visitors who do not wish to take part in the services and guided tours are often not available.
Background
Christians celebrate Christmas Day by remembering the Jesus Christ's birth in Bethlehem around the year 3 BCE (the date varies depending on different sources). Christianity was introduced to the area that is now France at the time of the Roman Empire, around 300 CE. This religion has played an important role in the France's history.
Symbols
Many churches display a crib scene, often with life-size figures representing Mary, Joseph, Jesus and other characters from the Nativity, during this time of the year. Some churches even include actors and live animals. However, many churches were closed and nativity scenes prohibited during the French revolution.
People began to make and display santons at home during at the time of the French revolution. Santons are small nativity scene figurines. They may be made of terracotta and painted with bright colors or doll-like figures dressed in miniature clothes. There are more than 50 different santons representing the holy family and traditional village characters. They include:
Mary.
Joseph.
Jesus.
Shepherds.
A baker.
A vegetable seller.
A scissors grinder.
A woman selling fish.
A blind man.
A man selling roasted chestnuts.
Today, santons are still an important symbol of Christmas, particularly in the Provence, a region of southeastern France. Special fairs are held in December to enable people to buy more figures for their displays.
About Christmas Day in other countries
Read more about
Christmas Day
.
Christmas Day Observances
| Weekday | Date | Year | Name | Holiday type |
| --- | --- | --- | --- | --- |
| Tue | Dec 25 | 1990 | Christmas Day | National holiday |
| Wed | Dec 25 | 1991 | Christmas Day | National holiday |
| Fri | Dec 25 | 1992 | Christmas Day | National holiday |
| Sat | Dec 25 | 1993 | Christmas Day | National holiday |
| Sun | Dec 25 | 1994 | Christmas Day | National holiday |
| Mon | Dec 25 | 1995 | Christmas Day | National holiday |
| Wed | Dec 25 | 1996 | Christmas Day | National holiday |
| Thu | Dec 25 | 1997 | Christmas Day | National holiday |
| Fri | Dec 25 | 1998 | Christmas Day | National holiday |
| Sat | Dec 25 | 1999 | Christmas Day | National holiday |
| Mon | Dec 25 | 2000 | Christmas Day | National holiday |
| Tue | Dec 25 | 2001 | Christmas Day | National holiday |
| Wed | Dec 25 | 2002 | Christmas Day | National holiday |
| Thu | Dec 25 | 2003 | Christmas Day | National holiday |
| Sat | Dec 25 | 2004 | Christmas Day | National holiday |
| Sun | Dec 25 | 2005 | Christmas Day | National holiday |
| Mon | Dec 25 | 2006 | Christmas Day | National holiday |
| Tue | Dec 25 | 2007 | Christmas Day | National holiday |
| Thu | Dec 25 | 2008 | Christmas Day | National holiday |
| Fri | Dec 25 | 2009 | Christmas Day | National holiday |
| Sat | Dec 25 | 2010 | Christmas Day | National holiday |
| Sun | Dec 25 | 2011 | Christmas Day | National holiday |
| Tue | Dec 25 | 2012 | Christmas Day | National holiday |
| Wed | Dec 25 | 2013 | Christmas Day | National holiday |
| Thu | Dec 25 | 2014 | Christmas Day | National holiday |
| Fri | Dec 25 | 2015 | Christmas Day | National holiday |
| Sun | Dec 25 | 2016 | Christmas Day | National holiday |
| Mon | Dec 25 | 2017 | Christmas Day | National holiday |
| Tue | Dec 25 | 2018 | Christmas Day | National holiday |
| Wed | Dec 25 | 2019 | Christmas Day | National holiday |
| Fri | Dec 25 | 2020 | Christmas Day | National holiday |
Related holidays
Other holidays in December 2014 in France
Other calendars
Related links