Christmas Day in Ireland
Quick Facts
Christmas Day is an occasion for Christians to celebrate the Jesus Christ's birth. It is a public holiday in the Republic of Ireland.
Local names
| Name | Language |
| --- | --- |
| Christmas Day | English |
| Lá Nollag | Irish |
| Weihnachten | German |
Christmas Day 2014
Thursday, December 25, 2014
Christmas Day 2015
Friday, December 25, 2015
List of dates for other years
Christmas Day (Lá Nollag) is a time for people in the Republic of Ireland to celebrate the birth of Jesus with family members and close friends. They often do this by visiting special church services and eating a festive meal.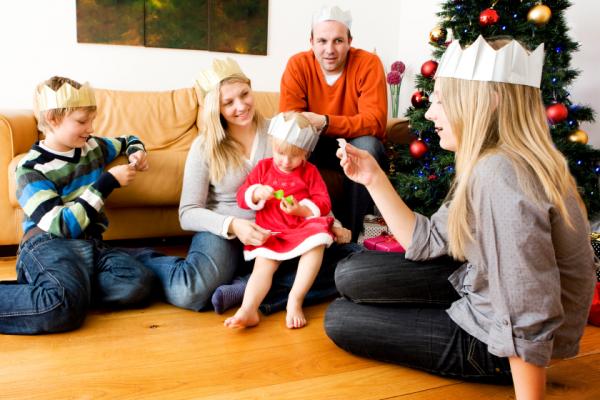 ©iStockphoto.com/Chris Schmidt
What do people do?
Many people observe Christmas Day by attending special church service, which are often held at sunrise or in the early morning. They then spend the rest of the day at home with family members and close friends. Christmas dinner is a formal meal. It is often served in the early afternoon and is a highlight of the Christmas period. Common foods include:
Roast goose, chicken, duck, pheasant or turkey.
Boiled or smoked ham.
Spiced beef.
Stuffing.
Gravy.
Roast, mashed or boiled potatoes.
A range of vegetables, including carrots, turnips and Brussels sprouts.
After the main meal has been cleared away, people often eat trifle or Christmas pudding with rum sauce and brandy butter.
Public life
Public life is generally quiet on Christmas Day. Banks, post offices and many other businesses and organizations are closed. A few stores and pubs are open for a limited number of hours. Public transport service schedules vary. In many areas, there is no public transport.
Background
Mid-winter festivals were held in Ireland for thousands of years. Celtic rituals included lighting fires to tempt the sun back to the earth and holding feasts and parties. Many of these rituals are now reflected in the Christian celebrations of Jesus' birth.
Christmas Day in Ireland has been a traditional day of rest and Christian worship for hundreds of years. For this reason, people were not generally expected to work on December 25. The Holidays (Employees) Act 1961 confirmed that Christmas Day was a public holiday. If Christmas Day when falls on a Sunday, the public holiday moves to Tuesday, December 27.
Symbols
Christmas crackers consist of cardboard tubes wrapped in brightly colored pieces of crepe or tissue paper. They generally contain a small gift, a joke or motto, a paper hat and a banger. The banger is a chemically impregnated card strip that makes a bang when it is pulled apart. Crackers are often pulled before or during the main meal on Christmas Day. However, they may also be part of birthday and wedding celebrations.
About Christmas Day in other countries
Read more about
Christmas Day
.
Christmas Day Observances
| Weekday | Date | Year | Name | Holiday type |
| --- | --- | --- | --- | --- |
| Tue | Dec 25 | 1990 | Christmas Day | National holiday |
| Wed | Dec 25 | 1991 | Christmas Day | National holiday |
| Fri | Dec 25 | 1992 | Christmas Day | National holiday |
| Sat | Dec 25 | 1993 | Christmas Day | National holiday |
| Sun | Dec 25 | 1994 | Christmas Day | National holiday |
| Mon | Dec 25 | 1995 | Christmas Day | National holiday |
| Wed | Dec 25 | 1996 | Christmas Day | National holiday |
| Thu | Dec 25 | 1997 | Christmas Day | National holiday |
| Fri | Dec 25 | 1998 | Christmas Day | National holiday |
| Sat | Dec 25 | 1999 | Christmas Day | National holiday |
| Mon | Dec 25 | 2000 | Christmas Day | National holiday |
| Tue | Dec 25 | 2001 | Christmas Day | National holiday |
| Wed | Dec 25 | 2002 | Christmas Day | National holiday |
| Thu | Dec 25 | 2003 | Christmas Day | National holiday |
| Sat | Dec 25 | 2004 | Christmas Day | National holiday |
| Sun | Dec 25 | 2005 | Christmas Day | National holiday |
| Mon | Dec 25 | 2006 | Christmas Day | National holiday |
| Tue | Dec 25 | 2007 | Christmas Day | National holiday |
| Thu | Dec 25 | 2008 | Christmas Day | National holiday |
| Fri | Dec 25 | 2009 | Christmas Day | National holiday |
| Sat | Dec 25 | 2010 | Christmas Day | National holiday |
| Sun | Dec 25 | 2011 | Christmas Day | National holiday |
| Tue | Dec 25 | 2012 | Christmas Day | National holiday |
| Wed | Dec 25 | 2013 | Christmas Day | National holiday |
| Thu | Dec 25 | 2014 | Christmas Day | National holiday |
| Fri | Dec 25 | 2015 | Christmas Day | National holiday |
| Sun | Dec 25 | 2016 | Christmas Day | National holiday |
| Mon | Dec 25 | 2017 | Christmas Day | National holiday |
| Tue | Dec 25 | 2018 | Christmas Day | National holiday |
| Wed | Dec 25 | 2019 | Christmas Day | National holiday |
| Fri | Dec 25 | 2020 | Christmas Day | National holiday |
Related holidays
Other holidays in December 2014 in Ireland
Other calendars
Related links