Easter Monday in Ireland
Quick Facts
Easter Monday is the day after Easter Sunday. It is a public holiday in the Republic of Ireland.
Local names
| Name | Language |
| --- | --- |
| Easter Monday | English |
| Luan Cásca | Irish |
| Ostermontag | German |
Easter Monday 2014
Monday, April 21, 2014
Easter Monday 2015
Monday, April 6, 2015
List of dates for other years
Easter Monday (Luan Cásca) is the day after Easter Sunday. It is an occasion for people in the Republic of Ireland to remember the Easter Uprising, which occurred in 1916, and attend sports events and local fairs.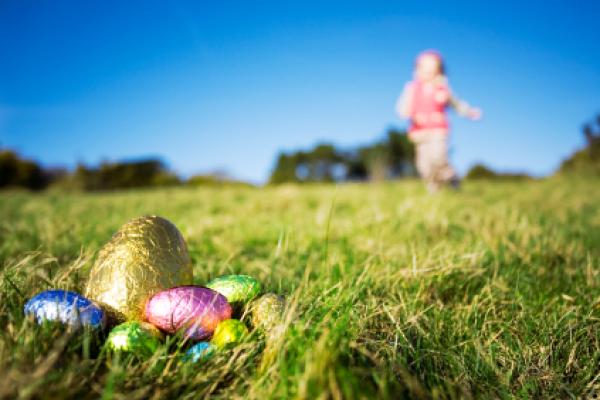 ©iStockphoto.com/René Mansi
What do people do?
Many people spend time with family members or close friends on Easter Monday. People may attend special church services, local fairs or sports events. Many people do not have to work on Good Friday or Easter Monday so the long Easter weekend is a popular time for short vacations in Ireland or abroad.
Parades and other events are held to commemorate the Easter Rising that occurred in 1916. These often start at or pass the Garden Of Remembrance, the General Post Office or the old yard of Arbour Hill prison in Dublin. These locations have memorials to those who died during the Easter Rising. Some parades are politically sensitive and so it is recommended that people should research the events carefully before taking part.
Public life
Public life is generally quiet on Easter Monday. Banks, post offices and many other businesses and organizations are closed. However, stores and pubs are generally open, although they may open later and close earlier than usual. Public transport service schedules vary depending on where one lives and intends to travel. There may be some local disruption to traffic if roads are closed for events.
Background
The Easter date in Ireland and many other countries depends on the ecclesiastical approximation of the March equinox. In the past, Easter celebrations often lasted for a week from Easter Sunday. This period was known as Easter Week. However, this tradition largely died out by the mid 1800s. The Bank Holidays Act 1871 officially designated Easter Monday as a public holiday.
A rebellion against British rule began in Dublin on Easter Monday (April 24) in 1916. This rebellion lasted until Saturday, April 29, and became known as the Easter Rising. Hundreds of people, including civilians, died. The Easter Rising is now seen as an important point in the struggle for Irish independence.
About Easter Monday in other countries
Read more about
Easter Monday
.
Easter Monday Observances
| Weekday | Date | Year | Name | Holiday type |
| --- | --- | --- | --- | --- |
| Mon | Apr 16 | 1990 | Easter Monday | National holiday |
| Mon | Apr 1 | 1991 | Easter Monday | National holiday |
| Mon | Apr 20 | 1992 | Easter Monday | National holiday |
| Mon | Apr 12 | 1993 | Easter Monday | National holiday |
| Mon | Apr 4 | 1994 | Easter Monday | National holiday |
| Mon | Apr 17 | 1995 | Easter Monday | National holiday |
| Mon | Apr 8 | 1996 | Easter Monday | National holiday |
| Mon | Mar 31 | 1997 | Easter Monday | National holiday |
| Mon | Apr 13 | 1998 | Easter Monday | National holiday |
| Mon | Apr 5 | 1999 | Easter Monday | National holiday |
| Mon | Apr 24 | 2000 | Easter Monday | National holiday |
| Mon | Apr 16 | 2001 | Easter Monday | National holiday |
| Mon | Apr 1 | 2002 | Easter Monday | National holiday |
| Mon | Apr 21 | 2003 | Easter Monday | National holiday |
| Mon | Apr 12 | 2004 | Easter Monday | National holiday |
| Mon | Mar 28 | 2005 | Easter Monday | National holiday |
| Mon | Apr 17 | 2006 | Easter Monday | National holiday |
| Mon | Apr 9 | 2007 | Easter Monday | National holiday |
| Mon | Mar 24 | 2008 | Easter Monday | National holiday |
| Mon | Apr 13 | 2009 | Easter Monday | National holiday |
| Mon | Apr 5 | 2010 | Easter Monday | National holiday |
| Mon | Apr 25 | 2011 | Easter Monday | National holiday |
| Mon | Apr 9 | 2012 | Easter Monday | National holiday |
| Mon | Apr 1 | 2013 | Easter Monday | National holiday |
| Mon | Apr 21 | 2014 | Easter Monday | National holiday |
| Mon | Apr 6 | 2015 | Easter Monday | National holiday |
| Mon | Mar 28 | 2016 | Easter Monday | National holiday |
| Mon | Apr 17 | 2017 | Easter Monday | National holiday |
| Mon | Apr 2 | 2018 | Easter Monday | National holiday |
| Mon | Apr 22 | 2019 | Easter Monday | National holiday |
| Mon | Apr 13 | 2020 | Easter Monday | National holiday |
Related holidays
Other holidays in April 2014 in Ireland
Other calendars
Related links