New Year's Day in Ireland
Quick Facts
New Year's Day is the first day of the year. It is a public holiday in the Republic of Ireland.
Local names
| Name | Language |
| --- | --- |
| New Year's Day | English |
| Lá Caille | Irish |
| Neujahrstag | German |
New Year's Day 2014
Wednesday, January 1, 2014
New Year's Day 2015
Thursday, January 1, 2015
List of dates for other years
New Year's Day (Lá Caille or Lá Bliana Nua) is the first day of the Gregorian calendar used in Ireland. People generally spend the day quietly with family members or close friends. However, there are New Year's parades in some areas.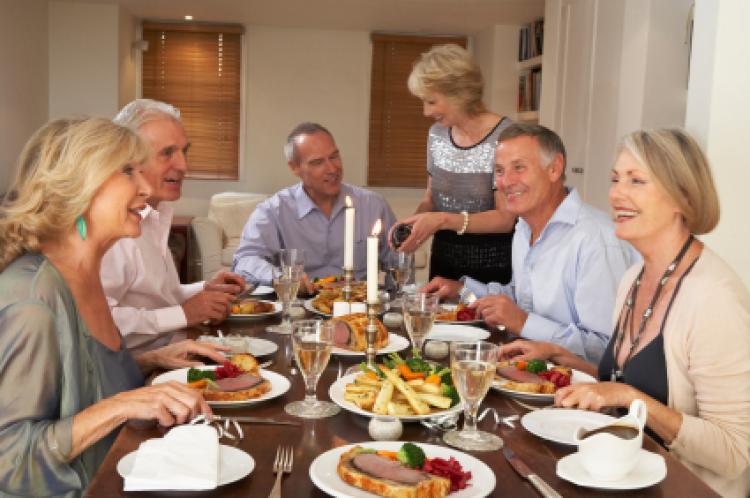 ©iStockphoto.com/Catherine Yeulet
What do people do?
Many people spend New Year's Day quietly with family members and close friends. This is particularly true if they attended New Year's Eve celebrations that lasted into the early hours of January 1. Others go walking in the hills or along beaches to mark the start of the New Year. New Year's dips are organized in many coastal towns. These are short swims in the cold waters of the Irish Sea or Atlantic Ocean.
New Year's Day parades are held in some villages, towns and cities. A large parade is held in Dublin. Marching bands, musicians and other groups walk through the city's streets. The atmosphere is friendly and welcoming. Parades in smaller towns and villages may concentrate on local events, anniversaries in the coming year, or be more religious or spiritual.
Public life
Public life is generally quiet on New Year's Day. Banks, post offices and many other businesses and organizations are closed. Some stores and pubs are open, although they may open later and close earlier than usual. Public transport service schedules vary depending on where one lives and intends to travel. There may be some local disruption to traffic if roads are closed for New Year's parades. If January 1 falls on a Sunday, the public holiday is moved to Monday, January 2.
Background
Winter celebrations have been held in Ireland for thousands of years. These marked the end of the fall (autumn) harvest season and the return of the sun after the darkest part of the year. People celebrated by holding feasts, social events and lighting fires to bring light into the dark.
New Year's Day was recognized as a church holiday in the Holidays (Employees) Act 1961 in the Republic of Ireland. It became a public holiday following the Holidays (Employees) Act 1973. The public holiday was first observed in 1974.
About New Year's Day in other countries
Read more about
New Year's Day
.
New Year's Day Observances
| Weekday | Date | Year | Name | Holiday type |
| --- | --- | --- | --- | --- |
| Mon | Jan 1 | 1990 | New Year's Day | National holiday |
| Tue | Jan 1 | 1991 | New Year's Day | National holiday |
| Wed | Jan 1 | 1992 | New Year's Day | National holiday |
| Fri | Jan 1 | 1993 | New Year's Day | National holiday |
| Sat | Jan 1 | 1994 | New Year's Day | National holiday |
| Sun | Jan 1 | 1995 | New Year's Day | National holiday |
| Mon | Jan 1 | 1996 | New Year's Day | National holiday |
| Wed | Jan 1 | 1997 | New Year's Day | National holiday |
| Thu | Jan 1 | 1998 | New Year's Day | National holiday |
| Fri | Jan 1 | 1999 | New Year's Day | National holiday |
| Sat | Jan 1 | 2000 | New Year's Day | National holiday |
| Mon | Jan 1 | 2001 | New Year's Day | National holiday |
| Tue | Jan 1 | 2002 | New Year's Day | National holiday |
| Wed | Jan 1 | 2003 | New Year's Day | National holiday |
| Thu | Jan 1 | 2004 | New Year's Day | National holiday |
| Sat | Jan 1 | 2005 | New Year's Day | National holiday |
| Sun | Jan 1 | 2006 | New Year's Day | National holiday |
| Mon | Jan 1 | 2007 | New Year's Day | National holiday |
| Tue | Jan 1 | 2008 | New Year's Day | National holiday |
| Thu | Jan 1 | 2009 | New Year's Day | National holiday |
| Fri | Jan 1 | 2010 | New Year's Day | National holiday |
| Sat | Jan 1 | 2011 | New Year's Day | National holiday |
| Sun | Jan 1 | 2012 | New Year's Day | National holiday |
| Tue | Jan 1 | 2013 | New Year's Day | National holiday |
| Wed | Jan 1 | 2014 | New Year's Day | National holiday |
| Thu | Jan 1 | 2015 | New Year's Day | National holiday |
| Fri | Jan 1 | 2016 | New Year's Day | National holiday |
| Sun | Jan 1 | 2017 | New Year's Day | National holiday |
| Mon | Jan 1 | 2018 | New Year's Day | National holiday |
| Tue | Jan 1 | 2019 | New Year's Day | National holiday |
| Wed | Jan 1 | 2020 | New Year's Day | National holiday |
Related holiday
Other holidays in January 2014 in Ireland
Other calendars
Related links