Assumption of Mary in Italy
Quick Facts
Assumption Day, also known as the Feast of the Assumption, is an annual public holiday in Italy on August 15.
Local names
| Name | Language |
| --- | --- |
| Assunzione | Italian |
| Assumption of Mary | English |
| Mariä Himmelfahrt | German |
Assumption of Mary 2014
Friday, August 15, 2014
Assumption of Mary 2015
Saturday, August 15, 2015
List of dates for other years
Every year many Italians observe Assumption Day, also known as Ferragosto, on August 15. This national holiday celebrates the Catholic belief that God took the body of Jesus' mother Mary into heaven at her death.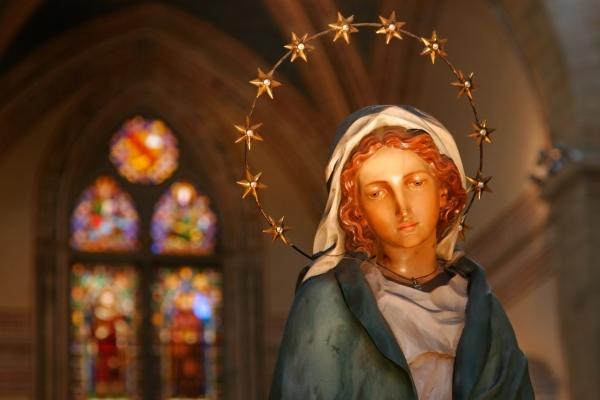 ©iStockphoto.com/Gijs van Ouwerkerk
What do people do?
Ferragosto is a widely celebrated national holiday in Italy during the summer. It involves processions of people carrying the statue of Jesus' mother Mary in many towns and cities . One of the days of the Palio di Siena, or Il Palio in the city of Siena in Tuscany is held on August 16, coinciding with Assumption Day. This event involves a horse race around the Piazza in the city. Firework celebrations also take place on evening of Assumption Day.
Public life
Assumption Day is a nationwide public holiday in Italy. Organizations and businesses that are closed include:
Government offices.
Post offices.
Banks.
Schools and other educational institutions.
Transport options, such as taxis, rail services between major cities and major long-route bus lines, are available but travelers are advised to check first with the local transport authorities.
Background
For many years, many Catholic churches in Italy celebrate Ferragosto, or the feast day of the Assumption of Mary. Many churches in Italy believe that August 15 is the day that God assumed the Virgin Mary into Heaven at the end of her life. However, its origins date further back to pre-Christian times when August 15 was a Pagan holiday. The Catholic church later adopted this date to commemorate the belief of Mary's assumption into heaven.
Symbols
Statues and icons of the Virgin Mary are brought out for display and carried out in street processions on Assumption Day in Italy.
About Assumption of Mary in other countries
Read more about
Assumption of Mary
.
Assumption of Mary Observances
| Weekday | Date | Year | Name | Holiday type |
| --- | --- | --- | --- | --- |
| Wed | Aug 15 | 1990 | Assumption of Mary | National holiday |
| Thu | Aug 15 | 1991 | Assumption of Mary | National holiday |
| Sat | Aug 15 | 1992 | Assumption of Mary | National holiday |
| Sun | Aug 15 | 1993 | Assumption of Mary | National holiday |
| Mon | Aug 15 | 1994 | Assumption of Mary | National holiday |
| Tue | Aug 15 | 1995 | Assumption of Mary | National holiday |
| Thu | Aug 15 | 1996 | Assumption of Mary | National holiday |
| Fri | Aug 15 | 1997 | Assumption of Mary | National holiday |
| Sat | Aug 15 | 1998 | Assumption of Mary | National holiday |
| Sun | Aug 15 | 1999 | Assumption of Mary | National holiday |
| Tue | Aug 15 | 2000 | Assumption of Mary | National holiday |
| Wed | Aug 15 | 2001 | Assumption of Mary | National holiday |
| Thu | Aug 15 | 2002 | Assumption of Mary | National holiday |
| Fri | Aug 15 | 2003 | Assumption of Mary | National holiday |
| Sun | Aug 15 | 2004 | Assumption of Mary | National holiday |
| Mon | Aug 15 | 2005 | Assumption of Mary | National holiday |
| Tue | Aug 15 | 2006 | Assumption of Mary | National holiday |
| Wed | Aug 15 | 2007 | Assumption of Mary | National holiday |
| Fri | Aug 15 | 2008 | Assumption of Mary | National holiday |
| Sat | Aug 15 | 2009 | Assumption of Mary | National holiday |
| Sun | Aug 15 | 2010 | Assumption of Mary | National holiday |
| Mon | Aug 15 | 2011 | Assumption of Mary | National holiday |
| Wed | Aug 15 | 2012 | Assumption of Mary | National holiday |
| Thu | Aug 15 | 2013 | Assumption of Mary | National holiday |
| Fri | Aug 15 | 2014 | Assumption of Mary | National holiday |
| Sat | Aug 15 | 2015 | Assumption of Mary | National holiday |
| Mon | Aug 15 | 2016 | Assumption of Mary | National holiday |
| Tue | Aug 15 | 2017 | Assumption of Mary | National holiday |
| Wed | Aug 15 | 2018 | Assumption of Mary | National holiday |
| Thu | Aug 15 | 2019 | Assumption of Mary | National holiday |
| Sat | Aug 15 | 2020 | Assumption of Mary | National holiday |
Other holidays in August 2014 in Italy
Other calendars
Related links