Day after New Years Day in New Zealand
Many New Zealanders have the day off on January 2, also known as the Day after New Year's Day. It is taken together with the New Year's Day public holiday, held on January 1.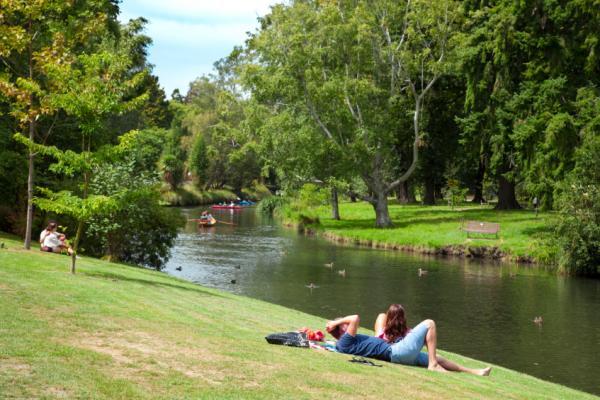 What do people do?
Many people take the time out to relax and unwind during the two days off – January 1 and 2 – before returning to work. It's also a popular time to take annual vacation because of the school summer holidays, which happen in January in New Zealand. Some people go on camping trips or trips to the beach while others prefer to stay home.
Public life
The Day after New Year's Day is a statutory public holiday in New Zealand, so schools, government offices, and many private businesses are closed. New Year's Day is also in the middle of the school summer holidays in New Zealand.
Background
When settlers started coming to New Zealand from Britain and other parts of Europe during the mid 1800s, they had to adjust to observing Christmas and New Year's Day in the middle of summer, rather than the winters they were used to. Many of them brought over their own traditions, including how they celebrate New Year's Day. For example, Scottish immigrants would celebrate New Year's Day the same way they did back in Scotland. The men would wear kilts and play the bagpipe during the New Year's festivities.
Day after New Years Day Observances
| Weekday | Date | Year | Name | Holiday type |
| --- | --- | --- | --- | --- |
| Mon | Jan 4 | 2010 | Day after New Years Day | National holiday |
| Tue | Jan 4 | 2011 | Day after New Years Day | National holiday |
| Tue | Jan 3 | 2012 | Day after New Years Day | National holiday |
| Wed | Jan 2 | 2013 | Day after New Years Day | National holiday |
| Thu | Jan 2 | 2014 | Day after New Years Day | National holiday |
| Fri | Jan 2 | 2015 | Day after New Years Day | National holiday |
| Mon | Jan 4 | 2016 | Day after New Years Day | National holiday |
| Tue | Jan 3 | 2017 | Day after New Years Day | National holiday |
| Tue | Jan 2 | 2018 | Day after New Years Day | National holiday |
| Wed | Jan 2 | 2019 | Day after New Years Day | National holiday |
| Thu | Jan 2 | 2020 | Day after New Years Day | National holiday |
Quick Facts
January 2 is a public holiday known as the Day after New Year's Day in New Zealand
Day after New Years Day 2015
Friday, January 2, 2015

Day after New Years Day 2016
Monday, January 4, 2016

---
Name in other languages
| Name | Language |
| --- | --- |
| Day after New Years Day | English |
| Tag nach Neujahr | German |
Related holidays
Other holidays in January 2016 in New Zealand
Fun Holidays on January 2, 2016