All Saints' Day in Switzerland
Quick Facts
All Saints is a public holiday in some areas of Switzerland.
Local names
| Name | Language |
| --- | --- |
| Allerheiligen | German |
| La Toussaint | French |
| Ognissanti | Italian |
| Numnasontga | Romansh |
| All Saints' Day | English |
Alternative name
All Hallows' Day
All Saints' Day 2014
Saturday, November 1, 2014
All Saints' Day 2015
Sunday, November 1, 2015
List of dates for other years
Every year on November 1 Christians in Switzerland honor all saints, particularly those who do not have their own special feast day. All Saints is an important observation for Catholics, so November 1 is a public holiday in those Swiss cantons where the Catholic influence is largest.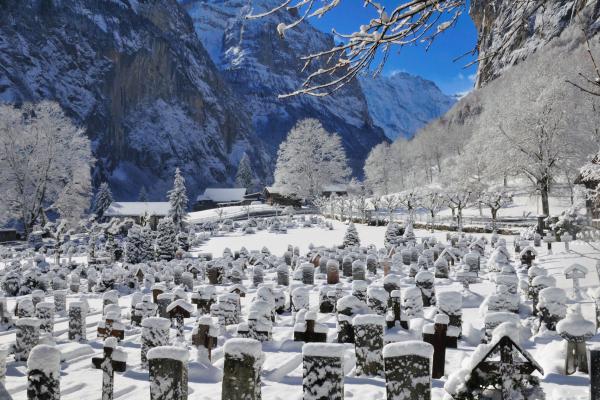 ©iStockphoto.com/Loren File
What do people do?
Although All Saints is officially dedicated to saints, it is also an occasion to honor the dead. For that reason, candles are lit in cemetaries across Switzerland. Some Christians also attend a church service.
Public life
All Saints is a public holiday or silent day in the following cantons:
Appenzell Innerrhoden
Glarus
Jura
Lucerne
Nidwalden
Obwalden
St. Gallen
Schwyz
Ticino
Uri
Valais
Zug
It is also a public holiday in some municipalities in the following cantons:
Aargau
Fribourg
Graubünden
Schaffhausen
In the listed areas offices, banks, schools and many businesses are closed on November 1. Public transport may run on a reduced schedule.
Background
According to some sources, the idea for All Saints' Day goes back to the fourth century when the Greek Christians kept a festival on the first Sunday after Pentecost (in late May or early June) in honor of all martyrs and saints. Other sources say that a commemoration of "All Martyrs" began to be celebrated as early as 270 CE but no specific month or date is recorded. Pope Gregory IV made All Saints' Day an authorized holiday in 837 CE. It is speculated that the chosen date for the event, November 1, may have been an attempt to supplant the pagan Festival of the Dead (also known as Samhain or the feast of Saman, lord of death).
Symbols
Symbols commonly associated with All Saints' Day are:
A sheaf of wheat.
Rayed Manus Dei (hand of God).
The crown.
Symbols (including images) of individual saints.
The liturgical color is white on All Saints' Day.
About All Saints' Day in other countries
Read more about
All Saints' Day
.
All Saints' Day Observances
| Weekday | Date | Year | Name | Holiday type | Where it is observed |
| --- | --- | --- | --- | --- | --- |
| Thu | Nov 1 | 1990 | All Saints' Day | Common Local holidays | 16 cantons |
| Fri | Nov 1 | 1991 | All Saints' Day | Common Local holidays | 16 cantons |
| Sun | Nov 1 | 1992 | All Saints' Day | Common Local holidays | 16 cantons |
| Mon | Nov 1 | 1993 | All Saints' Day | Common Local holidays | 16 cantons |
| Tue | Nov 1 | 1994 | All Saints' Day | Common Local holidays | 16 cantons |
| Wed | Nov 1 | 1995 | All Saints' Day | Common Local holidays | 16 cantons |
| Fri | Nov 1 | 1996 | All Saints' Day | Common Local holidays | 16 cantons |
| Sat | Nov 1 | 1997 | All Saints' Day | Common Local holidays | 16 cantons |
| Sun | Nov 1 | 1998 | All Saints' Day | Common Local holidays | 16 cantons |
| Mon | Nov 1 | 1999 | All Saints' Day | Common Local holidays | 16 cantons |
| Wed | Nov 1 | 2000 | All Saints' Day | Common Local holidays | 16 cantons |
| Thu | Nov 1 | 2001 | All Saints' Day | Common Local holidays | 16 cantons |
| Fri | Nov 1 | 2002 | All Saints' Day | Common Local holidays | 16 cantons |
| Sat | Nov 1 | 2003 | All Saints' Day | Common Local holidays | 16 cantons |
| Mon | Nov 1 | 2004 | All Saints' Day | Common Local holidays | 16 cantons |
| Tue | Nov 1 | 2005 | All Saints' Day | Common Local holidays | 16 cantons |
| Wed | Nov 1 | 2006 | All Saints' Day | Common Local holidays | 16 cantons |
| Thu | Nov 1 | 2007 | All Saints' Day | Common Local holidays | 16 cantons |
| Sat | Nov 1 | 2008 | All Saints' Day | Common Local holidays | 16 cantons |
| Sun | Nov 1 | 2009 | All Saints' Day | Common Local holidays | 16 cantons |
| Mon | Nov 1 | 2010 | All Saints' Day | Common Local holidays | 16 cantons |
| Tue | Nov 1 | 2011 | All Saints' Day | Common Local holidays | 16 cantons |
| Thu | Nov 1 | 2012 | All Saints' Day | Common Local holidays | 16 cantons |
| Fri | Nov 1 | 2013 | All Saints' Day | Common Local holidays | 16 cantons |
| Sat | Nov 1 | 2014 | All Saints' Day | Common Local holidays | 16 cantons |
| Sun | Nov 1 | 2015 | All Saints' Day | Common Local holidays | 16 cantons |
| Tue | Nov 1 | 2016 | All Saints' Day | Common Local holidays | 16 cantons |
| Wed | Nov 1 | 2017 | All Saints' Day | Common Local holidays | 16 cantons |
| Thu | Nov 1 | 2018 | All Saints' Day | Common Local holidays | 16 cantons |
| Fri | Nov 1 | 2019 | All Saints' Day | Common Local holidays | 16 cantons |
| Sun | Nov 1 | 2020 | All Saints' Day | Common Local holidays | 16 cantons |
Other holidays in November 2014 in Switzerland
Other calendars
Related links