Sechseläuten in Switzerland
Quick Facts
Sechseläuten is an old spring festival that is celebrated each year in Zurich, Switzerland.
Local names
| Name | Language |
| --- | --- |
| Sechseläuten | German |
| Sechseläuten | English |
Sechseläuten 2013
Monday, April 15, 2013
Sechseläuten 2014
Monday, April 28, 2014
List of dates for other years
Sechseläuten (Swiss German: Sächsilüüte) is an old spring festival that occurs in Zurich every year on the third Monday of April. The rite culminates in the burning of the Böög - a figure of a snowman symbolizing winter.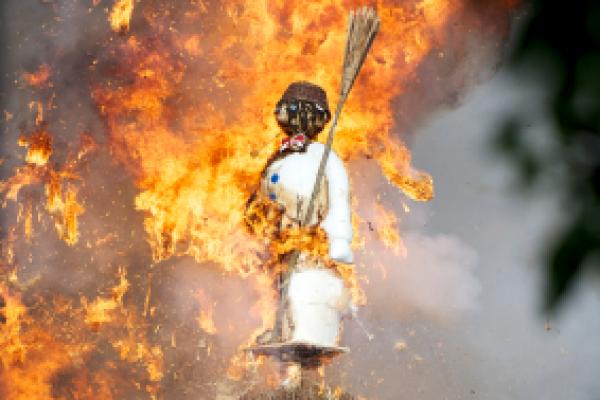 ©iStockphoto.com/combodesign
What do people do?
The procession of the guilds (Zug der Zünfte) to the Sechseläutenplatz, a square in Zurich, sets off the festivities. At 6:00 p.m. (18:00), the figure of a Snowman whose head is filled with firecrackers is burned at the stake. According to lore, the faster the Böög's head explodes the more pleasant the following summer will be. Thousands of Zurich's inhabitants usually watch the spectacle and round off the day by using the remains of the Böög's stake as a barbecue.
Public life
Sechseläuten is not an official holiday, but many businesses, offices and banks close for the day. There may be some minor traffic delays in the afternoon due to the procession of the guilds.
Background
The name of the festival literally means "to ring six" and refers to a medieval tradition. According to a law from 1525, the end of the working day was delayed from 5:00 p.m. to 6:00 p.m. (17:00 to 18:00) every year at the March equinox. The switch was marked by the ringing of the cathedral's bell.
Sechseläuten Observances
| Weekday | Date | Year | Name | Holiday type | Where it is observed |
| --- | --- | --- | --- | --- | --- |
| Mon | Apr 20 | 2009 | Sechseläuten | Observance | Zurich |
| Mon | Apr 19 | 2010 | Sechseläuten | Observance | Zurich |
| Mon | Apr 11 | 2011 | Sechseläuten | Observance | Zurich |
| Mon | Apr 16 | 2012 | Sechseläuten | Observance | Zurich |
| Mon | Apr 15 | 2013 | Sechseläuten | Observance | Zurich |
| Mon | Apr 28 | 2014 | Sechseläuten | Observance | Zurich |
| Mon | Apr 13 | 2015 | Sechseläuten | Observance | Zurich |
Other holidays in April 2013 in Switzerland
Advertising

Other calendars
Related links