Ukrainian Unity Day in Ukraine
Quick Facts
Unity Day is a Ukrainian observance that commemorates the Treaty of Unity signed on January 22, 1919.
Local names
| Name | Language |
| --- | --- |
| День украинской единства (День Соборности | Russian |
| День Українського єдності (День Соборності) | Ukrainian |
| Ukrainian Unity Day | English |
| Tag der Einheit | German |
Alternative name
Den Sobornosti
Ukrainian Unity Day 2014
Wednesday, January 22, 2014
Ukrainian Unity Day 2015
Thursday, January 22, 2015
List of dates for other years
Ukraine's Unity Day marks the anniversary of the unification of eastern and western Ukraine in 1919. It is celebrated on January 22 every year.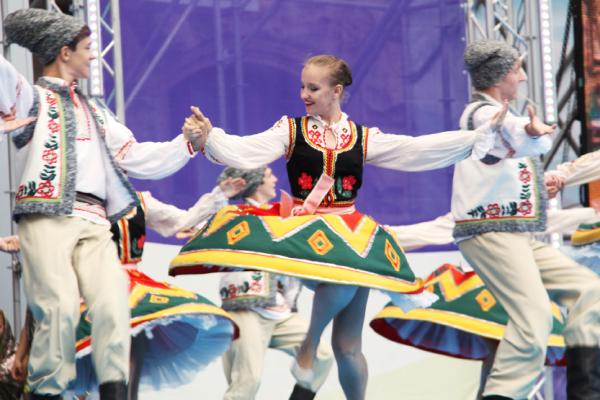 ©iStockphoto.com/AarStudio
What do people do?
Unity Day activities include:
People carrying national flags creating a human chain across bridges to symbolize national unity.
Concerts to celebrate Unity Day.
Political protests or demonstrations.
Some people lay flowers on or near monuments dedicated to famous Ukrainian political activists who fought for the country's unity and independence.
Public life
Unity Day is an observance and not an official public holiday in Ukraine.
Background
The story behind Unity Day dates back to January 22, 1919, when eastern and western Ukraine was united through the "Treaty of Unity". Historically, up until 1919, these halves – Ukraine's People Republic and West Ukrainian People Republic – often belonged to different empires.
Symbols
Many Ukrainians show their country's flag to celebrate Unity Day. It is a banner of 2 equally sized horizontal bands of blue and yellow.
Ukrainian Unity Day Observances
| Weekday | Date | Year | Name | Holiday type |
| --- | --- | --- | --- | --- |
| Mon | Jan 22 | 1990 | Ukrainian Unity Day | Observance |
| Tue | Jan 22 | 1991 | Ukrainian Unity Day | Observance |
| Wed | Jan 22 | 1992 | Ukrainian Unity Day | Observance |
| Fri | Jan 22 | 1993 | Ukrainian Unity Day | Observance |
| Sat | Jan 22 | 1994 | Ukrainian Unity Day | Observance |
| Sun | Jan 22 | 1995 | Ukrainian Unity Day | Observance |
| Mon | Jan 22 | 1996 | Ukrainian Unity Day | Observance |
| Wed | Jan 22 | 1997 | Ukrainian Unity Day | Observance |
| Thu | Jan 22 | 1998 | Ukrainian Unity Day | Observance |
| Fri | Jan 22 | 1999 | Ukrainian Unity Day | Observance |
| Sat | Jan 22 | 2000 | Ukrainian Unity Day | Observance |
| Mon | Jan 22 | 2001 | Ukrainian Unity Day | Observance |
| Tue | Jan 22 | 2002 | Ukrainian Unity Day | Observance |
| Wed | Jan 22 | 2003 | Ukrainian Unity Day | Observance |
| Thu | Jan 22 | 2004 | Ukrainian Unity Day | Observance |
| Sat | Jan 22 | 2005 | Ukrainian Unity Day | Observance |
| Sun | Jan 22 | 2006 | Ukrainian Unity Day | Observance |
| Mon | Jan 22 | 2007 | Ukrainian Unity Day | Observance |
| Tue | Jan 22 | 2008 | Ukrainian Unity Day | Observance |
| Thu | Jan 22 | 2009 | Ukrainian Unity Day | Observance |
| Fri | Jan 22 | 2010 | Ukrainian Unity Day | Observance |
| Sat | Jan 22 | 2011 | Ukrainian Unity Day | Observance |
| Sun | Jan 22 | 2012 | Ukrainian Unity Day | Observance |
| Tue | Jan 22 | 2013 | Ukrainian Unity Day | Observance |
| Wed | Jan 22 | 2014 | Ukrainian Unity Day | Observance |
| Thu | Jan 22 | 2015 | Ukrainian Unity Day | Observance |
| Fri | Jan 22 | 2016 | Ukrainian Unity Day | Observance |
| Sun | Jan 22 | 2017 | Ukrainian Unity Day | Observance |
| Mon | Jan 22 | 2018 | Ukrainian Unity Day | Observance |
| Tue | Jan 22 | 2019 | Ukrainian Unity Day | Observance |
| Wed | Jan 22 | 2020 | Ukrainian Unity Day | Observance |
Other holidays in January 2014 in Ukraine
Other calendars
Related links