World Wetlands Day
Quick Facts
World Wetlands Day raises awareness about the important role that the wetlands play in the environment and in our lives.
Local names
| Name | Language |
| --- | --- |
| World Wetlands Day | English |
| Día Mundial de los Humedales | Spanish |
| יום הביצות הבינלאומי | Hebrew |
| اليوم العالمي للأراضي الرطبة | Arabic |
| 세계 습지의 날 | Korean |
| Welttag der Feuchtgebiete | German |
World Wetlands Day 2014
Sunday, February 2, 2014
World Wetlands Day 2015
Monday, February 2, 2015
List of dates for other years
World Wetlands Day is annually held on February 2 to celebrate how wetlands, which are lands saturated by water, help maintain biodiversity on Earth.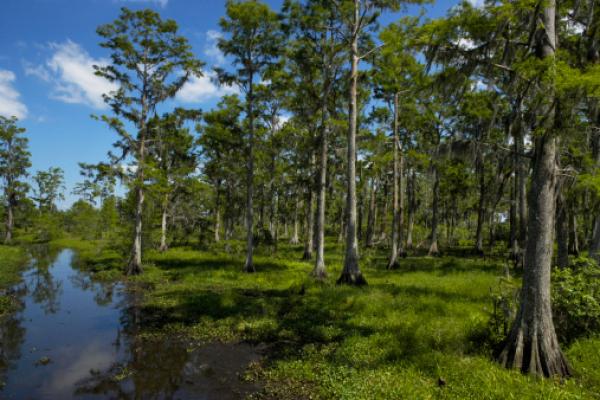 ©thinkstockphoto.com
Celebrate World Wetlands Day
Governments, community groups, and individuals around the world celebrate World Wetlands Day with special campaigns to promote the important value that the wetlands play in our lives. The day is promoted via social media, radio and TV broadcasts, and newspapers.
Public life
World Wetlands Day is not an official holiday so businesses, schools and government offices are open.
About World Wetlands Day
Wetlands are found near the sea or inland and can be seasonal – they are water logged only during parts of the year, or perennial. They play a crucial role in the ecosystem by:
Preventing flooding by absorbing water.
Ensuring that the soil provides a unique breeding ground for vegetation that feed fish.
Giving shelter to animals.
Purifying water by removing sediment.
World Wetlands Day has been observed since February 2, 1997. The day commemorates the anniversary of the signing of the Ramsar Convention in the Iranian city of Ramsar in 1971. The convention is a treaty on the preservation and sustainable use of wetlands.
World Wetlands Day Observances
| Weekday | Date | Year | Name | Holiday type | Where it is observed |
| --- | --- | --- | --- | --- | --- |
| Sun | Feb 2 | 1997 | World Wetlands Day | Worldwide observance | |
| Mon | Feb 2 | 1998 | World Wetlands Day | Worldwide observance | |
| Tue | Feb 2 | 1999 | World Wetlands Day | Worldwide observance | |
| Wed | Feb 2 | 2000 | World Wetlands Day | Worldwide observance | |
| Fri | Feb 2 | 2001 | World Wetlands Day | Worldwide observance | |
| Sat | Feb 2 | 2002 | World Wetlands Day | Worldwide observance | |
| Sun | Feb 2 | 2003 | World Wetlands Day | Worldwide observance | |
| Mon | Feb 2 | 2004 | World Wetlands Day | Worldwide observance | |
| Wed | Feb 2 | 2005 | World Wetlands Day | Worldwide observance | |
| Thu | Feb 2 | 2006 | World Wetlands Day | Worldwide observance | |
| Fri | Feb 2 | 2007 | World Wetlands Day | Worldwide observance | |
| Sat | Feb 2 | 2008 | World Wetlands Day | Worldwide observance | |
| Mon | Feb 2 | 2009 | World Wetlands Day | Worldwide observance | |
| Tue | Feb 2 | 2010 | World Wetlands Day | Worldwide observance | |
| Wed | Feb 2 | 2011 | World Wetlands Day | Worldwide observance | |
| Thu | Feb 2 | 2012 | World Wetlands Day | Worldwide observance | |
| Sat | Feb 2 | 2013 | World Wetlands Day | Worldwide observance | |
| Sun | Feb 2 | 2014 | World Wetlands Day | Worldwide observance | |
| Mon | Feb 2 | 2015 | World Wetlands Day | Worldwide observance | |
| Tue | Feb 2 | 2016 | World Wetlands Day | Worldwide observance | |
| Thu | Feb 2 | 2017 | World Wetlands Day | Worldwide observance | |
| Fri | Feb 2 | 2018 | World Wetlands Day | Worldwide observance | |
| Sat | Feb 2 | 2019 | World Wetlands Day | Worldwide observance | |
| Sun | Feb 2 | 2020 | World Wetlands Day | Worldwide observance | |
Other calendars
Related links