Carnival/Shrove Tuesday in Australia
Quick Facts
Shrove Tuesday is the day before the start of the Lent period for many Christians in Australia.
Local names
| Name | Language |
| --- | --- |
| Carnival/Shrove Tuesday | English |
| Faschingsdienstag | German |
Carnival/Shrove Tuesday 2014
Tuesday, March 4, 2014
Carnival/Shrove Tuesday 2015
Tuesday, February 17, 2015
List of dates for other years
Shrove Tuesday is known as Pancake Day in Australia. It is the last day before Lent for many Christians. The day may fall close to or within the dates for an annual Mardi Gras festival in Sydney.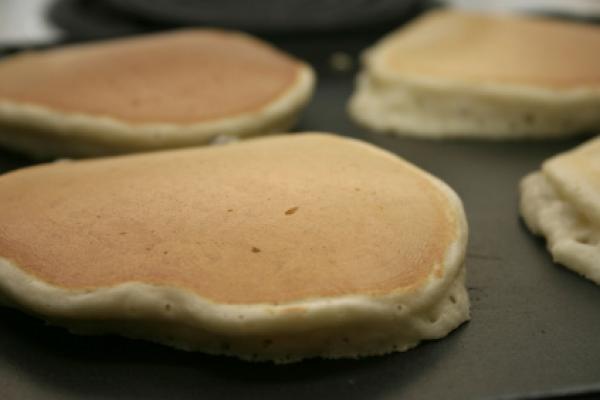 ©iStockphoto.com/Bill Manning
What do people do?
Many Australians make and share pancakes on Shrove Tuesday. Selling pancakes to raise money for charity is a popular activity. Some churches, businesses and charities hold Pancake Day events by making fresh pancakes and selling them. Proceeds from these events go towards various causes, such as support for low-income families who are experiencing tough times. Pancake Day events may also include pancake tossing races.
The Sydney Gay and Lesbian Mardi Gras may fall around the time of (but does not necessarily coincide with) Shrove Tuesday. International celebrities and pop groups have flown to Sydney to sing at the event. Sydney's Mardi Gras parade, which features elaborate costumes and dance music, is one of the city's highlights. However, it has attracted political opposition from various conservative Christian groups.
Public life
Shrove Tuesday is not a public holiday in Australia so public life is not affected.
Background
Many Christian observances and traditions, such as Shrove Tuesday, in Australia stem from the United Kingdom. Shrove Tuesday is the last day before Lent, which is a time when people traditionally fasted and avoided food containing eggs and dairy products. Families would have a feast on Shrove Tuesday. It was a time for them to eat food that contained these ingredients so that meals would not be wasted.
Pancakes became associated with Shrove Tuesday because they were a dish that could use up perishable foodstuffs such as eggs, fats and milk. Pancake races are thought to have begun in 1445. A general article about Shrove Tuesday worldwide covers more information about its background and symbols.
About Carnival/Shrove Tuesday in other countries
Read more about
Carnival/Shrove Tuesday
.
Carnival/Shrove Tuesday Observances
| Weekday | Date | Year | Name | Holiday type | Where it is observed |
| --- | --- | --- | --- | --- | --- |
| Tue | Feb 27 | 1990 | Carnival/Shrove Tuesday | Christian | |
| Tue | Feb 12 | 1991 | Carnival/Shrove Tuesday | Christian | |
| Tue | Mar 3 | 1992 | Carnival/Shrove Tuesday | Christian | |
| Tue | Feb 23 | 1993 | Carnival/Shrove Tuesday | Christian | |
| Tue | Feb 15 | 1994 | Carnival/Shrove Tuesday | Christian | |
| Tue | Feb 28 | 1995 | Carnival/Shrove Tuesday | Christian | |
| Tue | Feb 20 | 1996 | Carnival/Shrove Tuesday | Christian | |
| Tue | Feb 11 | 1997 | Carnival/Shrove Tuesday | Christian | |
| Tue | Feb 24 | 1998 | Carnival/Shrove Tuesday | Christian | |
| Tue | Feb 16 | 1999 | Carnival/Shrove Tuesday | Christian | |
| Tue | Mar 7 | 2000 | Carnival/Shrove Tuesday | Christian | |
| Tue | Feb 27 | 2001 | Carnival/Shrove Tuesday | Christian | |
| Tue | Feb 12 | 2002 | Carnival/Shrove Tuesday | Christian | |
| Tue | Mar 4 | 2003 | Carnival/Shrove Tuesday | Christian | |
| Tue | Feb 24 | 2004 | Carnival/Shrove Tuesday | Christian | |
| Tue | Feb 8 | 2005 | Carnival/Shrove Tuesday | Christian | |
| Tue | Feb 28 | 2006 | Carnival/Shrove Tuesday | Christian | |
| Tue | Feb 20 | 2007 | Carnival/Shrove Tuesday | Christian | |
| Tue | Feb 5 | 2008 | Carnival/Shrove Tuesday | Christian | |
| Tue | Feb 24 | 2009 | Carnival/Shrove Tuesday | Christian | |
| Tue | Feb 16 | 2010 | Carnival/Shrove Tuesday | Christian | |
| Tue | Mar 8 | 2011 | Carnival/Shrove Tuesday | Christian | |
| Tue | Feb 21 | 2012 | Carnival/Shrove Tuesday | Christian | |
| Tue | Feb 12 | 2013 | Carnival/Shrove Tuesday | Christian | |
| Tue | Mar 4 | 2014 | Carnival/Shrove Tuesday | Christian | |
| Tue | Feb 17 | 2015 | Carnival/Shrove Tuesday | Christian | |
| Tue | Feb 9 | 2016 | Carnival/Shrove Tuesday | Christian | |
| Tue | Feb 28 | 2017 | Carnival/Shrove Tuesday | Christian | |
| Tue | Feb 13 | 2018 | Carnival/Shrove Tuesday | Christian | |
| Tue | Mar 5 | 2019 | Carnival/Shrove Tuesday | Christian | |
| Tue | Feb 25 | 2020 | Carnival/Shrove Tuesday | Christian | |
Related holiday
Other holidays in March 2014 in Australia
Other calendars
Related links