All Saints' Day in Italy
Quick Facts
In Italy All Saints' Day is a national public holiday celebrated on November 1 to commemorate the Catholic saints.
Local names
| Name | Language |
| --- | --- |
| Tutti i Santi | Italian |
| All Saints' Day | English |
| Allerheiligen | German |
Alternative name
All Hallows' Day
All Saints' Day 2014
Saturday, November 1, 2014
All Saints' Day 2015
Sunday, November 1, 2015
List of dates for other years
All Saints' Day, also known as Festa di Tutti i Santi, is both a religious and public holiday in Italy on November 1 every year. It collectively celebrates all of the Catholic saints.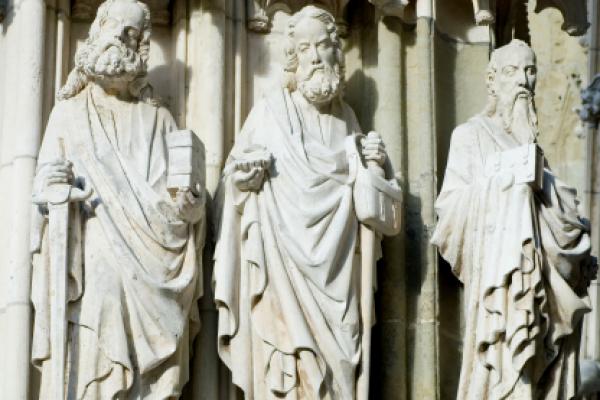 ©iStockphoto.com/Mary Lane
What do people do?
Tutti i Santi, or La festa di Ognissanti, is a day when people visit family and friends and exchange gifts and good will to one another. If Italians have the same name as a saint, it is a special day for them too.
Public life
All Saints' Day is a nationwide public holiday in Italy. Organizations and businesses that are closed include:
Government offices.
Post offices.
Banks.
Schools and other educational institutions.
Transport options, such as taxis, rail services between major cities and major long-route bus lines, are available but travelers are advised to check first with the local transport authorities.
Background
According to some sources, the idea for All Saints' Day goes back to the 4th century when the Greek Christians kept a festival on the first Sunday after Pentecost (in late May or early June) in honor of all martyrs and saints. It is celebrated in Italy and many other countries worldwide.
Symbols
Statues, images and icons in the image of the different saints are seen in many Catholic churches in Italy.
About All Saints' Day in other countries
Read more about
All Saints' Day
.
All Saints' Day Observances
| Weekday | Date | Year | Name | Holiday type |
| --- | --- | --- | --- | --- |
| Thu | Nov 1 | 1990 | All Saints' Day | National holiday |
| Fri | Nov 1 | 1991 | All Saints' Day | National holiday |
| Sun | Nov 1 | 1992 | All Saints' Day | National holiday |
| Mon | Nov 1 | 1993 | All Saints' Day | National holiday |
| Tue | Nov 1 | 1994 | All Saints' Day | National holiday |
| Wed | Nov 1 | 1995 | All Saints' Day | National holiday |
| Fri | Nov 1 | 1996 | All Saints' Day | National holiday |
| Sat | Nov 1 | 1997 | All Saints' Day | National holiday |
| Sun | Nov 1 | 1998 | All Saints' Day | National holiday |
| Mon | Nov 1 | 1999 | All Saints' Day | National holiday |
| Wed | Nov 1 | 2000 | All Saints' Day | National holiday |
| Thu | Nov 1 | 2001 | All Saints' Day | National holiday |
| Fri | Nov 1 | 2002 | All Saints' Day | National holiday |
| Sat | Nov 1 | 2003 | All Saints' Day | National holiday |
| Mon | Nov 1 | 2004 | All Saints' Day | National holiday |
| Tue | Nov 1 | 2005 | All Saints' Day | National holiday |
| Wed | Nov 1 | 2006 | All Saints' Day | National holiday |
| Thu | Nov 1 | 2007 | All Saints' Day | National holiday |
| Sat | Nov 1 | 2008 | All Saints' Day | National holiday |
| Sun | Nov 1 | 2009 | All Saints' Day | National holiday |
| Mon | Nov 1 | 2010 | All Saints' Day | National holiday |
| Tue | Nov 1 | 2011 | All Saints' Day | National holiday |
| Thu | Nov 1 | 2012 | All Saints' Day | National holiday |
| Fri | Nov 1 | 2013 | All Saints' Day | National holiday |
| Sat | Nov 1 | 2014 | All Saints' Day | National holiday |
| Sun | Nov 1 | 2015 | All Saints' Day | National holiday |
| Tue | Nov 1 | 2016 | All Saints' Day | National holiday |
| Wed | Nov 1 | 2017 | All Saints' Day | National holiday |
| Thu | Nov 1 | 2018 | All Saints' Day | National holiday |
| Fri | Nov 1 | 2019 | All Saints' Day | National holiday |
| Sun | Nov 1 | 2020 | All Saints' Day | National holiday |
Related holidays
Other holidays in November 2014 in Italy
Other calendars
Related links