Holy Saturday in Poland
Quick Facts
Holy Saturday, which is the day before Easter Sunday, is observed in many parts of Poland.
Local names
| Name | Language |
| --- | --- |
| Wielka Sobota | Polish |
| Holy Saturday | English |
| Karsamstag | German |
Holy Saturday 2014
Saturday, April 19, 2014
Holy Saturday 2015
Saturday, April 4, 2015
List of dates for other years
Many churches in Poland observe Holy Saturday. It is the day after Good Friday, which commemorates Jesus' death, and the day before Easter Sunday (Wielkanoc), which remembers his resurrection.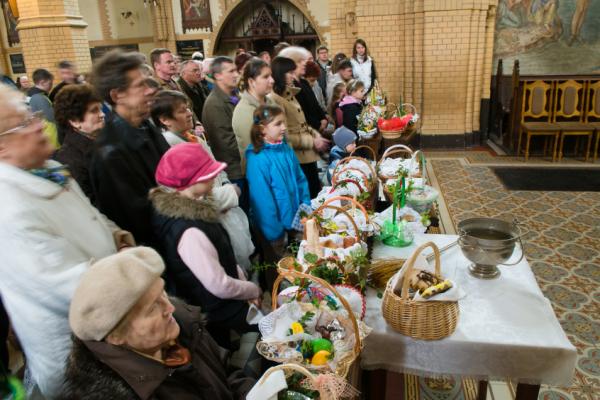 ©iStockphoto.com/kulicki
What do people do?
Many people in Poland bring baskets filled with Easter food to their churches for a special blessing on Holy Saturday. It is traditionally believed that baskets should at least include bread, eggs, salt, smoked meat, cheese, horseradish, and cake. Some people add chocolate and fruit to their Easter basket these days.
Public life
Holy Saturday is not an official public holiday in Poland.
Background
Many Christians in Poland and in other countries worldwide observe Holy Saturday, which is the day before Jesus Christ's resurrection.
Symbols
Easter eggs symbolize rebirth and life's victory over death, while bread symbolizes Jesus Christ's body. Smoked meat is believed to give good health, wealth, and fertility, while salt wards off evil. Cheese represents friendship, horseradish symbolizes strength and fitness, and cake signifies skills.
About Holy Saturday in other countries
Read more about
Holy Saturday
.
Holy Saturday Observances
| Weekday | Date | Year | Name | Holiday type |
| --- | --- | --- | --- | --- |
| Sat | Apr 14 | 1990 | Holy Saturday | Observance |
| Sat | Mar 30 | 1991 | Holy Saturday | Observance |
| Sat | Apr 18 | 1992 | Holy Saturday | Observance |
| Sat | Apr 10 | 1993 | Holy Saturday | Observance |
| Sat | Apr 2 | 1994 | Holy Saturday | Observance |
| Sat | Apr 15 | 1995 | Holy Saturday | Observance |
| Sat | Apr 6 | 1996 | Holy Saturday | Observance |
| Sat | Mar 29 | 1997 | Holy Saturday | Observance |
| Sat | Apr 11 | 1998 | Holy Saturday | Observance |
| Sat | Apr 3 | 1999 | Holy Saturday | Observance |
| Sat | Apr 22 | 2000 | Holy Saturday | Observance |
| Sat | Apr 14 | 2001 | Holy Saturday | Observance |
| Sat | Mar 30 | 2002 | Holy Saturday | Observance |
| Sat | Apr 19 | 2003 | Holy Saturday | Observance |
| Sat | Apr 10 | 2004 | Holy Saturday | Observance |
| Sat | Mar 26 | 2005 | Holy Saturday | Observance |
| Sat | Apr 15 | 2006 | Holy Saturday | Observance |
| Sat | Apr 7 | 2007 | Holy Saturday | Observance |
| Sat | Mar 22 | 2008 | Holy Saturday | Observance |
| Sat | Apr 11 | 2009 | Holy Saturday | Observance |
| Sat | Apr 3 | 2010 | Holy Saturday | Observance |
| Sat | Apr 23 | 2011 | Holy Saturday | Observance |
| Sat | Apr 7 | 2012 | Holy Saturday | Observance |
| Sat | Mar 30 | 2013 | Holy Saturday | Observance |
| Sat | Apr 19 | 2014 | Holy Saturday | Observance |
| Sat | Apr 4 | 2015 | Holy Saturday | Observance |
| Sat | Mar 26 | 2016 | Holy Saturday | Observance |
| Sat | Apr 15 | 2017 | Holy Saturday | Observance |
| Sat | Mar 31 | 2018 | Holy Saturday | Observance |
| Sat | Apr 20 | 2019 | Holy Saturday | Observance |
| Sat | Apr 11 | 2020 | Holy Saturday | Observance |
Related holidays
Other holidays in April 2014 in Poland
Other calendars
Related links