Halloween in Romania
Quick Facts
Some places in Romania, including in parts of Transylvania, have special Halloween events inspired by the Dracula theme on October 31.
Local names
| Name | Language |
| --- | --- |
| Halloween | Romanian |
| Halloween | English |
| Halloween | German |
Alternative name
Hallowe'en
Halloween 2014
Friday, October 31, 2014
Halloween 2015
Saturday, October 31, 2015
List of dates for other years
On October 31 each year, Halloween is a celebrated occasion in some parts of Romania, including the region of Transylvania. It is a time when special Halloween-themed tours and shows are popular.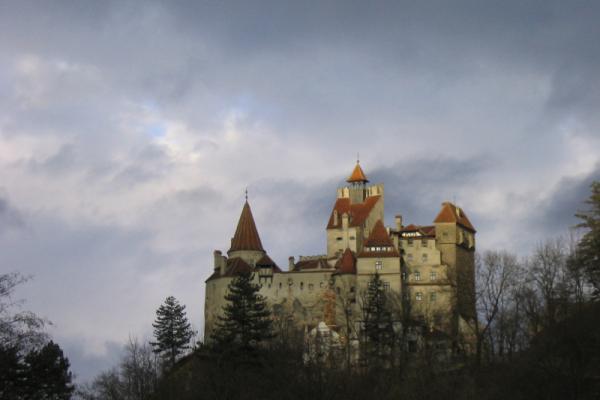 ©iStockphoto.com/oanav
What do people do?
Over the years, countless numbers of fearless tourists travel to Transylvania to celebrate Halloween with costume parties, story-telling, and actors playing out Dracula inspired scenes. While some Romanians observe Halloween on October 31, St Andrew's Night (November 30) is when the garlic is brought out as a form of protection against ghosts – a traditional superstitious act of fun that is still practiced today.
Public life
Halloween is an observance and not a public holiday in Romania.
Background
Halloween is a special occasion in places like the Gothic fairy-tale castle Bran, near Brasov in Transylvania. Bran is often associated with 15th century Prince Vlad Tepes (1431–1476), the inspiration for Bram Stoker's Dracula. It is difficult to know if the prince ruled over Bran Castle but it can be asserted that he was taken to Bran Castle and locked inside for about two months.
Symbols
Costume parties that are held during Halloween often feature outfits – including ghosts and vampires like the fabled Dracula – to represent the scary superstitions and beliefs that have spooked many people over time.
About Halloween in other countries
Read more about
Halloween
.
Halloween Observances
| Weekday | Date | Year | Name | Holiday type |
| --- | --- | --- | --- | --- |
| Wed | Oct 31 | 1990 | Halloween | Observance |
| Thu | Oct 31 | 1991 | Halloween | Observance |
| Sat | Oct 31 | 1992 | Halloween | Observance |
| Sun | Oct 31 | 1993 | Halloween | Observance |
| Mon | Oct 31 | 1994 | Halloween | Observance |
| Tue | Oct 31 | 1995 | Halloween | Observance |
| Thu | Oct 31 | 1996 | Halloween | Observance |
| Fri | Oct 31 | 1997 | Halloween | Observance |
| Sat | Oct 31 | 1998 | Halloween | Observance |
| Sun | Oct 31 | 1999 | Halloween | Observance |
| Tue | Oct 31 | 2000 | Halloween | Observance |
| Wed | Oct 31 | 2001 | Halloween | Observance |
| Thu | Oct 31 | 2002 | Halloween | Observance |
| Fri | Oct 31 | 2003 | Halloween | Observance |
| Sun | Oct 31 | 2004 | Halloween | Observance |
| Mon | Oct 31 | 2005 | Halloween | Observance |
| Tue | Oct 31 | 2006 | Halloween | Observance |
| Wed | Oct 31 | 2007 | Halloween | Observance |
| Fri | Oct 31 | 2008 | Halloween | Observance |
| Sat | Oct 31 | 2009 | Halloween | Observance |
| Sun | Oct 31 | 2010 | Halloween | Observance |
| Mon | Oct 31 | 2011 | Halloween | Observance |
| Wed | Oct 31 | 2012 | Halloween | Observance |
| Thu | Oct 31 | 2013 | Halloween | Observance |
| Fri | Oct 31 | 2014 | Halloween | Observance |
| Sat | Oct 31 | 2015 | Halloween | Observance |
| Mon | Oct 31 | 2016 | Halloween | Observance |
| Tue | Oct 31 | 2017 | Halloween | Observance |
| Wed | Oct 31 | 2018 | Halloween | Observance |
| Thu | Oct 31 | 2019 | Halloween | Observance |
| Sat | Oct 31 | 2020 | Halloween | Observance |
Related holiday
Other holidays in October 2014 in Romania
Other calendars
Related links