San Jose in Spain
Quick Facts
Saint Joseph's Day honors St Joseph, the Virgin Mary's spouse. It is a public holiday in some parts of Spain on March 19 each year.
Local names
| Name | Language |
| --- | --- |
| San José | Spanish |
| San Jose | English |
| San José | German |
San Jose 2014
Wednesday, March 19, 2014
San Jose 2015
Thursday, March 19, 2015
List of dates for other years
Saint Joseph's Day, also known as Fallas de San José, honors St Joseph, the Virgin Mary's spouse. It is held annually on March 19. This date is also known as Father's Day (Día del Padre) in many areas in Spain.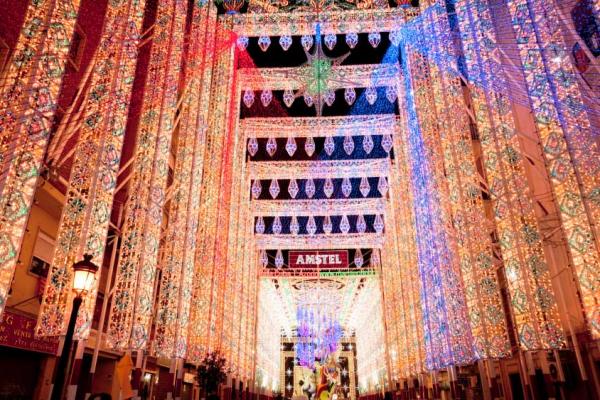 ©iStockphoto.com/habari1
What do people do?
Some people attend special church services to honor the life of St Joseph. St Joseph's Day also celebrates fathers. Many people make a special effort to visit their father or father figures. Some people also take fathers or father figures to a restaurant or give Father's Day gifts.
Many people wear traditional Valencian clothing on Saint Joseph's Day in some parts of Spain, particularly Valencia. Many men wear decorative shirts, waistcoats and hand woven shawls with long fringes. Many women wear long, wide dresses made of richly colored fabrics. They also wear jewelry, hair ornaments and hand woven, knitted or crocheted shawls. People display their clothing during parades.
Fallas (or falles) are constructed, displayed and ceremonially burnt in many towns and villages in the autonomous community of Valencia, including the city of Valencia. Fallas are elaborate scenes made of papier-mâché and cardboard. One is chosen by popular vote each year to be preserved in the regional museum. The rest are burnt during fireworks displays in the evening of March 19.
Public life
March 19 is a public holiday in some years in some areas of Spain, including the autonomous community of Valencia. If this date is a public holiday, public life is generally quiet. Many stores are closed, although some bakers and food stores may be open. Public transport services generally run to a reduced schedule but there may be no services in rural areas. All-day parades and fireworks displays may cause some local disruption to traffic, particularly in the autonomous community of Valencia.
If March 19 is a public holiday and it falls on a Tuesday or Thursday, many businesses and organizations are also closed on Monday, March 18, or Friday, March 20.
Background
According to the New Testament of the Christian bible, Joseph was engaged to the Virgin Mary when she became pregnant with Jesus. He married Mary and supported her and the young Jesus, therefore becoming an important father figure in Christianity.
St Joseph's feast day was adopted by the Franciscans in 1399 and was added to the list of Roman Catholic feast days in 1479. St Joseph's Day on March 19 became a compulsory Catholic feast day in 1621. Pope Pius XII introduced the Feast of St Joseph the Worker on May 1 to honor workers around the world in 1955.
The tradition of constructing and burning fallas arose at some stage in the Middle Ages. Carpenters burnt broken pieces of work and remnants of wood collected during the winter to celebrate the spring equinox. At some point, the fires were moved to St Joseph's Day as he is the patron saint of carpenters.
Symbols
According to the bible, St Joseph was the Virgin Mary's spouse and played an important role in Jesus' upbringing. St Joseph is often portrayed with a carpenter's square or other wood working tools, the infant Jesus and a staff with lily blossoms.
Ninots and fallas are important symbols of Saint Joseph's Day in Valencia. Ninots are figures made of papier-mâché and cardboard. They are carefully constructed and usually life-sized or larger. A group of ninots based on a particular theme is assembled into a falla. A falla is a collection of ninots to make a scene depicting a story or situation. It is usually filled with firecrackers and fireworks.
The theme of a falla may be political or touch on controversial or taboo issues in Spanish society. There are similarities between the fallas and the floats paraded through the streets during the Rosenmontag celebrations in Germany.
San Jose Observances
| Weekday | Date | Year | Name | Holiday type | Where it is observed |
| --- | --- | --- | --- | --- | --- |
| Mon | Mar 19 | 1990 | San Jose | Common Local holidays | AR, CL, CM, EX, GA, M, ML, MU, NA, PV, VC |
| Tue | Mar 19 | 1991 | San Jose | Common Local holidays | AR, CL, CM, EX, GA, M, ML, MU, NA, PV, VC |
| Thu | Mar 19 | 1992 | San Jose | Common Local holidays | AR, CL, CM, EX, GA, M, ML, MU, NA, PV, VC |
| Fri | Mar 19 | 1993 | San Jose | Common Local holidays | AR, CL, CM, EX, GA, M, ML, MU, NA, PV, VC |
| Sat | Mar 19 | 1994 | San Jose | Common Local holidays | AR, CL, CM, EX, GA, M, ML, MU, NA, PV, VC |
| Sun | Mar 19 | 1995 | San Jose | Common Local holidays | AR, CL, CM, EX, GA, M, ML, MU, NA, PV, VC |
| Tue | Mar 19 | 1996 | San Jose | Common Local holidays | AR, CL, CM, EX, GA, M, ML, MU, NA, PV, VC |
| Wed | Mar 19 | 1997 | San Jose | Common Local holidays | AR, CL, CM, EX, GA, M, ML, MU, NA, PV, VC |
| Thu | Mar 19 | 1998 | San Jose | Common Local holidays | AR, CL, CM, EX, GA, M, ML, MU, NA, PV, VC |
| Fri | Mar 19 | 1999 | San Jose | Common Local holidays | AR, CL, CM, EX, GA, M, ML, MU, NA, PV, VC |
| Sun | Mar 19 | 2000 | San Jose | Common Local holidays | AR, CL, CM, EX, GA, M, ML, MU, NA, PV, VC |
| Mon | Mar 19 | 2001 | San Jose | Common Local holidays | AR, CL, CM, EX, GA, M, ML, MU, NA, PV, VC |
| Tue | Mar 19 | 2002 | San Jose | Common Local holidays | AR, CL, CM, EX, GA, M, ML, MU, NA, PV, VC |
| Wed | Mar 19 | 2003 | San Jose | Common Local holidays | AR, CL, CM, EX, GA, M, ML, MU, NA, PV, VC |
| Fri | Mar 19 | 2004 | San Jose | Common Local holidays | AR, CL, CM, EX, GA, M, ML, MU, NA, PV, VC |
| Sat | Mar 19 | 2005 | San Jose | Common Local holidays | AR, CL, CM, EX, GA, M, ML, MU, NA, PV, VC |
| Sun | Mar 19 | 2006 | San Jose | Common Local holidays | AR, CL, CM, EX, GA, M, ML, MU, NA, PV, VC |
| Mon | Mar 19 | 2007 | San Jose | Common Local holidays | AR, CL, CM, EX, GA, M, ML, MU, NA, PV, VC |
| Wed | Mar 19 | 2008 | San Jose | Common Local holidays | AR, CL, CM, EX, GA, M, ML, MU, NA, PV, VC |
| Thu | Mar 19 | 2009 | San Jose | Common Local holidays | AR, CL, CM, EX, GA, M, ML, MU, NA, PV, VC |
| Fri | Mar 19 | 2010 | San Jose | Common Local holidays | AR, CL, CM, EX, GA, M, ML, MU, NA, PV, VC |
| Sat | Mar 19 | 2011 | San Jose | Common Local holidays | AR, CL, CM, EX, GA, M, ML, MU, NA, PV, VC |
| Mon | Mar 19 | 2012 | San Jose | Common Local holidays | AR, CL, CM, EX, GA, M, ML, MU, NA, PV, VC |
| Tue | Mar 19 | 2013 | San Jose | Common Local holidays | AR, CL, CM, EX, GA, M, ML, MU, NA, PV, VC |
| Wed | Mar 19 | 2014 | San Jose | Common Local holidays | AR, CL, CM, EX, GA, M, ML, MU, NA, PV, VC |
| Thu | Mar 19 | 2015 | San Jose | Common Local holidays | AR, CL, CM, EX, GA, M, ML, MU, NA, PV, VC |
| Sat | Mar 19 | 2016 | San Jose | Common Local holidays | AR, CL, CM, EX, GA, M, ML, MU, NA, PV, VC |
| Sun | Mar 19 | 2017 | San Jose | Common Local holidays | AR, CL, CM, EX, GA, M, ML, MU, NA, PV, VC |
| Mon | Mar 19 | 2018 | San Jose | Common Local holidays | AR, CL, CM, EX, GA, M, ML, MU, NA, PV, VC |
| Tue | Mar 19 | 2019 | San Jose | Common Local holidays | AR, CL, CM, EX, GA, M, ML, MU, NA, PV, VC |
| Thu | Mar 19 | 2020 | San Jose | Common Local holidays | AR, CL, CM, EX, GA, M, ML, MU, NA, PV, VC |
Other holidays in March 2014 in Spain
Advertising

Other calendars
Related links