Navy Day in Ukraine
Quick Facts
Navy Day is a national Ukrainian observance that is celebrated on the last Sunday in July each year.
Local names
| Name | Language |
| --- | --- |
| День Военно-морского флота | Russian |
| День Військово-морського флоту | Ukrainian |
| Navy Day | English |
| Tag der Marine | German |
Navy Day 2014
Sunday, July 27, 2014
Navy Day 2015
Sunday, July 26, 2015
List of dates for other years
Many Ukrainians celebrate Navy Day to honor the country's navy on the last Sunday in July.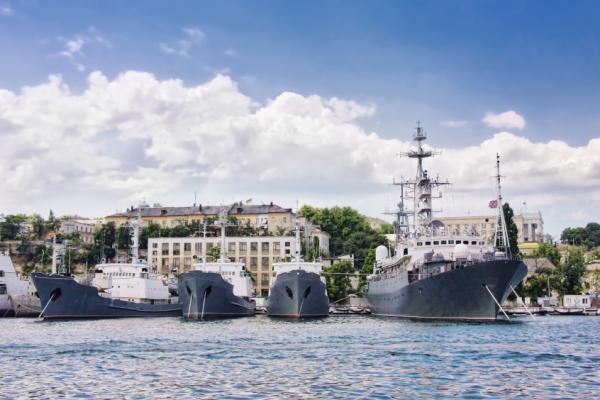 ©iStockphoto.com/ForsterForest
What do people do?
Navy Day events are held in various cities in Ukraine, particularly in Sevastopol – Ukraine's second largest port. Thousands of people travel to Sevastopol to watch a range of Navy Day events, including a parade and a show of naval ships. Navy crew are traditionally greeted by the Ukrainian president.
Public life
Navy Day is an observance and not a national public holiday in Ukraine.
Background
In 2011, Ukrainian president Viktor Yanukovych signed a decree "On the Celebration of Some Memorable Dates and Professional Holidays". The decree included Navy Day, to be observed on the last Sunday in July each year. This observance honors Ukraine's navy, which aims to defend the country's interests at sea, in accordance with other military services of the country's armed forces.
Navy Day Observances
| Weekday | Date | Year | Name | Holiday type |
| --- | --- | --- | --- | --- |
| Mon | Aug 1 | 2011 | Navy Day | Observance |
| Sun | Jul 29 | 2012 | Navy Day | Observance |
| Sun | Jul 28 | 2013 | Navy Day | Observance |
| Sun | Jul 27 | 2014 | Navy Day | Observance |
| Sun | Jul 26 | 2015 | Navy Day | Observance |
| Sun | Jul 31 | 2016 | Navy Day | Observance |
| Sun | Jul 30 | 2017 | Navy Day | Observance |
| Sun | Jul 29 | 2018 | Navy Day | Observance |
| Sun | Jul 28 | 2019 | Navy Day | Observance |
| Sun | Jul 26 | 2020 | Navy Day | Observance |
Other holidays in July 2014 in Ukraine
Other calendars
Related links