Orthodox Pentecost in Ukraine
Quick Facts
Holy Trinity Day, or Triytsya in Ukrainian, is celebrated widely in Ukraine and is a day off work for Ukrainians.
Local names
| Name | Language |
| --- | --- |
| Троица | Russian |
| Трійця | Ukrainian |
| Orthodox Pentecost | English |
| Trinitatis | German |
Alternative name
Orthodox Whitsunday
Orthodox Pentecost 2014
Sunday, June 8, 2014
Orthodox Pentecost 2015
Sunday, May 31, 2015
List of dates for other years
The Feast of Triytsya (Trinity Sunday) celebrates the Christian belief of Holy Spirit's descent on the apostles. In Ukrainian it is also known as Pyatydesyatnytsya and in English it is known as Whitsunday, or Pentecost.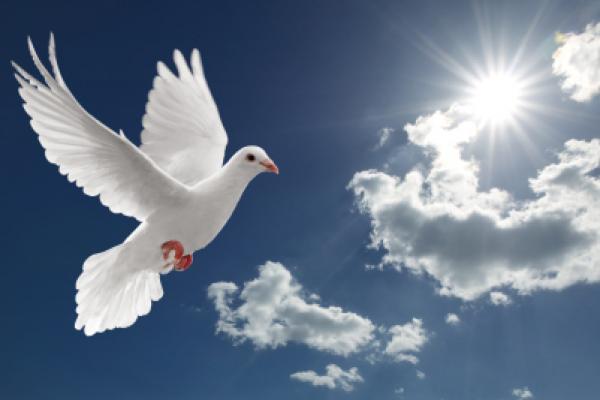 ©iStockphoto.com/ong kok keat
What do people do?
Many churches in Ukraine are busy with special services on Triytsya. It is also known as "Green Sunday" and some people decorate their homes with Calamus (type of herb) and branches. Some people leave food on graves when visiting cemeteries to honor dead relatives or friends. Various forms of public entertainment, including those with skomorokhs (clowns), take place on this day.
Public life
Triytsya is a public holiday in Ukraine so many businesses, as well as government offices and educational institutions, are closed.
Background
The date of the Feast of Triytsya in Ukraine is set in accordance with the Orthodox Christian Church's calendar. Many Orthodox churches base their Easter date on the Julian calendar, which differs from the Gregorian calendar used in many western countries. Whitsunday, or Whit Sunday, is celebrated among many Christians worldwide.
Symbols
The symbols of Pentecost are those of the Holy Spirit and include flames, wind, the breath of God and a dove.
Orthodox Pentecost Observances
| Weekday | Date | Year | Name | Holiday type |
| --- | --- | --- | --- | --- |
| Sun | Jun 3 | 1990 | Orthodox Pentecost | National holiday |
| Sun | May 26 | 1991 | Orthodox Pentecost | National holiday |
| Sun | Jun 14 | 1992 | Orthodox Pentecost | National holiday |
| Sun | Jun 6 | 1993 | Orthodox Pentecost | National holiday |
| Sun | Jun 19 | 1994 | Orthodox Pentecost | National holiday |
| Sun | Jun 11 | 1995 | Orthodox Pentecost | National holiday |
| Sun | Jun 2 | 1996 | Orthodox Pentecost | National holiday |
| Sun | Jun 15 | 1997 | Orthodox Pentecost | National holiday |
| Sun | Jun 7 | 1998 | Orthodox Pentecost | National holiday |
| Sun | May 30 | 1999 | Orthodox Pentecost | National holiday |
| Sun | Jun 18 | 2000 | Orthodox Pentecost | National holiday |
| Sun | Jun 3 | 2001 | Orthodox Pentecost | National holiday |
| Sun | Jun 23 | 2002 | Orthodox Pentecost | National holiday |
| Sun | Jun 15 | 2003 | Orthodox Pentecost | National holiday |
| Sun | May 30 | 2004 | Orthodox Pentecost | National holiday |
| Sun | Jun 19 | 2005 | Orthodox Pentecost | National holiday |
| Sun | Jun 11 | 2006 | Orthodox Pentecost | National holiday |
| Sun | May 27 | 2007 | Orthodox Pentecost | National holiday |
| Sun | Jun 15 | 2008 | Orthodox Pentecost | National holiday |
| Sun | Jun 7 | 2009 | Orthodox Pentecost | National holiday |
| Sun | May 23 | 2010 | Orthodox Pentecost | National holiday |
| Sun | Jun 12 | 2011 | Orthodox Pentecost | National holiday |
| Sun | Jun 3 | 2012 | Orthodox Pentecost | National holiday |
| Sun | Jun 23 | 2013 | Orthodox Pentecost | National holiday |
| Sun | Jun 8 | 2014 | Orthodox Pentecost | National holiday |
| Sun | May 31 | 2015 | Orthodox Pentecost | National holiday |
| Sun | Jun 19 | 2016 | Orthodox Pentecost | National holiday |
| Sun | Jun 4 | 2017 | Orthodox Pentecost | National holiday |
| Sun | May 27 | 2018 | Orthodox Pentecost | National holiday |
| Sun | Jun 16 | 2019 | Orthodox Pentecost | National holiday |
| Sun | Jun 7 | 2020 | Orthodox Pentecost | National holiday |
Other holidays in June 2014 in Ukraine
Other calendars
Related links