Towel Day
Quick Facts
Douglas Adams fans observe Towel Day on May 25.
Local names
| Name | Language |
| --- | --- |
| Towel Day | English |
| Día de la toalla | Spanish |
| יום המגבת | Hebrew |
| يوم المنشفة | Arabic |
| 타월 데이 | Korean |
| Towel Day | German |
Towel Day 2014
Sunday, May 25, 2014
Towel Day 2015
Monday, May 25, 2015
List of dates for other years
Towel Day on May 25 is an occasion for true Douglas Adams fans to stress the significance of towels. According to Adams's most famous work, The Hitchhiker's Guide to the Galaxy, a towel is after all "about the most massively useful thing an interstellar hitchhiker can have."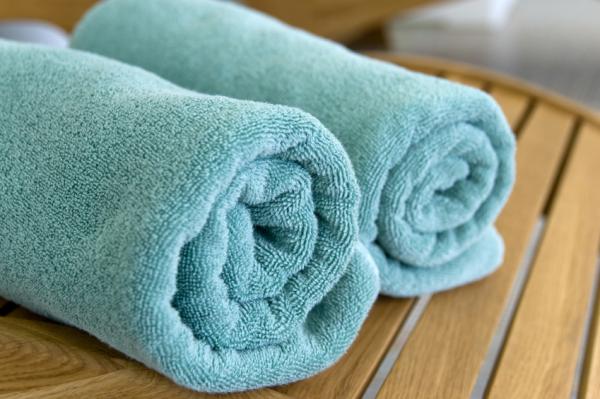 ©iStockphoto.com/fotovampir
What do people do?
Every year on May 25, "all life forms with towels" (towelday.org) are invited to mark Towel Day all across the galaxy. Amongst the most popular activities on this planet are public displays of towels, towel flash mobs, and towel competitions. In 2011, a "Towel Day march against Vogon violence" was held in Sao Paulo to protest against the Earth's destruction by aliens from Vogsphere to make way for an intergalactic highway. Less courageous individuals meet annually to recite from The Hitchhiker's Guide or watch the 2005 film version.
Public life
Towel Day is a global observance but it is not a public holiday anywhere in the known universe.
Background
Douglas Adams was an English writer and dramatist best known for his work The Hitchhiker's Guide to the Galaxy. The science fiction comedy about the extraterrestrial adventures of Arthur Dent, Ford Prefect and Zaphod Beeblebrox was originally broadcast as a radio play on BBC Radio 4 in 1978. Following the series' great success, Adams produced a set of 5 novels entitled "The Hitchhiker's Guide to the Galaxy - A Trilogy in Five parts".
Towel Day was first observed in 2001, two weeks after Adams's death on May 11, 2001.
Symbols
As the name of the observance suggests, large pieces of absorbent cloth most commonly made from cotton and colloquially called towels, are the most prominent symbols on Towel Day. Some are embellished with quotes from the book, such as "42" (the answer to the Ultimate Question of Life, the Universe, and Everything), "DON'T PANIC" (an instruction for the use of the fictional "Hitchhiker's Guide to the Galaxy"), and "Mostly harmless" (the entry for planet Earth in the guide).
Towel Day Observances
| Weekday | Date | Year | Name | Holiday type | Where it is observed |
| --- | --- | --- | --- | --- | --- |
| Fri | May 25 | 2001 | Towel Day | Worldwide observance | |
| Sat | May 25 | 2002 | Towel Day | Worldwide observance | |
| Sun | May 25 | 2003 | Towel Day | Worldwide observance | |
| Tue | May 25 | 2004 | Towel Day | Worldwide observance | |
| Wed | May 25 | 2005 | Towel Day | Worldwide observance | |
| Thu | May 25 | 2006 | Towel Day | Worldwide observance | |
| Fri | May 25 | 2007 | Towel Day | Worldwide observance | |
| Sun | May 25 | 2008 | Towel Day | Worldwide observance | |
| Mon | May 25 | 2009 | Towel Day | Worldwide observance | |
| Tue | May 25 | 2010 | Towel Day | Worldwide observance | |
| Wed | May 25 | 2011 | Towel Day | Worldwide observance | |
| Fri | May 25 | 2012 | Towel Day | Worldwide observance | |
| Sat | May 25 | 2013 | Towel Day | Worldwide observance | |
| Sun | May 25 | 2014 | Towel Day | Worldwide observance | |
| Mon | May 25 | 2015 | Towel Day | Worldwide observance | |
| Wed | May 25 | 2016 | Towel Day | Worldwide observance | |
| Thu | May 25 | 2017 | Towel Day | Worldwide observance | |
| Fri | May 25 | 2018 | Towel Day | Worldwide observance | |
| Sat | May 25 | 2019 | Towel Day | Worldwide observance | |
| Mon | May 25 | 2020 | Towel Day | Worldwide observance | |
Other calendars
Related links