Pentecost in Australia
Quick Facts
Many Christians in Australia observe Pentecost, also known as Whitsunday or Whit Sunday.
Local names
| Name | Language |
| --- | --- |
| Pentecost | English |
| Pfingstsonntag | German |
Alternative name
Pentecost Sunday
Pentecost 2014
Sunday, June 8, 2014
Pentecost 2015
Sunday, May 24, 2015
List of dates for other years
Pentecost is a Christian observance commemorating the descent of the Holy Spirit on Jesus Christ's disciples, according to the Bible. Many Christians in Australia celebrate Pentecost, which is also known as Pentecost Sunday, Whitsunday, or Whit Sunday.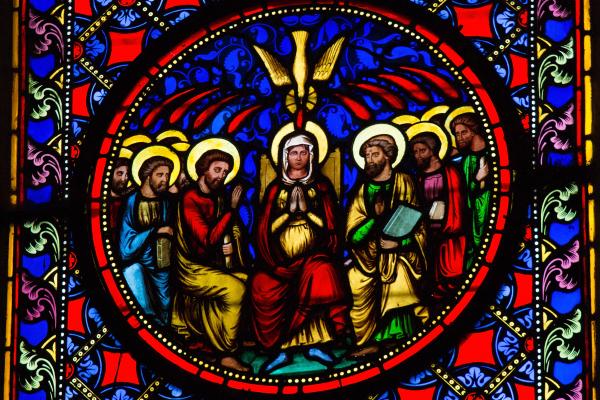 ©iStockphoto.com/Chad Jarae
What do people do?
Many churches in Australia focus on themes about the Holy Spirit as part of the Pentecost Sunday services. Bible passages regarding the Holy Spirit's descent on Jesus' disciples are read out during the services. Some churches may organize special events, including plays or weekend retreats, where people discuss topics centered on Pentecost, including the meaning of the Holy Spirit's gifts. Sunday school classes and Bible study groups may also focus on the meaning behind Pentecost during this period.
Public life
Whitsunday is not a public holiday in Australia. However it falls on a Sunday so many aspects of public life on Whitsunday do not differ to any other Sunday.
Background
According to the Christian Bible, it was on the 50th day after Easter when the apostles prayed together and the Holy Spirit descended on them. They received the "gift of tongues" – the ability to speak in other languages – and immediately began to preach about Jesus Christ to Jewish people from all over the world who flocked to Jerusalem for the Feast of Shavuot.
Christian Pentecost not only commemorated the Holy Spirit's visit but also marked the birth of the Christian Church. Although it is not certain when Christians started observing Pentecost, it may have been early as the first century CE. Whitsuntide, also referred to as Whitsun in modern times, is the period beginning with the Saturday before Whitsunday and ending the following Saturday.
According to church tradition, Pentecost is about seven weeks after Easter Sunday, or 50 days after Easter, including Easter Day. In some Orthodox churches, Whitsunday is observed after the date set by the western churches. This is because some Orthodox churches still observe holidays according to the Julian calendar, which preceded the Gregorian calendar adopted by many western churches. The Easter date depends on the ecclesiastical approximation of the March equinox.
Symbols
The symbols of Pentecost are those of the Holy Spirit and include flames, wind, and a dove.
About Pentecost in other countries
Read more about
Pentecost
.
Pentecost Observances
| Weekday | Date | Year | Name | Holiday type | Where it is observed |
| --- | --- | --- | --- | --- | --- |
| Sun | Jun 3 | 1990 | Pentecost | Christian | |
| Sun | May 19 | 1991 | Pentecost | Christian | |
| Sun | Jun 7 | 1992 | Pentecost | Christian | |
| Sun | May 30 | 1993 | Pentecost | Christian | |
| Sun | May 22 | 1994 | Pentecost | Christian | |
| Sun | Jun 4 | 1995 | Pentecost | Christian | |
| Sun | May 26 | 1996 | Pentecost | Christian | |
| Sun | May 18 | 1997 | Pentecost | Christian | |
| Sun | May 31 | 1998 | Pentecost | Christian | |
| Sun | May 23 | 1999 | Pentecost | Christian | |
| Sun | Jun 11 | 2000 | Pentecost | Christian | |
| Sun | Jun 3 | 2001 | Pentecost | Christian | |
| Sun | May 19 | 2002 | Pentecost | Christian | |
| Sun | Jun 8 | 2003 | Pentecost | Christian | |
| Sun | May 30 | 2004 | Pentecost | Christian | |
| Sun | May 15 | 2005 | Pentecost | Christian | |
| Sun | Jun 4 | 2006 | Pentecost | Christian | |
| Sun | May 27 | 2007 | Pentecost | Christian | |
| Sun | May 11 | 2008 | Pentecost | Christian | |
| Sun | May 31 | 2009 | Pentecost | Christian | |
| Sun | May 23 | 2010 | Pentecost | Christian | |
| Sun | Jun 12 | 2011 | Pentecost | Christian | |
| Sun | May 27 | 2012 | Pentecost | Christian | |
| Sun | May 19 | 2013 | Pentecost | Christian | |
| Sun | Jun 8 | 2014 | Pentecost | Christian | |
| Sun | May 24 | 2015 | Pentecost | Christian | |
| Sun | May 15 | 2016 | Pentecost | Christian | |
| Sun | Jun 4 | 2017 | Pentecost | Christian | |
| Sun | May 20 | 2018 | Pentecost | Christian | |
| Sun | Jun 9 | 2019 | Pentecost | Christian | |
| Sun | May 31 | 2020 | Pentecost | Christian | |
Related holiday
Other holidays in June 2014 in Australia
Other calendars
Related links