All Saints' Day in France
Quick Facts
All Saints' Day celebrates all Christian saints, particularly those who have no special feast days of their own. It is a public holiday in France.
Local names
| Name | Language |
| --- | --- |
| La Toussaint | French |
| All Saints' Day | English |
| Allerheiligen | German |
Alternative name
All Hallows' Day
All Saints' Day 2014
Saturday, November 1, 2014
All Saints' Day 2015
Sunday, November 1, 2015
List of dates for other years
Many Christians honor the lives of their deceased relatives and all the saints on All Saints' Day (La Toussaint). They visit special church services and place flowers on family graves. In France, it is also a popular period for a short autumn (fall) vacation.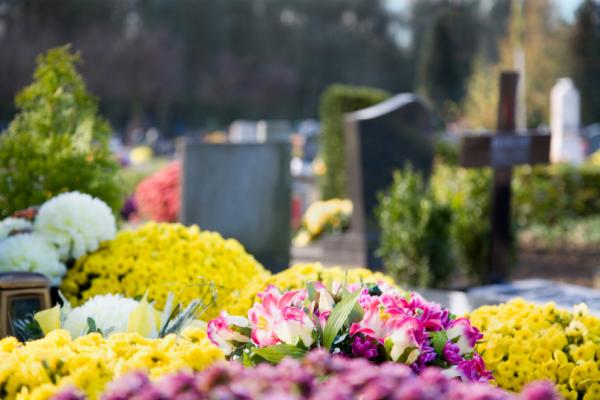 ©iStockphoto.com/FrankyDeMeyer
What do people do?
Many Christians visit special church services on All Saints' Day. They may also visit cemeteries and place flowers on the graves of deceased family members and close friends. It is customary to leave chrysanthemums or wreaths of artificial flowers on or close to the graves.
All Saints' Day is also an opportunity for many people to spend time with family members and close friends. This holiday falls during the autumn (fall) school holidays, it is a popular time for families to take a short vacation or to visit relatives living in other areas.
Public life
Public life in France is generally very quiet on All Saints' Day. Post offices, banks, stores and other businesses are closed. Outside of tourist areas, restaurants and cafes may also be closed for one or more days. However, some stores in Paris, as well as at airports and railway stations and along major highways, are open.
Public transport service schedules vary depending on where one lives and intends to travel. Churches may be closed for visitors who do not wish to take part in the services and guided tours may not be available.
Background and symbols
France is in the northern hemisphere so All Saints' Day falls in the autumn (fall). Chrysanthemums are an important symbol of All Saints' Day, All Souls' Day, grief and funerals. Hence, they are often laid on graves, but rarely given as gifts.
About All Saints' Day in other countries
Read more about
All Saints' Day
.
All Saints' Day Observances
| Weekday | Date | Year | Name | Holiday type |
| --- | --- | --- | --- | --- |
| Thu | Nov 1 | 1990 | All Saints' Day | National holiday |
| Fri | Nov 1 | 1991 | All Saints' Day | National holiday |
| Sun | Nov 1 | 1992 | All Saints' Day | National holiday |
| Mon | Nov 1 | 1993 | All Saints' Day | National holiday |
| Tue | Nov 1 | 1994 | All Saints' Day | National holiday |
| Wed | Nov 1 | 1995 | All Saints' Day | National holiday |
| Fri | Nov 1 | 1996 | All Saints' Day | National holiday |
| Sat | Nov 1 | 1997 | All Saints' Day | National holiday |
| Sun | Nov 1 | 1998 | All Saints' Day | National holiday |
| Mon | Nov 1 | 1999 | All Saints' Day | National holiday |
| Wed | Nov 1 | 2000 | All Saints' Day | National holiday |
| Thu | Nov 1 | 2001 | All Saints' Day | National holiday |
| Fri | Nov 1 | 2002 | All Saints' Day | National holiday |
| Sat | Nov 1 | 2003 | All Saints' Day | National holiday |
| Mon | Nov 1 | 2004 | All Saints' Day | National holiday |
| Tue | Nov 1 | 2005 | All Saints' Day | National holiday |
| Wed | Nov 1 | 2006 | All Saints' Day | National holiday |
| Thu | Nov 1 | 2007 | All Saints' Day | National holiday |
| Sat | Nov 1 | 2008 | All Saints' Day | National holiday |
| Sun | Nov 1 | 2009 | All Saints' Day | National holiday |
| Mon | Nov 1 | 2010 | All Saints' Day | National holiday |
| Tue | Nov 1 | 2011 | All Saints' Day | National holiday |
| Thu | Nov 1 | 2012 | All Saints' Day | National holiday |
| Fri | Nov 1 | 2013 | All Saints' Day | National holiday |
| Sat | Nov 1 | 2014 | All Saints' Day | National holiday |
| Sun | Nov 1 | 2015 | All Saints' Day | National holiday |
| Tue | Nov 1 | 2016 | All Saints' Day | National holiday |
| Wed | Nov 1 | 2017 | All Saints' Day | National holiday |
| Thu | Nov 1 | 2018 | All Saints' Day | National holiday |
| Fri | Nov 1 | 2019 | All Saints' Day | National holiday |
| Sun | Nov 1 | 2020 | All Saints' Day | National holiday |
Other holidays in November 2014 in France
Other calendars
Related links