Whit Sunday in France
Quick Facts
Pentecost Sunday is 50 days after Easter Sunday. It marks the Holy Spirit's descent onto Jesus' followers, according to Christian belief.
Local names
| Name | Language |
| --- | --- |
| Pentecôte | French |
| Whit Sunday | English |
| Pfingstsonntag | German |
Alternative name
Pentecost Sunday
Whit Sunday 2014
Sunday, June 8, 2014
Whit Sunday 2015
Sunday, May 24, 2015
List of dates for other years
Many Christians in France mark the Holy Spirit's descent onto Jesus' followers on Pentecost Sunday (Pentecôte). People may attend special church services or spend the day with family or friends.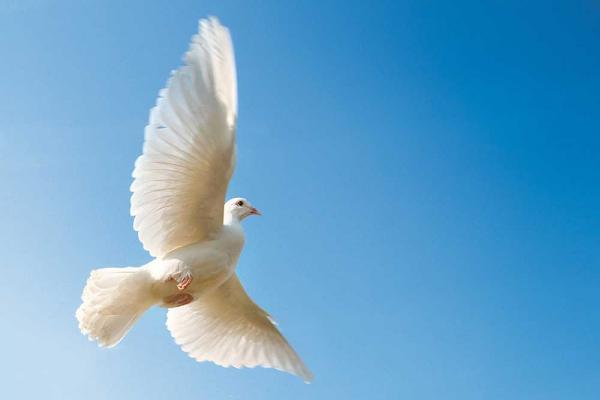 ©iStockphoto.com/davidsorensen
What do people do?
Many Christians in France attend a special church service on Pentecost Sunday to celebrate the Holy Spirit's descent on Jesus Christ's followers. People blow trumpets during the service in some churches. The sound reminds them of the mighty wind that blew when the Holy Spirit descended onto Jesus' followers. People are baptized or re-baptized on Pentecost Sunday in other churches.
Other people spend Pentecost Sunday in a similar way to other Sundays. They may stay at home, take a walk in a park or the countryside or eat a meal of veal with family members or friends. Many people eat a picnic lunch outdoors. Pentecost Monday, which is the day after Pentecost Sunday, is a public holiday so some people take a short vacation over the long Pentecost weekend, perhaps to visit the family gîte (small house in the countryside).
Public life
Public life is generally very quiet, as on other Sundays, on Pentecost Sunday. Post offices, banks, stores and other businesses are closed. Outside of tourist areas, restaurants and cafes may be closed. However, some stores in Paris, as well as at airports and railway stations and along major highways, may be open. Public transport service schedules vary depending on where one lives and intends to travel.
Museums that are normally open on Sunday may be closed while others may remain open. Churches may be closed for visitors who do not wish to take part in the services and guided tours may not be available.
More information
Some aspects of Pentecost are linked to the Jewish holiday of Shavuot. Read more about how people in Germany, the Netherlands, the United Kingdom and the United States celebrate Pentecost.
About Whit Sunday in other countries
Read more about
Whit Sunday
.
Whit Sunday Observances
| Weekday | Date | Year | Name | Holiday type |
| --- | --- | --- | --- | --- |
| Sun | Jun 3 | 1990 | Whit Sunday | Observance |
| Sun | May 19 | 1991 | Whit Sunday | Observance |
| Sun | Jun 7 | 1992 | Whit Sunday | Observance |
| Sun | May 30 | 1993 | Whit Sunday | Observance |
| Sun | May 22 | 1994 | Whit Sunday | Observance |
| Sun | Jun 4 | 1995 | Whit Sunday | Observance |
| Sun | May 26 | 1996 | Whit Sunday | Observance |
| Sun | May 18 | 1997 | Whit Sunday | Observance |
| Sun | May 31 | 1998 | Whit Sunday | Observance |
| Sun | May 23 | 1999 | Whit Sunday | Observance |
| Sun | Jun 11 | 2000 | Whit Sunday | Observance |
| Sun | Jun 3 | 2001 | Whit Sunday | Observance |
| Sun | May 19 | 2002 | Whit Sunday | Observance |
| Sun | Jun 8 | 2003 | Whit Sunday | Observance |
| Sun | May 30 | 2004 | Whit Sunday | Observance |
| Sun | May 15 | 2005 | Whit Sunday | Observance |
| Sun | Jun 4 | 2006 | Whit Sunday | Observance |
| Sun | May 27 | 2007 | Whit Sunday | Observance |
| Sun | May 11 | 2008 | Whit Sunday | Observance |
| Sun | May 31 | 2009 | Whit Sunday | Observance |
| Sun | May 23 | 2010 | Whit Sunday | Observance |
| Sun | Jun 12 | 2011 | Whit Sunday | Observance |
| Sun | May 27 | 2012 | Whit Sunday | Observance |
| Sun | May 19 | 2013 | Whit Sunday | Observance |
| Sun | Jun 8 | 2014 | Whit Sunday | Observance |
| Sun | May 24 | 2015 | Whit Sunday | Observance |
| Sun | May 15 | 2016 | Whit Sunday | Observance |
| Sun | Jun 4 | 2017 | Whit Sunday | Observance |
| Sun | May 20 | 2018 | Whit Sunday | Observance |
| Sun | Jun 9 | 2019 | Whit Sunday | Observance |
| Sun | May 31 | 2020 | Whit Sunday | Observance |
Related holiday
Other holidays in June 2014 in France
Other calendars
Related links