Armistice Day in France
Quick Facts
Armistice Day marks the anniversary of the end of World War I. It is a public holiday in France.
Local names
| Name | Language |
| --- | --- |
| L'Armistice | French |
| Armistice Day | English |
| L'Armistice | German |
Armistice Day 2014
Tuesday, November 11, 2014
Armistice Day 2015
Wednesday, November 11, 2015
List of dates for other years
Armistice Day (Armistice de la Première Guerre mondiale) in France remembers those who died or were injured in World War I and other wars. It is generally a solemn occasion.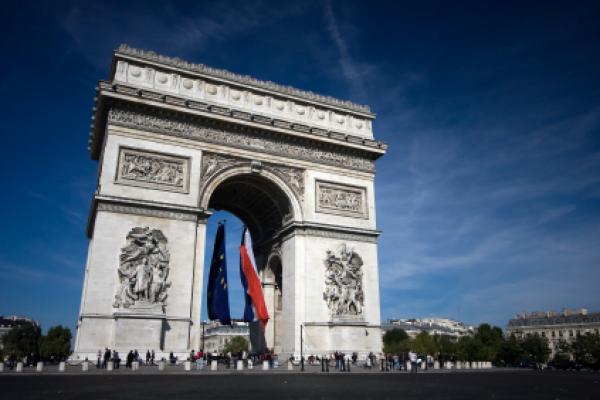 ©iStockphoto.com/FRANCO DI MEO
What do people do?
Special church services are held to remember those who died in World War I and subsequent wars. Military parades to war memorials and the Tomb of the Unknown Soldier in Paris are also organized. Public figures, including France's president, lay wreaths and flowers at war memorials. Many people wear black or dark clothes. Armistice Day generally has a solemn mood.
Public life
Armistice Day is a public holiday in France so post offices, banks, stores and many businesses are closed. Restaurants and cafes outside tourist areas may also be closed. However, bakeries and some stores in Paris, as well as at airports and railway stations and along major highways, are open.
Public transport service schedules vary depending on where one lives and intends to travel. Roads may be closed for parades. This is particularly likely in the center of towns, cities and near war memorials.
Background
Archduke Franz Ferdinand of Austria was assassinated by a Bosnian-Serb nationalist on June 28, 1914. This sparked the activation of a series of alliances. Major European powers were at war within weeks. Many European countries had global empires so the hostilities spread throughout the world and became known as World War I. More than 15 million people died as a result of the World War I hostilities.
Marshal Ferdinand Foch (Allies) and Matthias Erzberger (Germany) met in a railway carriage in Compiègne Forest, near the town of Compiègne in the Picardy region of France, in November 1918. The representatives signed an armistice treaty in the early hours of November 11, 1918, to end the World War I hostilities on the Western Front. World War I officially ended at 11 minutes past the 11th hour on November 11, 1918, because of the treaty. A law was approved on October 24, 1922, to make November 11 a public holiday in France.
Symbols
The French national flag, or tricolor, plays an important role in Armistice Day observances. It is one-and-a-half times as wide as it is tall and consists of three equal vertical bands colored blue, white and red. It is often displayed at half mast or on flag poles held diagonally by military service men and women.
The body of an unidentified solider from the citadel of Verdun was buried in the Tomb of the Unknown Soldier under the Arc de Triomphe in Paris on November 11, 1920. This soldier serves as a symbol of all those who died in World War I. An eternal flame was lit on this tomb three years later and still burns today.
Armistice Day Observances
| Weekday | Date | Year | Name | Holiday type |
| --- | --- | --- | --- | --- |
| Sun | Nov 11 | 1990 | Armistice Day | National holiday |
| Mon | Nov 11 | 1991 | Armistice Day | National holiday |
| Wed | Nov 11 | 1992 | Armistice Day | National holiday |
| Thu | Nov 11 | 1993 | Armistice Day | National holiday |
| Fri | Nov 11 | 1994 | Armistice Day | National holiday |
| Sat | Nov 11 | 1995 | Armistice Day | National holiday |
| Mon | Nov 11 | 1996 | Armistice Day | National holiday |
| Tue | Nov 11 | 1997 | Armistice Day | National holiday |
| Wed | Nov 11 | 1998 | Armistice Day | National holiday |
| Thu | Nov 11 | 1999 | Armistice Day | National holiday |
| Sat | Nov 11 | 2000 | Armistice Day | National holiday |
| Sun | Nov 11 | 2001 | Armistice Day | National holiday |
| Mon | Nov 11 | 2002 | Armistice Day | National holiday |
| Tue | Nov 11 | 2003 | Armistice Day | National holiday |
| Thu | Nov 11 | 2004 | Armistice Day | National holiday |
| Fri | Nov 11 | 2005 | Armistice Day | National holiday |
| Sat | Nov 11 | 2006 | Armistice Day | National holiday |
| Sun | Nov 11 | 2007 | Armistice Day | National holiday |
| Tue | Nov 11 | 2008 | Armistice Day | National holiday |
| Wed | Nov 11 | 2009 | Armistice Day | National holiday |
| Thu | Nov 11 | 2010 | Armistice Day | National holiday |
| Fri | Nov 11 | 2011 | Armistice Day | National holiday |
| Sun | Nov 11 | 2012 | Armistice Day | National holiday |
| Mon | Nov 11 | 2013 | Armistice Day | National holiday |
| Tue | Nov 11 | 2014 | Armistice Day | National holiday |
| Wed | Nov 11 | 2015 | Armistice Day | National holiday |
| Fri | Nov 11 | 2016 | Armistice Day | National holiday |
| Sat | Nov 11 | 2017 | Armistice Day | National holiday |
| Sun | Nov 11 | 2018 | Armistice Day | National holiday |
| Mon | Nov 11 | 2019 | Armistice Day | National holiday |
| Wed | Nov 11 | 2020 | Armistice Day | National holiday |
Other holidays in November 2014 in France
Other calendars
Related links