Pentecost in United States
Quick Facts
Many Christians in the United States observe Pentecost, also known as Whitsunday or Whit Sunday.
Local names
| Name | Language |
| --- | --- |
| Pentecost | English |
| Pentecostés | Spanish |
| פנטקוסט | Hebrew |
| العيد الخمسون "عيد العنصرة" | Arabic |
| 오순절 (기독교) | Korean |
| Pfingsten | German |
Alternative name
Pentecost Sunday
Pentecost 2014
Sunday, June 8, 2014
Pentecost 2015
Sunday, May 24, 2015
List of dates for other years
Pentecost is a Christian holy day commemorating the descent of the Holy Ghost upon the disciples of Jesus Christ, according to the New Testament of the Bible. It is also known as Whitsunday, or Whit Sunday.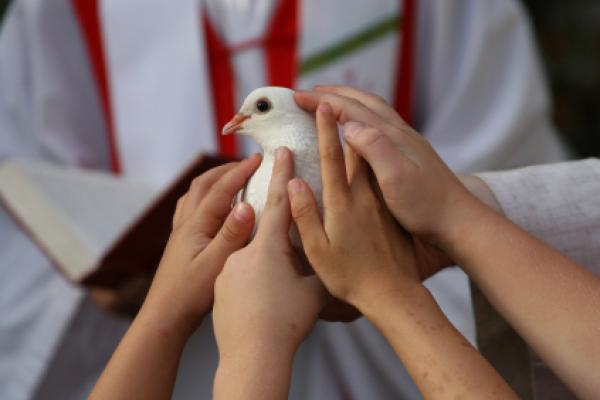 ©iStockphoto.com/kharps
What do people do
In the United States, Christians share their perspective about the meaning of Pentecost as well as how the diversity of languages and cultures can enhance their worship and fellowship with each another. Christians see Pentecost as an expansion of God's favor and care from Judaism to all peoples.
Many churches celebrate Pentecost with a mass or worship service on this day. In some churches, the secular Mother's Day holiday is probably celebrated more frequently than the Pentecost feast.
Public life
Whitsunday is not a federal holiday in the United States.
Background
As recorded in the New Testament of the Bible, it was on the 50th day after Easter that the apostles were praying together and the Holy Spirit descended on them. They received the "gift of tongues" – the ability to speak in other languages – and immediately began to preach about Jesus Christ to Jewish people from all over the world who flocked to Jerusalem for the Feast of Shavuot.
Christian Pentecost became not only a commemoration of the Holy Spirit's visit but also marks the birth of the Christian Church. Although it is not certain when Pentecost began to be observed by Christians, it may have been early as the first century. Whitsuntide, also referred to as Whitsun in modern times, is the period beginning with the Saturday before Whitsunday and ending the following Saturday.
According to church tradition, Pentecost is always about seven weeks after Easter Sunday, or 50 days after Easter, including Easter Day. In some Orthodox churches, Whitsunday is observed after the date set by the western churches. This is because some Orthodox churches still observe holidays according to the Julian calendar, which preceded the Gregorian calendar adopted by many western churches. The Easter date depends on the ecclesiastical approximation of the March equinox.
Symbols
The symbols of Pentecost are those of the Holy Spirit and include flames, wind, and a dove.
About Pentecost in other countries
Read more about
Pentecost
.
Pentecost Observances
| Weekday | Date | Year | Name | Holiday type | Where it is observed |
| --- | --- | --- | --- | --- | --- |
| Sun | Jun 3 | 1990 | Pentecost | Christian | |
| Sun | May 19 | 1991 | Pentecost | Christian | |
| Sun | Jun 7 | 1992 | Pentecost | Christian | |
| Sun | May 30 | 1993 | Pentecost | Christian | |
| Sun | May 22 | 1994 | Pentecost | Christian | |
| Sun | Jun 4 | 1995 | Pentecost | Christian | |
| Sun | May 26 | 1996 | Pentecost | Christian | |
| Sun | May 18 | 1997 | Pentecost | Christian | |
| Sun | May 31 | 1998 | Pentecost | Christian | |
| Sun | May 23 | 1999 | Pentecost | Christian | |
| Sun | Jun 11 | 2000 | Pentecost | Christian | |
| Sun | Jun 3 | 2001 | Pentecost | Christian | |
| Sun | May 19 | 2002 | Pentecost | Christian | |
| Sun | Jun 8 | 2003 | Pentecost | Christian | |
| Sun | May 30 | 2004 | Pentecost | Christian | |
| Sun | May 15 | 2005 | Pentecost | Christian | |
| Sun | Jun 4 | 2006 | Pentecost | Christian | |
| Sun | May 27 | 2007 | Pentecost | Christian | |
| Sun | May 11 | 2008 | Pentecost | Christian | |
| Sun | May 31 | 2009 | Pentecost | Christian | |
| Sun | May 23 | 2010 | Pentecost | Christian | |
| Sun | Jun 12 | 2011 | Pentecost | Christian | |
| Sun | May 27 | 2012 | Pentecost | Christian | |
| Sun | May 19 | 2013 | Pentecost | Christian | |
| Sun | Jun 8 | 2014 | Pentecost | Christian | |
| Sun | May 24 | 2015 | Pentecost | Christian | |
| Sun | May 15 | 2016 | Pentecost | Christian | |
| Sun | Jun 4 | 2017 | Pentecost | Christian | |
| Sun | May 20 | 2018 | Pentecost | Christian | |
| Sun | Jun 9 | 2019 | Pentecost | Christian | |
| Sun | May 31 | 2020 | Pentecost | Christian | |
Related holidays
Other holidays in June 2014 in United States
Other calendars
Related links