Whit Monday in Germany
Quick Facts
The Second Day of Pentecost is, which is on the Monday after Pentecost (or Whitsunday), is a public holiday in Germany.
Local names
| Name | Language |
| --- | --- |
| Pfingstmontag | German |
| Whit Monday | English |
Alternative name
Pentecost Monday
Whit Monday 2014
Monday, June 9, 2014
Whit Monday 2015
Monday, May 25, 2015
List of dates for other years
Many Christians in Germany observe the Second Day of Pentecost, which falls on the day after Pentecost (or Whitsunday). It is a public holiday throughout the nation and falls on June 1 in 2009. Pentecost commemorates the Holy Ghost's descent on the Jesus Christ's disciples, according to the New Testament of the Bible.
Traditionally, there was a whole week of church based celebrations for Pentecost. The public holiday on the Monday after Pentecost Sunday is a reminder of these celebrations. In Germany, people mark the Second Day of Pentecost with various local and regional customs.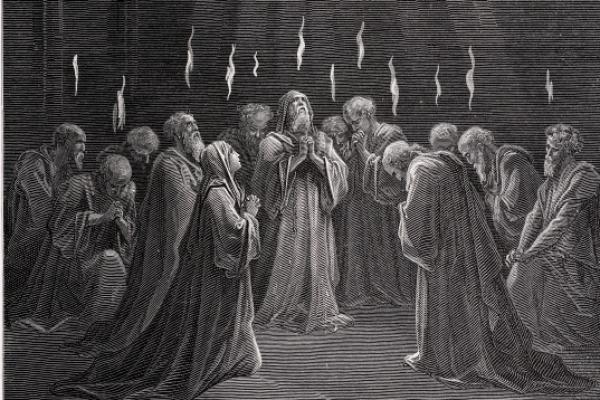 ©iStockphoto.com/duncan1890
What do people do?
The night between Pentecost, or Whitsunday, and Pentecost Monday is known as the night of unrest (Unruhnacht or Bosheitsnacht). In the past, people thought that evil spirits were active during this night and would steal any property not locked away. Now, in some areas, young people play the role of the evil spirits and move small agricultural tools and garden benches to other properties. Young men may also nail birch branches to house walls of young women they want to marry.
The Pentecost week celebrations continue beyond Monday in some areas. The Tuesday after Pentecost Sunday is known as Forest Day (Waeldchestag) in Frankfurt am Main. A large party and fun fair are held in a wooded area of a park on the town's outskirts and neighboring suburbs. An outdoor play about the local history of the area and a historical festival are held in the town of Deidesheim.
The Wednesday after Pentecost Sunday is known as Garlic Wednesday (Knoblauchsmittwoch) in an area around the border between the states of Saxony-Anhalt and Saxony. The day was traditionally marked by eating a dish containing a lot of garlic. The celebrations were also political and were banned around 1870. However, the customs were recently revived.
Public life
The second day of Pentecost is a public holiday in all German states. Post offices, banks, stores and other businesses are closed. However, some tourist stores may be open and stores at railway stations, airports and along highways are usually open.
There are some restrictions on selling alcohol, public performances and dancing. Public transport services may run as usual, at a reduced service or no service depending on where one lives or intends to travel.
Background and symbols
See the section below for more information on background and symbols. The day is also celebrated in other countries such as the Netherlands, the United Kingdom and the United States.
About Whit Monday in other countries
Read more about
Whit Monday
.
Whit Monday Observances
| Weekday | Date | Year | Name | Holiday type | Where it is observed |
| --- | --- | --- | --- | --- | --- |
| Mon | Jun 4 | 1990 | Whit Monday | National holiday | |
| Mon | May 20 | 1991 | Whit Monday | National holiday | |
| Mon | Jun 8 | 1992 | Whit Monday | National holiday | |
| Mon | May 31 | 1993 | Whit Monday | National holiday | |
| Mon | May 23 | 1994 | Whit Monday | National holiday | |
| Mon | Jun 5 | 1995 | Whit Monday | National holiday | |
| Mon | May 27 | 1996 | Whit Monday | National holiday | |
| Mon | May 19 | 1997 | Whit Monday | National holiday | |
| Mon | Jun 1 | 1998 | Whit Monday | National holiday | |
| Mon | May 24 | 1999 | Whit Monday | National holiday | |
| Mon | Jun 12 | 2000 | Whit Monday | National holiday | |
| Mon | Jun 4 | 2001 | Whit Monday | National holiday | |
| Mon | May 20 | 2002 | Whit Monday | National holiday | |
| Mon | Jun 9 | 2003 | Whit Monday | National holiday | |
| Mon | May 31 | 2004 | Whit Monday | National holiday | |
| Mon | May 16 | 2005 | Whit Monday | National holiday | |
| Mon | Jun 5 | 2006 | Whit Monday | National holiday | |
| Mon | May 28 | 2007 | Whit Monday | National holiday | |
| Mon | May 12 | 2008 | Whit Monday | National holiday | |
| Mon | Jun 1 | 2009 | Whit Monday | National holiday | |
| Mon | May 24 | 2010 | Whit Monday | National holiday | |
| Mon | Jun 13 | 2011 | Whit Monday | National holiday | |
| Mon | May 28 | 2012 | Whit Monday | National holiday | |
| Mon | May 20 | 2013 | Whit Monday | National holiday | |
| Mon | Jun 9 | 2014 | Whit Monday | National holiday | |
| Mon | May 25 | 2015 | Whit Monday | National holiday | |
| Mon | May 16 | 2016 | Whit Monday | National holiday | |
| Mon | Jun 5 | 2017 | Whit Monday | National holiday | |
| Mon | May 21 | 2018 | Whit Monday | National holiday | |
| Mon | Jun 10 | 2019 | Whit Monday | National holiday | |
| Mon | Jun 1 | 2020 | Whit Monday | National holiday | |
Related holiday
Other holidays in June 2014 in Germany
Other calendars
Related links