All Saints' Day in Poland
Quick Facts
All Saints' Day is a public holiday in Poland on November 1 each year.
Local names
| Name | Language |
| --- | --- |
| Wszystkich Świętych | Polish |
| All Saints' Day | English |
| Allerheiligen | German |
Alternative name
All Hallows' Day
All Saints' Day 2014
Saturday, November 1, 2014
All Saints' Day 2015
Sunday, November 1, 2015
List of dates for other years
All Saints' Day (Wszystkich Swietych) is an annual national holiday in Poland to celebrate the saints on November 1. It is also known as the Day of the Dead, as many people remember dead family and friends on this day.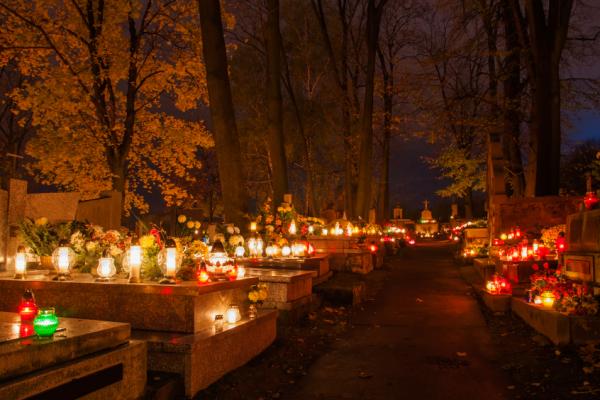 ©iStockphoto.com/badahos
What do people do?
Special church services are held to commemorate the saints in various towns and cities in Poland. Many people in Poland lay flowers and candles on the graves of deceased family members and friends in cemeteries. This tradition continues through to All Souls' Day (Dzien Zaduszny or Zaduszki), which is on November 2, but it is not a public holiday.
Public life
All Saints' Day is an official public holiday in Poland, so schools, banks, government offices and most private businesses are closed. There is a trade prohibition on public holidays in Poland. People intending to travel via public transport during public holidays must check with the public transit authorities on any changes to time schedules.
Background
All Saints' Day is celebrated in Poland and in many other countries. According to some sources, the idea for All Saints' Day goes back to the fourth century while other sources say that a commemoration of "All Martyrs" began to be celebrated as early as 270 CE. Pope Gregory IV made All Saints' Day an authorized holiday in the Catholic Church in 835 CE.
Symbols
The candles that are laid on graves are especially made so they can burn for many hours. It is believed that these candles help the departed souls find their way through the darkness.
About All Saints' Day in other countries
Read more about
All Saints' Day
.
All Saints' Day Observances
| Weekday | Date | Year | Name | Holiday type |
| --- | --- | --- | --- | --- |
| Thu | Nov 1 | 1990 | All Saints' Day | National holiday |
| Fri | Nov 1 | 1991 | All Saints' Day | National holiday |
| Sun | Nov 1 | 1992 | All Saints' Day | National holiday |
| Mon | Nov 1 | 1993 | All Saints' Day | National holiday |
| Tue | Nov 1 | 1994 | All Saints' Day | National holiday |
| Wed | Nov 1 | 1995 | All Saints' Day | National holiday |
| Fri | Nov 1 | 1996 | All Saints' Day | National holiday |
| Sat | Nov 1 | 1997 | All Saints' Day | National holiday |
| Sun | Nov 1 | 1998 | All Saints' Day | National holiday |
| Mon | Nov 1 | 1999 | All Saints' Day | National holiday |
| Wed | Nov 1 | 2000 | All Saints' Day | National holiday |
| Thu | Nov 1 | 2001 | All Saints' Day | National holiday |
| Fri | Nov 1 | 2002 | All Saints' Day | National holiday |
| Sat | Nov 1 | 2003 | All Saints' Day | National holiday |
| Mon | Nov 1 | 2004 | All Saints' Day | National holiday |
| Tue | Nov 1 | 2005 | All Saints' Day | National holiday |
| Wed | Nov 1 | 2006 | All Saints' Day | National holiday |
| Thu | Nov 1 | 2007 | All Saints' Day | National holiday |
| Sat | Nov 1 | 2008 | All Saints' Day | National holiday |
| Sun | Nov 1 | 2009 | All Saints' Day | National holiday |
| Mon | Nov 1 | 2010 | All Saints' Day | National holiday |
| Tue | Nov 1 | 2011 | All Saints' Day | National holiday |
| Thu | Nov 1 | 2012 | All Saints' Day | National holiday |
| Fri | Nov 1 | 2013 | All Saints' Day | National holiday |
| Sat | Nov 1 | 2014 | All Saints' Day | National holiday |
| Sun | Nov 1 | 2015 | All Saints' Day | National holiday |
| Tue | Nov 1 | 2016 | All Saints' Day | National holiday |
| Wed | Nov 1 | 2017 | All Saints' Day | National holiday |
| Thu | Nov 1 | 2018 | All Saints' Day | National holiday |
| Fri | Nov 1 | 2019 | All Saints' Day | National holiday |
| Sun | Nov 1 | 2020 | All Saints' Day | National holiday |
Other holidays in November 2014 in Poland
Other calendars
Related links