Whit Sunday in Poland
Quick Facts
Whit Sunday, also known as Pentecost or the Descent of the Holy Spirit (Zeslanie Ducha Swietego) is an annual public holiday in Poland 7 weeks after Easter Sunday.
Local names
| Name | Language |
| --- | --- |
| Zielone Świątki | Polish |
| Whit Sunday | English |
| Pfingstsonntag | German |
Alternative name
Pentecost Sunday
Whit Sunday 2014
Sunday, June 8, 2014
Whit Sunday 2015
Sunday, May 24, 2015
List of dates for other years
Whit Sunday, or Pentecost, is a Christian holiday to remember the Holy Spirit's descent (Zeslanie Ducha Swietego) upon Jesus' disciples. It is a national holiday in Poland seven weeks after Easter Sunday.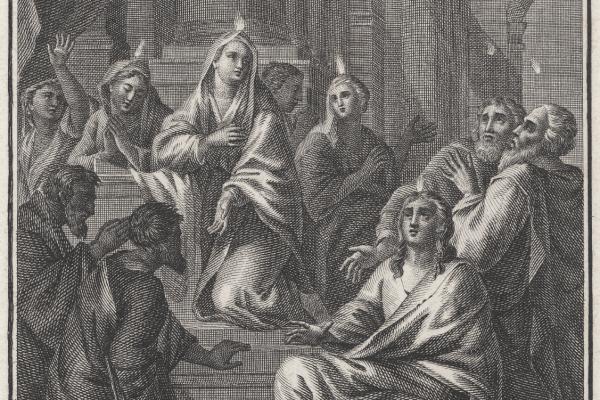 ©iStockphoto.com/ZU_09
What do people do?
Many churches in Poland open their doors for special services on Whit Sunday. Some people decorate their homes with greenery, especially branches with green leaves, hoping that God's blessings will come to their families and homes.
Public life
Whitsunday is an official public holiday in Poland, so schools, banks, government offices and most private businesses are closed. There is a trade prohibition on public holidays in Poland. People intending to travel via public transport during public holidays must check with the public transit authorities on any changes to time schedules.
Background
Whitsunday/Whit Sunday, or Pentecost, does not fall on the same calendar date each year but is set seven weeks after Easter Sunday. According to the New Testament in the Bible, the apostles were filled with the Holy Spirit and began to "speak in other tongues" on the day of Pentecost. Whit Sunday is also celebrated in many other countries in the world.
Symbols
Pentecost is also referred to as the "Green Holiday", as some houses in Poland are decorated with green branches to symbolize God's blessing on these homes. Another symbolic tradition, which is becoming less common, is a procession to fields to bless crops.
About Whit Sunday in other countries
Read more about
Whit Sunday
.
Whit Sunday Observances
| Weekday | Date | Year | Name | Holiday type |
| --- | --- | --- | --- | --- |
| Sun | Jun 3 | 1990 | Whit Sunday | National holiday |
| Sun | May 19 | 1991 | Whit Sunday | National holiday |
| Sun | Jun 7 | 1992 | Whit Sunday | National holiday |
| Sun | May 30 | 1993 | Whit Sunday | National holiday |
| Sun | May 22 | 1994 | Whit Sunday | National holiday |
| Sun | Jun 4 | 1995 | Whit Sunday | National holiday |
| Sun | May 26 | 1996 | Whit Sunday | National holiday |
| Sun | May 18 | 1997 | Whit Sunday | National holiday |
| Sun | May 31 | 1998 | Whit Sunday | National holiday |
| Sun | May 23 | 1999 | Whit Sunday | National holiday |
| Sun | Jun 11 | 2000 | Whit Sunday | National holiday |
| Sun | Jun 3 | 2001 | Whit Sunday | National holiday |
| Sun | May 19 | 2002 | Whit Sunday | National holiday |
| Sun | Jun 8 | 2003 | Whit Sunday | National holiday |
| Sun | May 30 | 2004 | Whit Sunday | National holiday |
| Sun | May 15 | 2005 | Whit Sunday | National holiday |
| Sun | Jun 4 | 2006 | Whit Sunday | National holiday |
| Sun | May 27 | 2007 | Whit Sunday | National holiday |
| Sun | May 11 | 2008 | Whit Sunday | National holiday |
| Sun | May 31 | 2009 | Whit Sunday | National holiday |
| Sun | May 23 | 2010 | Whit Sunday | National holiday |
| Sun | Jun 12 | 2011 | Whit Sunday | National holiday |
| Sun | May 27 | 2012 | Whit Sunday | National holiday |
| Sun | May 19 | 2013 | Whit Sunday | National holiday |
| Sun | Jun 8 | 2014 | Whit Sunday | National holiday |
| Sun | May 24 | 2015 | Whit Sunday | National holiday |
| Sun | May 15 | 2016 | Whit Sunday | National holiday |
| Sun | Jun 4 | 2017 | Whit Sunday | National holiday |
| Sun | May 20 | 2018 | Whit Sunday | National holiday |
| Sun | Jun 9 | 2019 | Whit Sunday | National holiday |
| Sun | May 31 | 2020 | Whit Sunday | National holiday |
Other holidays in June 2014 in Poland
Other calendars
Related links