Orthodox Easter Day in Romania
Quick Facts
Easter (Paștele) is both a religious and a national holiday in Romania. The Easter date is based on the Orthodox Christian Church's calendar.
Local names
| Name | Language |
| --- | --- |
| Paştele | Romanian |
| Orthodox Easter Day | English |
| Orthodoxer Ostersonntag | German |
Orthodox Easter Day 2014
Sunday, April 20, 2014
Orthodox Easter Day 2015
Sunday, April 12, 2015
List of dates for other years
Easter Day (Paștele) is a public holiday across Romania and celebrates Jesus' resurrection from death, as told in the Christian bible. Romania's Easter holiday follows the Orthodox Easter date, which is often different from the Easter date determined by other Christian churches.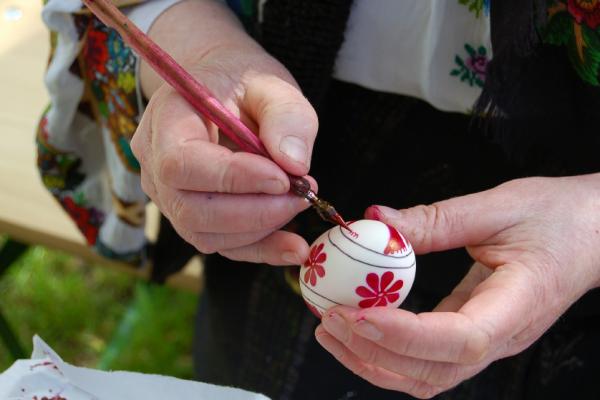 ©iStockphoto.com/Andrei_Badau
What do people do?
Easter is one of the most important religious celebrations in Romania. Many churches across Romania hold special Easter services. Families and friends gather for an Easter lunch or dinner, where meals include:
Lamb meat, including drob (lamb organs' haggis with vegetables).
Pască, a special type of Cozonac (walnut pound cake).
Painted eggs. The colors that are used are red, yellow, blue, green and black.
Romanians call the painted and decorated eggs "oua incondeiate", "oua impiestrite", or "oua inchiestrite". It is customary to knock each other's eggs during Easter, and it is believed that people who knock each other's eggs will see each other again after death.
Public life
Easter Sunday and Easter Monday are public holidays in Romania so banks, public offices, and many private businesses are closed. People intending to travel via public transport during public holidays must check with the public transit authorities on any changes to time schedules.
Background
Romania's Easter holiday follows the Easter dates set by the Orthodox Christian Church. Many Orthodox churches base their Easter date on the Julian calendar, which differs from the Gregorian calendar that is used by many western countries. Therefore the Orthodox Easter period often occurs later than the Easter period that falls after the time of the March equinox.
Symbols
One of the most important colors used to paint Easter eggs is red, which symbolizes, Jesus' blood when he was crucified. These eggs are often called "rosele", "rusele" or "rosetele", as "rosu" means "red" in Romanian. The most used decorative motifs for decorating Easter eggs include:
The lost path, where souls walk toward the judgment.
The cross.
The fir or oak leaf.
Various plants and animals.
The Easter candles that are used at a church mass/service are kept afterwards because they symbolize protection.
About Orthodox Easter Day in other countries
Read more about
Orthodox Easter Day
.
Orthodox Easter Day Observances
| Weekday | Date | Year | Name | Holiday type |
| --- | --- | --- | --- | --- |
| Sun | Apr 15 | 1990 | Orthodox Easter Day | National holiday |
| Sun | Apr 7 | 1991 | Orthodox Easter Day | National holiday |
| Sun | Apr 26 | 1992 | Orthodox Easter Day | National holiday |
| Sun | Apr 18 | 1993 | Orthodox Easter Day | National holiday |
| Sun | May 1 | 1994 | Orthodox Easter Day | National holiday |
| Sun | Apr 23 | 1995 | Orthodox Easter Day | National holiday |
| Sun | Apr 14 | 1996 | Orthodox Easter Day | National holiday |
| Sun | Apr 27 | 1997 | Orthodox Easter Day | National holiday |
| Sun | Apr 19 | 1998 | Orthodox Easter Day | National holiday |
| Sun | Apr 11 | 1999 | Orthodox Easter Day | National holiday |
| Sun | Apr 30 | 2000 | Orthodox Easter Day | National holiday |
| Sun | Apr 15 | 2001 | Orthodox Easter Day | National holiday |
| Sun | May 5 | 2002 | Orthodox Easter Day | National holiday |
| Sun | Apr 27 | 2003 | Orthodox Easter Day | National holiday |
| Sun | Apr 11 | 2004 | Orthodox Easter Day | National holiday |
| Sun | May 1 | 2005 | Orthodox Easter Day | National holiday |
| Sun | Apr 23 | 2006 | Orthodox Easter Day | National holiday |
| Sun | Apr 8 | 2007 | Orthodox Easter Day | National holiday |
| Sun | Apr 27 | 2008 | Orthodox Easter Day | National holiday |
| Sun | Apr 19 | 2009 | Orthodox Easter Day | National holiday |
| Sun | Apr 4 | 2010 | Orthodox Easter Day | National holiday |
| Sun | Apr 24 | 2011 | Orthodox Easter Day | National holiday |
| Sun | Apr 15 | 2012 | Orthodox Easter Day | National holiday |
| Sun | May 5 | 2013 | Orthodox Easter Day | National holiday |
| Sun | Apr 20 | 2014 | Orthodox Easter Day | National holiday |
| Sun | Apr 12 | 2015 | Orthodox Easter Day | National holiday |
| Sun | May 1 | 2016 | Orthodox Easter Day | National holiday |
| Sun | Apr 16 | 2017 | Orthodox Easter Day | National holiday |
| Sun | Apr 8 | 2018 | Orthodox Easter Day | National holiday |
| Sun | Apr 28 | 2019 | Orthodox Easter Day | National holiday |
| Sun | Apr 19 | 2020 | Orthodox Easter Day | National holiday |
Related holiday
Other holidays in April 2014 in Romania
Other calendars
Related links