Christmas Day in Ukraine
Quick Facts
Christmas Day is a public holiday in Ukraine on January 7, a date based on the Orthodox Christian Church's calendar.
Local names
| Name | Language |
| --- | --- |
| Рождество | Russian |
| Різдво | Ukrainian |
| Christmas Day | English |
| Weihnachten | German |
Christmas Day 2014
Tuesday, January 7, 2014
Christmas Day 2015
Wednesday, January 7, 2015
List of dates for other years
Many Ukrainians have a day off on Christmas Day, which celebrates the birth of Jesus Christ. It is an annual public holiday across Ukraine and falls on January 7, the Orthodox Christmas date.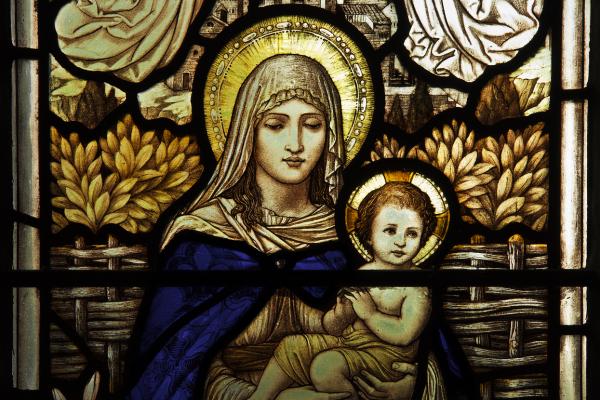 ©iStockphoto.com/RedletterW
What do people do?
The period from January 7-14 is a festive week, in which it is customary for some people to dress up, visit homes, sing Christmas songs (eg. Kolyadka), and wish each other blessings. A Ukrainian Christmas dinner may often include dishes such as:
Kutia (sweet grain pudding).
Borshch (beet soup).
Vushka (small dumplings with mushroom).
Varenyky (dumplings with cabbage and potatoes).
Holubtsi (stuffed cabbage roll).
Other Christmas activities include puppet shows of the Nativity, holiday concerts, and Christmas fairs.
Public life
Christmas Day is a public holiday across Ukraine, so many businesses, schools, universities and public offices are closed.
Background
Christmas for many Ukrainians is an important family holiday. When Ukraine was part of the former Soviet Union, Christmas Day was not a public holiday but Christmas traditions were not forgotten. After Ukraine gained its independence in 1991, Christmas Day was made a public holiday. Many Ukrainian Christmas traditions are based on pre-Christian Pagan customs.
Many Orthodox Christian churches in Ukraine observe the Christmas Day date from the Julian calendar, which is different from the more commonly used Gregorian calendar. So, while Christmas is still on December 25 in the Julian calendar, it appears on January 7 in the Gregorian calendar, up until 2100. After that, the Gregorian date for Orthodox Christmas will be January 8 in 2101.
Symbols
Christmas meals that have a symbolic meaning include:
Kolach (Christmas bread), which is braided into a ring, with 3 rings placed on top of another to symbolize the Christian concept of the Holy Trinity of father, son and holy spirit.
Didukh, a sheaf of wheat stalks or mixed grain stalks placed under icons in a home. It symbolizes family ancestors.
Some families celebrate Christmas with a 12-course dinner, with each course representing one of Jesus Christ's apostles. According to the pre-Christian Pagan tradition, each course of meal represented a full moon that took place during the year.
About Christmas Day in other countries
Read more about
Christmas Day
.
Christmas Day Observances
| Weekday | Date | Year | Name | Holiday type |
| --- | --- | --- | --- | --- |
| Sun | Jan 7 | 1990 | Christmas Day | National holiday |
| Mon | Jan 7 | 1991 | Christmas Day | National holiday |
| Tue | Jan 7 | 1992 | Christmas Day | National holiday |
| Thu | Jan 7 | 1993 | Christmas Day | National holiday |
| Fri | Jan 7 | 1994 | Christmas Day | National holiday |
| Sat | Jan 7 | 1995 | Christmas Day | National holiday |
| Sun | Jan 7 | 1996 | Christmas Day | National holiday |
| Tue | Jan 7 | 1997 | Christmas Day | National holiday |
| Wed | Jan 7 | 1998 | Christmas Day | National holiday |
| Thu | Jan 7 | 1999 | Christmas Day | National holiday |
| Fri | Jan 7 | 2000 | Christmas Day | National holiday |
| Sun | Jan 7 | 2001 | Christmas Day | National holiday |
| Mon | Jan 7 | 2002 | Christmas Day | National holiday |
| Tue | Jan 7 | 2003 | Christmas Day | National holiday |
| Wed | Jan 7 | 2004 | Christmas Day | National holiday |
| Fri | Jan 7 | 2005 | Christmas Day | National holiday |
| Sat | Jan 7 | 2006 | Christmas Day | National holiday |
| Sun | Jan 7 | 2007 | Christmas Day | National holiday |
| Mon | Jan 7 | 2008 | Christmas Day | National holiday |
| Wed | Jan 7 | 2009 | Christmas Day | National holiday |
| Thu | Jan 7 | 2010 | Christmas Day | National holiday |
| Fri | Jan 7 | 2011 | Christmas Day | National holiday |
| Sat | Jan 7 | 2012 | Christmas Day | National holiday |
| Mon | Jan 7 | 2013 | Christmas Day | National holiday |
| Tue | Jan 7 | 2014 | Christmas Day | National holiday |
| Wed | Jan 7 | 2015 | Christmas Day | National holiday |
| Thu | Jan 7 | 2016 | Christmas Day | National holiday |
| Sat | Jan 7 | 2017 | Christmas Day | National holiday |
| Sun | Jan 7 | 2018 | Christmas Day | National holiday |
| Mon | Jan 7 | 2019 | Christmas Day | National holiday |
| Tue | Jan 7 | 2020 | Christmas Day | National holiday |
Other holidays in January 2014 in Ukraine
Other calendars
Related links