D-Day in United States
Quick Facts
D-Day is a special anniversary in some countries, including the United States (U.S.), to remember Allied forces' invasion of Normandy, France, in the Second World War.
Local names
| Name | Language |
| --- | --- |
| D-Day | English |
| el día D | Spanish |
| D-יום | Hebrew |
| D-يوم | Arabic |
| D-데이 | Korean |
| D-Day | German |
D-Day 2014
Friday, June 6, 2014
D-Day 2015
Saturday, June 6, 2015
List of dates for other years
D-Day is observed in the U.S. in memory of the Normandy landings in France on June 6, 1944, in which American soldiers and other Allied forces fought to end World War II in Europe.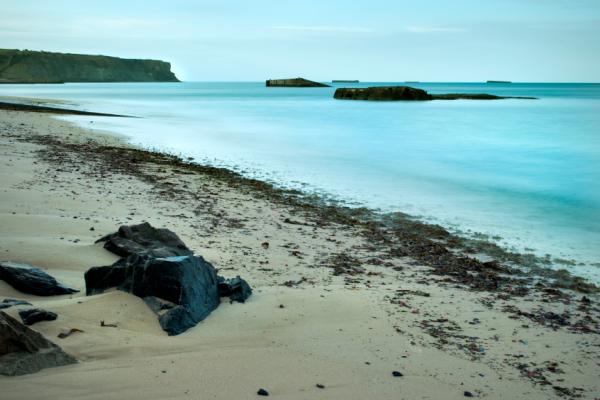 ©iStockphoto.com/tony740607
What do people do?
Some museums and war memorials host exhibitions featuring photos and film as a tribute to soldiers who were part of the Normandy landings. D-Day memorials and ceremonies are also held to remember these soldiers.
Public life
D-Day is an observance and not a federal public holiday in the U.S.
Background
About 160,000 Allied troops landed on the beaches of Normandy, France, to fight Nazi soldiers on June 6, 1944. General Dwight D. Eisenhower called the operation a crusade in which "we will accept nothing less than full victory". More than 5,000 ships and 13,000 aircraft supported the D-Day invasion, and by the end of the day, the troops gained a foot- hold in Normandy. Thousands of soldiers lost their lives, but thousands more trekked across Europe to end the war. The invasion is one of history's most significant military attacks.
D-Day Observances
| Weekday | Date | Year | Name | Holiday type | Where it is observed |
| --- | --- | --- | --- | --- | --- |
| Wed | Jun 6 | 1990 | D-Day | Observance | |
| Thu | Jun 6 | 1991 | D-Day | Observance | |
| Sat | Jun 6 | 1992 | D-Day | Observance | |
| Sun | Jun 6 | 1993 | D-Day | Observance | |
| Mon | Jun 6 | 1994 | D-Day | Observance | |
| Tue | Jun 6 | 1995 | D-Day | Observance | |
| Thu | Jun 6 | 1996 | D-Day | Observance | |
| Fri | Jun 6 | 1997 | D-Day | Observance | |
| Sat | Jun 6 | 1998 | D-Day | Observance | |
| Sun | Jun 6 | 1999 | D-Day | Observance | |
| Tue | Jun 6 | 2000 | D-Day | Observance | |
| Wed | Jun 6 | 2001 | D-Day | Observance | |
| Thu | Jun 6 | 2002 | D-Day | Observance | |
| Fri | Jun 6 | 2003 | D-Day | Observance | |
| Sun | Jun 6 | 2004 | D-Day | Observance | |
| Mon | Jun 6 | 2005 | D-Day | Observance | |
| Tue | Jun 6 | 2006 | D-Day | Observance | |
| Wed | Jun 6 | 2007 | D-Day | Observance | |
| Fri | Jun 6 | 2008 | D-Day | Observance | |
| Sat | Jun 6 | 2009 | D-Day | Observance | |
| Sun | Jun 6 | 2010 | D-Day | Observance | |
| Mon | Jun 6 | 2011 | D-Day | Observance | |
| Wed | Jun 6 | 2012 | D-Day | Observance | |
| Thu | Jun 6 | 2013 | D-Day | Observance | |
| Fri | Jun 6 | 2014 | D-Day | Observance | |
| Sat | Jun 6 | 2015 | D-Day | Observance | |
| Mon | Jun 6 | 2016 | D-Day | Observance | |
| Tue | Jun 6 | 2017 | D-Day | Observance | |
| Wed | Jun 6 | 2018 | D-Day | Observance | |
| Thu | Jun 6 | 2019 | D-Day | Observance | |
| Sat | Jun 6 | 2020 | D-Day | Observance | |
Related holidays
Other holidays in June 2014 in United States
Other calendars
Related links