Kamehameha Day in United States
Quick Facts
Kamehameha Day, held annually on June 11, honors Kamehameha the Great (Kamehameha I), the monarch who united and established the Kingdom of Hawaii.
Local names
| Name | Language |
| --- | --- |
| Kamehameha Day | English |
| Día de Kamehameha | Spanish |
| Kamehameha היום | Hebrew |
| كاميهاميها يوم | Arabic |
| 카메하메하 데이 | Korean |
| Kamehameha-Tag | German |
Kamehameha Day 2014
Wednesday, June 11, 2014
Kamehameha Day 2015
Thursday, June 11, 2015
List of dates for other years
Kamehameha the Great was the monarch of Hawaii between 1782 and 1819. He is well-known and respected for uniting and establishing the Kingdom of Hawaii in 1810. Kamehameha Day is held in his honor on June 11 each year.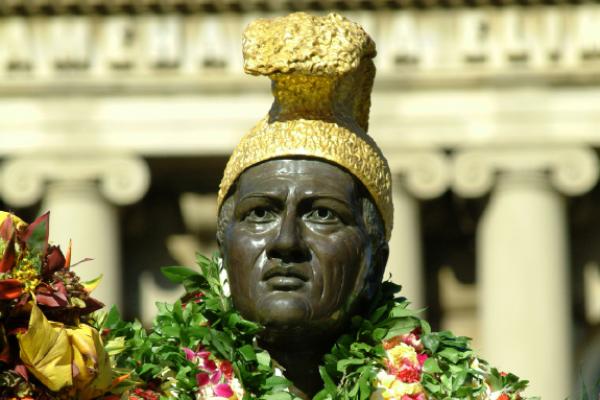 ©iStockphoto.com/RobertCravens
What do people do?
Traditionally, Kamehameha Day celebrations included fairs, carnivals and running, horse and cycle races. Now various events are organized on or around Kamehameha Day. They include a floral parade through Honolulu; statues of Kamehameha the Great being draped in lei (traditional flower garlands); parties; horse riding competitions; and the King Kamehameha Hula Competition.
Public life
Kamehameha Day is a state holiday in Hawaii. Many state offices and schools are closed and public transit services may run to a reduced schedule. Stores and other businesses may be open or closed. Kamehameha Day is not a public holiday in other parts of the United States on June 11.
Background
Kamehameha the Great, also known as Kamehameha I and Kamehameha the First, was ruler of Hawaii from 1782 until his death on May 8, 1819. He is remembered for uniting Hawaii, introducing laws to uphold human rights in combat situations, and for being a fair and stable leader. His name means "lonely" or "loneliness" and he is sometimes known as the "Napoleon of the Pacific".
In 1871, the great-grandson of Kamehameha the Great, known as Kamehameha V, passed a royal decree that Kamehameha Day should be celebrated. The day was first observed on June 11, 1872, and was one of the first holidays proclaimed by the Hawaii State Legislature after Hawaii became a US state in 1959.
Symbols
Important symbols of Kamehameha Day are the statues of Kamehameha the Great in the Hawaiian cities of Honolulu, Kapaau and Hilo, as well as the National Statuary Hall on the US Capitol in Washington DC. During the Kamehameha Day ceremonies, the statues are draped in lei. These are garlands made by stringing flowers or leaves together and are often hung around the necks of loved ones, visitors and statues of respected people.
Kamehameha Day Observances
| Weekday | Date | Year | Name | Holiday type | Where it is observed |
| --- | --- | --- | --- | --- | --- |
| Mon | Jun 11 | 1990 | Kamehameha Day | State holiday | Hawaii |
| Tue | Jun 11 | 1991 | Kamehameha Day | State holiday | Hawaii |
| Thu | Jun 11 | 1992 | Kamehameha Day | State holiday | Hawaii |
| Fri | Jun 11 | 1993 | Kamehameha Day | State holiday | Hawaii |
| Sat | Jun 11 | 1994 | Kamehameha Day | State holiday | Hawaii |
| Sun | Jun 11 | 1995 | Kamehameha Day | State holiday | Hawaii |
| Tue | Jun 11 | 1996 | Kamehameha Day | State holiday | Hawaii |
| Wed | Jun 11 | 1997 | Kamehameha Day | State holiday | Hawaii |
| Thu | Jun 11 | 1998 | Kamehameha Day | State holiday | Hawaii |
| Fri | Jun 11 | 1999 | Kamehameha Day | State holiday | Hawaii |
| Sun | Jun 11 | 2000 | Kamehameha Day | State holiday | Hawaii |
| Mon | Jun 11 | 2001 | Kamehameha Day | State holiday | Hawaii |
| Tue | Jun 11 | 2002 | Kamehameha Day | State holiday | Hawaii |
| Wed | Jun 11 | 2003 | Kamehameha Day | State holiday | Hawaii |
| Fri | Jun 11 | 2004 | Kamehameha Day | State holiday | Hawaii |
| Sat | Jun 11 | 2005 | Kamehameha Day | State holiday | Hawaii |
| Sun | Jun 11 | 2006 | Kamehameha Day | State holiday | Hawaii |
| Mon | Jun 11 | 2007 | Kamehameha Day | State holiday | Hawaii |
| Wed | Jun 11 | 2008 | Kamehameha Day | State holiday | Hawaii |
| Thu | Jun 11 | 2009 | Kamehameha Day | State holiday | Hawaii |
| Fri | Jun 11 | 2010 | Kamehameha Day | State holiday | Hawaii |
| Fri | Jun 10 | 2011 | Kamehameha Day observed | State holiday | Hawaii |
| Sat | Jun 11 | 2011 | Kamehameha Day | State holiday | Hawaii |
| Mon | Jun 11 | 2012 | Kamehameha Day | State holiday | Hawaii |
| Tue | Jun 11 | 2013 | Kamehameha Day | State holiday | Hawaii |
| Wed | Jun 11 | 2014 | Kamehameha Day | State holiday | Hawaii |
| Thu | Jun 11 | 2015 | Kamehameha Day | State holiday | Hawaii |
| Fri | Jun 10 | 2016 | Kamehameha Day observed | State holiday | Hawaii |
| Sat | Jun 11 | 2016 | Kamehameha Day | State holiday | Hawaii |
| Sun | Jun 11 | 2017 | Kamehameha Day | State holiday | Hawaii |
| Mon | Jun 12 | 2017 | Kamehameha Day observed | State holiday | Hawaii |
| Mon | Jun 11 | 2018 | Kamehameha Day | State holiday | Hawaii |
| Tue | Jun 11 | 2019 | Kamehameha Day | State holiday | Hawaii |
| Thu | Jun 11 | 2020 | Kamehameha Day | State holiday | Hawaii |
Related holiday
Other holidays in June 2014 in United States
Other calendars
Related links