Kansas Day in United States
Quick Facts
Kansas Day is an annual observance that commemorates the state's admission to the Union in 1861.
Local names
| Name | Language |
| --- | --- |
| Kansas Day | English |
| Día de Kansas | Spanish |
| יום קנזס | Hebrew |
| كانساس يوم | Arabic |
| 캔자스 주 | Korean |
| Kansas-Tag | German |
Kansas Day 2014
Wednesday, January 29, 2014
Kansas Day 2015
Thursday, January 29, 2015
List of dates for other years
On January 29 each year, residents of Kansas celebrate their state's birthday. Kansas Day has been observed annually since 1877.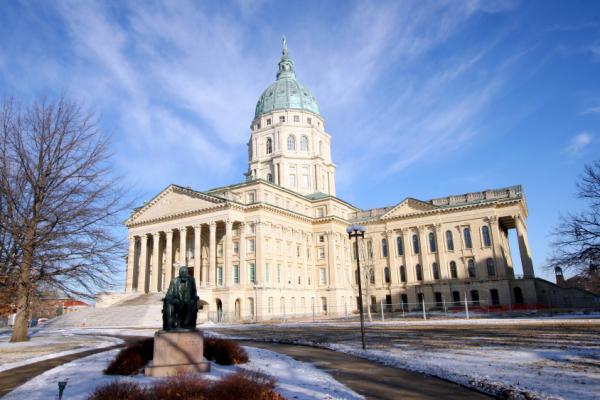 ©iStockphoto.com/MarkCoffeyPhoto
What do people do?
Activities on Kansas Day center around museums, historic sites, schools and the Kansas State Capitol. Students are invited to explore the state's history, vote for their favorite famous Kansan and learn historic skills. The Kansas Republican Party traditionally holds its "Kansas Day Convention" on the same date.
Public life
Kansas Day is not a public holiday, but it is a state-wide observation. Offices, banks, businesses and schools are usually open.
Background
Kansas entered the Union as the 34th state on January 29, 1861. On Kansas Day in 2011, the state celebrated its 150th birthday.
Kansas Day Observances
| Weekday | Date | Year | Name | Holiday type | Where it is observed |
| --- | --- | --- | --- | --- | --- |
| Mon | Jan 29 | 1990 | Kansas Day | Observance | |
| Tue | Jan 29 | 1991 | Kansas Day | Observance | |
| Wed | Jan 29 | 1992 | Kansas Day | Observance | |
| Fri | Jan 29 | 1993 | Kansas Day | Observance | |
| Sat | Jan 29 | 1994 | Kansas Day | Observance | |
| Sun | Jan 29 | 1995 | Kansas Day | Observance | |
| Mon | Jan 29 | 1996 | Kansas Day | Observance | |
| Wed | Jan 29 | 1997 | Kansas Day | Observance | |
| Thu | Jan 29 | 1998 | Kansas Day | Observance | |
| Fri | Jan 29 | 1999 | Kansas Day | Observance | |
| Sat | Jan 29 | 2000 | Kansas Day | Observance | |
| Mon | Jan 29 | 2001 | Kansas Day | Observance | |
| Tue | Jan 29 | 2002 | Kansas Day | Observance | |
| Wed | Jan 29 | 2003 | Kansas Day | Observance | |
| Thu | Jan 29 | 2004 | Kansas Day | Observance | |
| Sat | Jan 29 | 2005 | Kansas Day | Observance | |
| Sun | Jan 29 | 2006 | Kansas Day | Observance | |
| Mon | Jan 29 | 2007 | Kansas Day | Observance | |
| Tue | Jan 29 | 2008 | Kansas Day | Observance | |
| Thu | Jan 29 | 2009 | Kansas Day | Observance | |
| Fri | Jan 29 | 2010 | Kansas Day | Observance | |
| Sat | Jan 29 | 2011 | Kansas Day | Observance | |
| Sun | Jan 29 | 2012 | Kansas Day | Observance | |
| Tue | Jan 29 | 2013 | Kansas Day | Observance | |
| Wed | Jan 29 | 2014 | Kansas Day | Observance | |
| Thu | Jan 29 | 2015 | Kansas Day | Observance | |
| Fri | Jan 29 | 2016 | Kansas Day | Observance | |
| Sun | Jan 29 | 2017 | Kansas Day | Observance | |
| Mon | Jan 29 | 2018 | Kansas Day | Observance | |
| Tue | Jan 29 | 2019 | Kansas Day | Observance | |
| Wed | Jan 29 | 2020 | Kansas Day | Observance | |
Other holidays in January 2014 in United States
Other calendars
Related links