Shrove Tuesday/Mardi Gras in United States
Quick Facts
Shrove Tuesday is traditionally known as the day prior to Lent but it also serves as a day of celebration, known as Mardi Gras.
Local names
| Name | Language |
| --- | --- |
| Shrove Tuesday/Mardi Gras | English |
| Martes de Carnaval | Spanish |
| קרנבל יום שלישי | Hebrew |
| ثلاثاء المرافع | Arabic |
| 참회의 화요일 | Korean |
| Faschingsdienstag | German |
Alternative name
Carnival
Shrove Tuesday/Mardi Gras 2014
Tuesday, March 4, 2014 (local in Florida)
Tuesday, March 4, 2014 (local in Alabama, Louisiana)
Tuesday, March 4, 2014
Shrove Tuesday/Mardi Gras 2015
Tuesday, February 17, 2015 (local in Alabama, Louisiana)
Tuesday, February 17, 2015
Tuesday, February 17, 2015 (local in Florida)
List of dates for other years
Mardi Gras is a holiday in some parts of the United States and often serves as a festive occasion featuring large celebrations. It is also known as Shrove Tuesday, as it is the last day before the long fast for Lent in many Christian churches.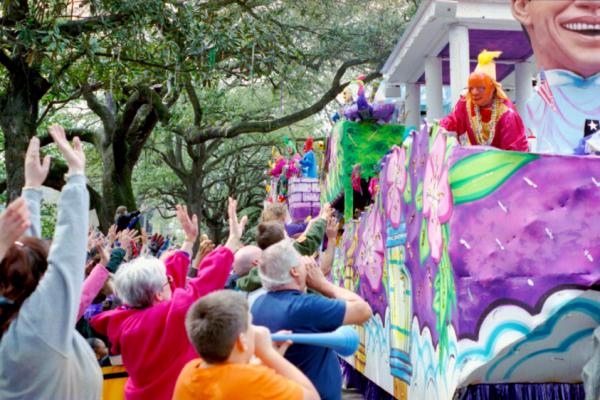 ©iStockphoto.com/sandoclr
What do people do?
Shrove Tuesday is the last day before Lent, a period for fasting. It is also known as Fat Tuesday, or Mardi Gras, and features large festivals and celebrations across the United States. The Mardi Gras parade in New Orleans, in Louisiana, is typical of the masquerades and dancing in the streets that take place in other parts of the United States before the long Lenten fast.
Traditional Mardi Gras parades in New Orleans spotlight the King of the Carnival and the Monarch of Merriment, as well as Comus, the God of Revelry. Many people dress up in eye-catching costumes and a spectacular ball is held. Debutantes are introduced at the Ball Tablaeu as a formal introduction to society.
People throw trinkets to crowds as part of the customary "parade throw" at New Orleans' Mardi Gras celebration. During the Bacchus parade, the king's float throws doubloons with the image of the "Celebrity King" on one side of the doubloon (cups and toy coins) to parade watchers. Traditional Mardi Gras food includes the King Cake in which a pecan or charm is hidden. The person who gets a piece of the cake with the charm or nut is dubbed the "king" of that year's Mardi Gras.
The Mobile and Baldwin counties in Alabama also celebrate Mardi Gras. Parade schedules start as early as January and feature marching bands, colorful floats, and crowds of parade goers along the streets in downtown Mobile. Galveston, in Texas, hosts its own Mardi Gras celebration, which features masked balls, a royal coronation, Cajun dances, jazz performances and parades with floats.
Public life
Mardi Gras is a state holiday in Louisiana. It is also marked as a holiday in the Baldwin and Mobile counties only in Alabama. Governing authorities of any municipality or county in Mississippi can declare this event as a holiday to replace any legal holiday except Martin Luther King's Birthday (which is combined with Robert E Lee's Birthday in the state). It is legally recognized in Florida.
Background and Symbols
Mardi Gras in the United States was first observed in Mobile when it was a colony of French soldiers in 1703. Mardi Gras was transformed into a parade event in 1840 by the Cowbellion de Rakin Society, the first of Mobile's organizations that journeyed to New Orleans in 1857 to help a group there set up a Mardi Gras celebration. The first Carnival society, known as the Mistick Kreweof Comus, took part in coordinating the event that year.
The event was well received and continued until it was suspended during the American Civil War. Mardi Gras was one of the first local institutions to be revived after the war. It reappeared in 1866 and has continued to grow in modern times. A general article about Shrove Tuesday worldwide covers more information about its background and symbols.
About Shrove Tuesday/Mardi Gras in other countries
Read more about
Shrove Tuesday/Mardi Gras
.
Shrove Tuesday/Mardi Gras Observances
| Weekday | Date | Year | Name | Holiday type | Where it is observed |
| --- | --- | --- | --- | --- | --- |
| Tue | Feb 27 | 1990 | Shrove Tuesday/Mardi Gras | State holiday | Alabama, Louisiana |
| Tue | Feb 27 | 1990 | Shrove Tuesday/Mardi Gras | Observance | |
| Tue | Feb 12 | 1991 | Shrove Tuesday/Mardi Gras | Observance | |
| Tue | Feb 12 | 1991 | Shrove Tuesday/Mardi Gras | State holiday | Alabama, Louisiana |
| Tue | Mar 3 | 1992 | Shrove Tuesday/Mardi Gras | State holiday | Alabama, Louisiana |
| Tue | Mar 3 | 1992 | Shrove Tuesday/Mardi Gras | Observance | |
| Tue | Feb 23 | 1993 | Shrove Tuesday/Mardi Gras | State holiday | Alabama, Louisiana |
| Tue | Feb 23 | 1993 | Shrove Tuesday/Mardi Gras | Observance | |
| Tue | Feb 15 | 1994 | Shrove Tuesday/Mardi Gras | Observance | |
| Tue | Feb 15 | 1994 | Shrove Tuesday/Mardi Gras | State holiday | Alabama, Louisiana |
| Tue | Feb 28 | 1995 | Shrove Tuesday/Mardi Gras | Observance | |
| Tue | Feb 28 | 1995 | Shrove Tuesday/Mardi Gras | State holiday | Alabama, Louisiana |
| Tue | Feb 20 | 1996 | Shrove Tuesday/Mardi Gras | Observance | |
| Tue | Feb 20 | 1996 | Shrove Tuesday/Mardi Gras | State holiday | Alabama, Louisiana |
| Tue | Feb 11 | 1997 | Shrove Tuesday/Mardi Gras | State holiday | Alabama, Louisiana |
| Tue | Feb 11 | 1997 | Shrove Tuesday/Mardi Gras | Observance | |
| Tue | Feb 24 | 1998 | Shrove Tuesday/Mardi Gras | State holiday | Alabama, Louisiana |
| Tue | Feb 24 | 1998 | Shrove Tuesday/Mardi Gras | Observance | |
| Tue | Feb 16 | 1999 | Shrove Tuesday/Mardi Gras | Observance | |
| Tue | Feb 16 | 1999 | Shrove Tuesday/Mardi Gras | State holiday | Alabama, Louisiana |
| Tue | Mar 7 | 2000 | Shrove Tuesday/Mardi Gras | State holiday | Alabama, Louisiana |
| Tue | Mar 7 | 2000 | Shrove Tuesday/Mardi Gras | Observance | |
| Tue | Feb 27 | 2001 | Shrove Tuesday/Mardi Gras | State holiday | Alabama, Louisiana |
| Tue | Feb 27 | 2001 | Shrove Tuesday/Mardi Gras | Observance | |
| Tue | Feb 12 | 2002 | Shrove Tuesday/Mardi Gras | State holiday | Alabama, Louisiana |
| Tue | Feb 12 | 2002 | Shrove Tuesday/Mardi Gras | Observance | |
| Tue | Mar 4 | 2003 | Shrove Tuesday/Mardi Gras | State holiday | Alabama, Louisiana |
| Tue | Mar 4 | 2003 | Shrove Tuesday/Mardi Gras | Observance | |
| Tue | Feb 24 | 2004 | Shrove Tuesday/Mardi Gras | State holiday | Alabama, Louisiana |
| Tue | Feb 24 | 2004 | Shrove Tuesday/Mardi Gras | Observance | |
| Tue | Feb 8 | 2005 | Shrove Tuesday/Mardi Gras | State holiday | Alabama, Louisiana |
| Tue | Feb 8 | 2005 | Shrove Tuesday/Mardi Gras | Observance | |
| Tue | Feb 28 | 2006 | Shrove Tuesday/Mardi Gras | State holiday | Alabama, Louisiana |
| Tue | Feb 28 | 2006 | Shrove Tuesday/Mardi Gras | Observance | |
| Tue | Feb 20 | 2007 | Shrove Tuesday/Mardi Gras | State holiday | Alabama, Louisiana |
| Tue | Feb 20 | 2007 | Shrove Tuesday/Mardi Gras | Observance | |
| Tue | Feb 5 | 2008 | Shrove Tuesday/Mardi Gras | State holiday | Alabama, Louisiana |
| Tue | Feb 5 | 2008 | Shrove Tuesday/Mardi Gras | Observance | |
| Tue | Feb 24 | 2009 | Shrove Tuesday/Mardi Gras | State holiday | Alabama, Louisiana |
| Tue | Feb 24 | 2009 | Shrove Tuesday/Mardi Gras | Observance | |
| Tue | Feb 16 | 2010 | Shrove Tuesday/Mardi Gras | State holiday | Alabama, Louisiana |
| Tue | Feb 16 | 2010 | Shrove Tuesday/Mardi Gras | Observance | |
| Tue | Mar 8 | 2011 | Shrove Tuesday/Mardi Gras | State holiday | Alabama, Louisiana |
| Tue | Mar 8 | 2011 | Shrove Tuesday/Mardi Gras | Observance | |
| Tue | Feb 21 | 2012 | Shrove Tuesday/Mardi Gras | Observance | |
| Tue | Feb 21 | 2012 | Shrove Tuesday/Mardi Gras | State holiday | Alabama, Louisiana |
| Tue | Feb 12 | 2013 | Shrove Tuesday/Mardi Gras | State holiday | Alabama, Louisiana |
| Tue | Feb 12 | 2013 | Shrove Tuesday/Mardi Gras | Observance | |
| Tue | Mar 4 | 2014 | Shrove Tuesday/Mardi Gras | Local observance | Florida |
| Tue | Mar 4 | 2014 | Shrove Tuesday/Mardi Gras | State holiday | Alabama, Louisiana |
| Tue | Mar 4 | 2014 | Shrove Tuesday/Mardi Gras | Observance | |
| Tue | Feb 17 | 2015 | Shrove Tuesday/Mardi Gras | State holiday | Alabama, Louisiana |
| Tue | Feb 17 | 2015 | Shrove Tuesday/Mardi Gras | Observance | |
| Tue | Feb 17 | 2015 | Shrove Tuesday/Mardi Gras | Local observance | Florida |
| Tue | Feb 9 | 2016 | Shrove Tuesday/Mardi Gras | State holiday | Alabama, Louisiana |
| Tue | Feb 9 | 2016 | Shrove Tuesday/Mardi Gras | Local observance | Florida |
| Tue | Feb 9 | 2016 | Shrove Tuesday/Mardi Gras | Observance | |
| Tue | Feb 28 | 2017 | Shrove Tuesday/Mardi Gras | Observance | |
| Tue | Feb 28 | 2017 | Shrove Tuesday/Mardi Gras | State holiday | Alabama, Louisiana |
| Tue | Feb 28 | 2017 | Shrove Tuesday/Mardi Gras | Local observance | Florida |
| Tue | Feb 13 | 2018 | Shrove Tuesday/Mardi Gras | State holiday | Alabama, Louisiana |
| Tue | Feb 13 | 2018 | Shrove Tuesday/Mardi Gras | Local observance | Florida |
| Tue | Feb 13 | 2018 | Shrove Tuesday/Mardi Gras | Observance | |
| Tue | Mar 5 | 2019 | Shrove Tuesday/Mardi Gras | State holiday | Alabama, Louisiana |
| Tue | Mar 5 | 2019 | Shrove Tuesday/Mardi Gras | Local observance | Florida |
| Tue | Mar 5 | 2019 | Shrove Tuesday/Mardi Gras | Observance | |
| Tue | Feb 25 | 2020 | Shrove Tuesday/Mardi Gras | Observance | |
| Tue | Feb 25 | 2020 | Shrove Tuesday/Mardi Gras | State holiday | Alabama, Louisiana |
| Tue | Feb 25 | 2020 | Shrove Tuesday/Mardi Gras | Local observance | Florida |
Related holiday
Other holidays in March 2014 in United States
Other calendars
Related links