Christmas Eve in Poland
Quick Facts
Christmas Eve is celebrated as a festive occasion in Poland on December 24.
Local names
| Name | Language |
| --- | --- |
| Wigilia Bożego Narodzenia | Polish |
| Christmas Eve | English |
| Heiligabend | German |
Christmas Eve 2014
Wednesday, December 24, 2014
Christmas Eve 2015
Thursday, December 24, 2015
List of dates for other years
Many people in Poland celebrate Christmas Eve (Wigilia) on December 24. It precedes Christmas Day, December 25, which is a national public holiday to commemorate Jesus Christ's birth.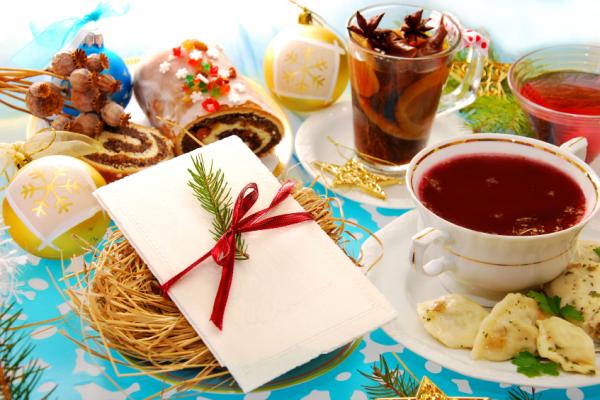 ©iStockphoto.com/TeresaKasprzycka
What do people do?
Christmas Eve, Christmas Day, and Boxing Day (or St Stephen's Day) are important days that are celebrated in many Polish homes. Christmas preparations begin days before December 25. Houses and apartments are cleaned and adorned with decorations, including a Christmas tree. Traditionally, Christmas trees are decorated with candles or lights, ornaments made of glass or eggshells, and wrapped treats on December 24.
Special dinners consisting of traditional Polish dishes are prepared and eaten on Christmas Eve. Dishes include beetroot soup (barszcz), dumplings stuffed with mushrooms (uszka), a cabbage dish, as well as cakes, fruit, and pastries. It is not unusual for some hosts to prepare for an extra seat for an unexpected guest. It is also customary to break and give the Christmas wafer (oplatek), which is made of flour and water, to guests. Many people attend a special church mass at midnight between December 24 and 25.
Public life
Christmas Eve is not an official public holiday but it is a busy time of the year for many commercial shops and businesses. It is also a busy on the road and for many transport services as many people travel home to be with their families for Christmas.
Background
Many Christians in Poland and around the world start celebrating the birth of Jesus Christ on Christmas Eve. It is also known as the Vigil of Christmas and is perceived as the culmination of the Advent season. Christmas Eve is the day before Christmas Day and is associated with celebrating Jesus Christ's birth, although his actual birth date has been disputed among many scholars.
Symbols
There are a number of traditional superstitious beliefs about the Christmas period. For example, it is believed that sheaves of wheat and rye, hay or straw under tables will bring good crops or fortune. This practice is also a reminder of the modest environment in which Jesus was born in. It is also said that animals could talk at a certain moment during Christmas Eve.
About Christmas Eve in other countries
Read more about
Christmas Eve
.
Christmas Eve Observances
| Weekday | Date | Year | Name | Holiday type |
| --- | --- | --- | --- | --- |
| Mon | Dec 24 | 1990 | Christmas Eve | Observance |
| Tue | Dec 24 | 1991 | Christmas Eve | Observance |
| Thu | Dec 24 | 1992 | Christmas Eve | Observance |
| Fri | Dec 24 | 1993 | Christmas Eve | Observance |
| Sat | Dec 24 | 1994 | Christmas Eve | Observance |
| Sun | Dec 24 | 1995 | Christmas Eve | Observance |
| Tue | Dec 24 | 1996 | Christmas Eve | Observance |
| Wed | Dec 24 | 1997 | Christmas Eve | Observance |
| Thu | Dec 24 | 1998 | Christmas Eve | Observance |
| Fri | Dec 24 | 1999 | Christmas Eve | Observance |
| Sun | Dec 24 | 2000 | Christmas Eve | Observance |
| Mon | Dec 24 | 2001 | Christmas Eve | Observance |
| Tue | Dec 24 | 2002 | Christmas Eve | Observance |
| Wed | Dec 24 | 2003 | Christmas Eve | Observance |
| Fri | Dec 24 | 2004 | Christmas Eve | Observance |
| Sat | Dec 24 | 2005 | Christmas Eve | Observance |
| Sun | Dec 24 | 2006 | Christmas Eve | Observance |
| Mon | Dec 24 | 2007 | Christmas Eve | Observance |
| Wed | Dec 24 | 2008 | Christmas Eve | Observance |
| Thu | Dec 24 | 2009 | Christmas Eve | Observance |
| Fri | Dec 24 | 2010 | Christmas Eve | Observance |
| Sat | Dec 24 | 2011 | Christmas Eve | Observance |
| Mon | Dec 24 | 2012 | Christmas Eve | Observance |
| Tue | Dec 24 | 2013 | Christmas Eve | Observance |
| Wed | Dec 24 | 2014 | Christmas Eve | Observance |
| Thu | Dec 24 | 2015 | Christmas Eve | Observance |
| Sat | Dec 24 | 2016 | Christmas Eve | Observance |
| Sun | Dec 24 | 2017 | Christmas Eve | Observance |
| Mon | Dec 24 | 2018 | Christmas Eve | Observance |
| Tue | Dec 24 | 2019 | Christmas Eve | Observance |
| Thu | Dec 24 | 2020 | Christmas Eve | Observance |
Related holidays
Other holidays in December 2014 in Poland
Other calendars
Related links